All The First Appearances – Including a New Power Ranger – and the Surprise Ending to MMPR #41 (Spoilers)
Necessary Evil is the big Power Rangers event from Boom Studios and it has fans talking. Mighty Morphin Power Rangers #40 introduced Jason, Trini and Zack as the all-new Omega Rangers, which we told you about first here.
Then Go Go Power Rangers #21 kicked off the origin story of the Omega Rangers, jumped on top ten lists for speculators and promptly sold out at comic shops.
But today's Mighty Morphin Power Rangers #41 might be even bigger – it's full of those key First Appearances that get fans and speculators lining up at their comic shops for multiple copies. And we know that Boom Studios doesn't create new Power Rangers lightly, with Lord Drakkon and Ranger Slayer both playing large roles after their introductions.
So what are the big surprises in this issue? Spoilers, of course, as one might have guessed.
First Appearance: Kiya, The New Blue Omega Ranger
Looks like there's already more than three Omega Rangers, with Kiya making her debut in this issue and suiting up as an Omega Ranger in combat.
But by the end of the issue, it's clear she's working with the Blue Emissary on something shocking…hold that thought for a moment.
First Appearance: Full Omega Rangers Costumes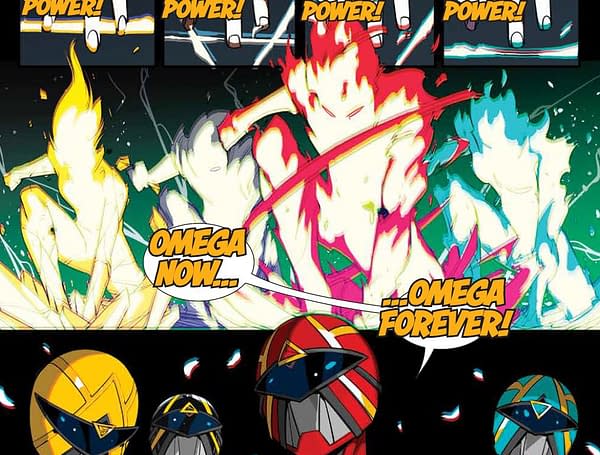 Now we've seen their morphing sequence, their helmets and how they fight. Expect some all new Zords soon too.
However, that "Omega Now, Omega Forever" declaration might be foreshadowing something tragic to come…and once more we'll dramatically pause.
First Appearance: Safehaven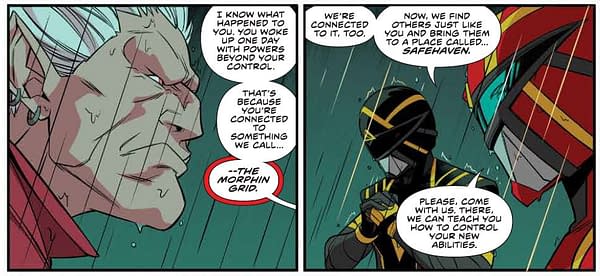 The Omega Rangers have a new base called Safehaven, where they live with other alien races… this definitely ain't Angel Grove. Given that we haven't seen it or heard it referenced in future Power Rangers TV seasons, there's reason to be concerned all won't end well…
First Appearance: Garrison Vox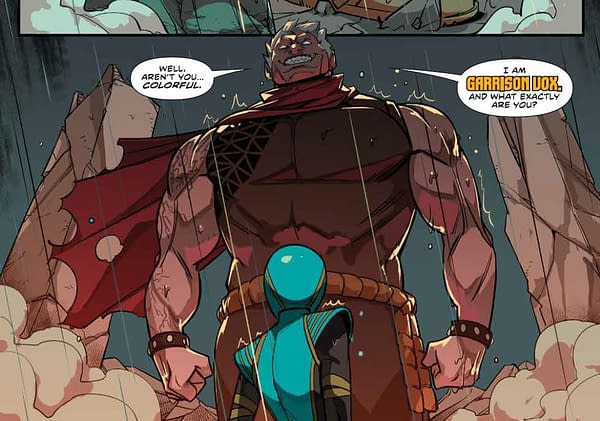 No, that's not Tetsuo from Akira who's gone Super Saiyan…but he certainly has quite the introduction. We also learn that that whatever happened to the Morphin Grid is affecting other people around the universe, like Vox…and the Omega Rangers need to stop him.
This is the introduction of a character I'm told has a big role moving forward – it's no surprise that he gets such a big multi-page debut.
First Appearance: Xi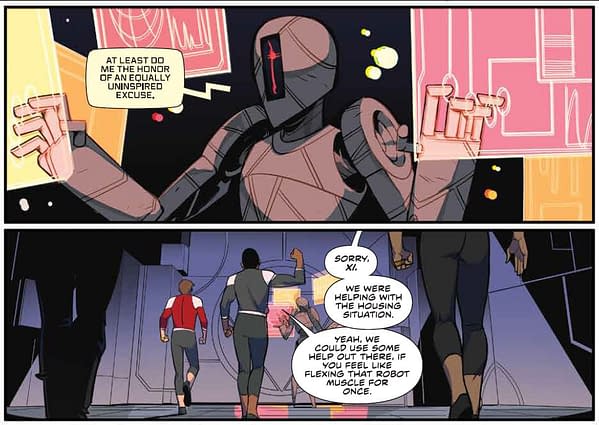 The Mighty Morphin Power Rangers have Alpha 5.
The Omega Rangers have Xi.
Xi looks to be a central character moving forward, as one of the people aware of and participating in the big reveal…
First Appearance: The Omega Rangers…PRISON?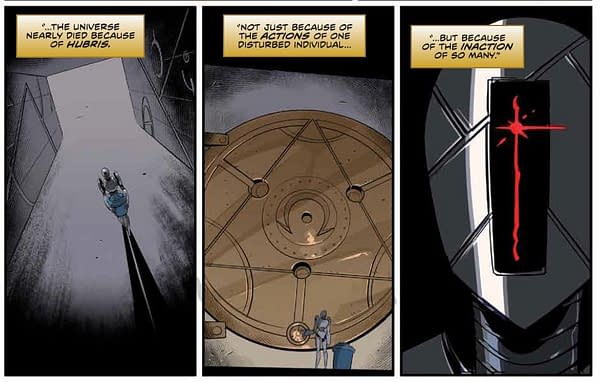 Shades of Iron Man in CIVIL WAR – and we know how that ended for Captain America and the Marvel Universe.
It looks like the Blue Emissary, Ki and Xi are operating a prison in Safehaven where they keep their enemies, which is something you'd expect from the bad guys.
So what is the true mission of the Omega Rangers? We know it has something to do with preventing another Shattered Grid, but why create new Rangers? Why is there a prison?
And what will Jason, Zack & Trini do when they find out the truth?