Arno Stark is Going Full HOXPOX For Iron Man 2020
Yesterday's Tony Stark: Iron Man #17 saw Tony go up against Hank Pym/Ultron, with heavy consequences for his team. But over at Bain Electronics, it looks like his brother Arno Stark has been making his own plans. And it could be that they may align with another comic, Jonathan Hickman's current run on the X books.
The comic sees Arno Stark, who has been experimenting with creating bodies made of flesh for artificial lifeforms to work out that he can build bodies for people, bring back their personality engrams and bring the dead back to life.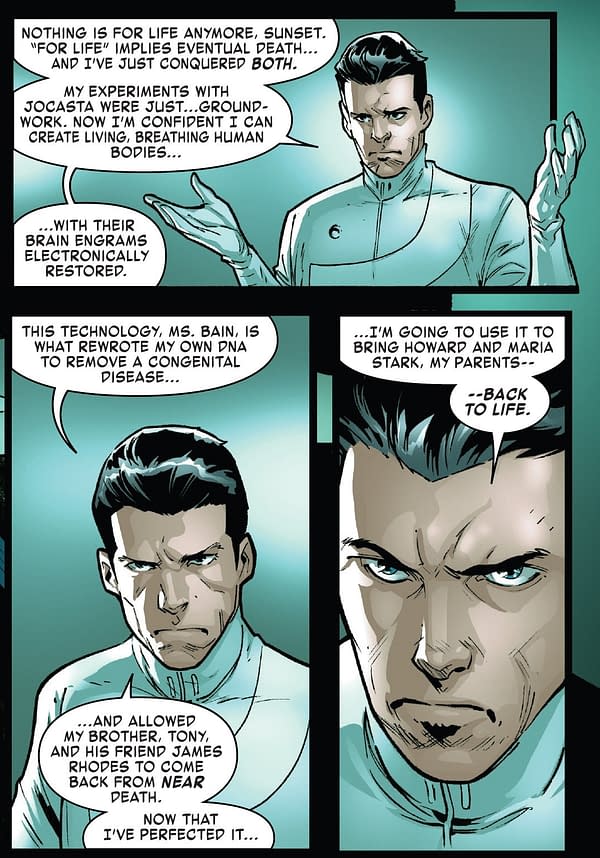 It also helps that he is wearing a Mad Scientist lab coat. Full-blown Frankenstein. But it's also a little like Professor X has been doing over on House Of X and now Dawn Of X.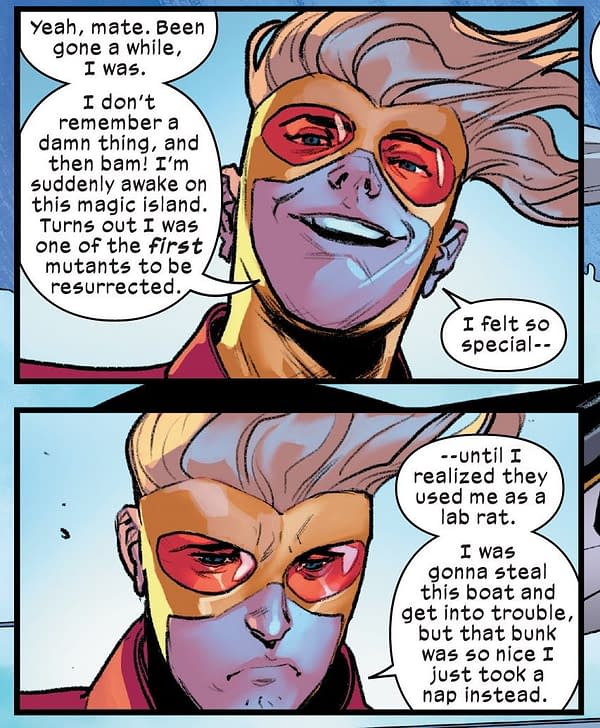 In Marauders, we even got to see one of the first brought back from the dead, the original Pyro, with his shockingly broad Australian accent as well, cobber. Of course Arron Stark isn't interested in bringing back mutants, but his own dead parents, who also adopted Tony Stark and raised him as their own. Somehow this is all going to lead into Iron Man 2020.
But given that the two events seem to have access to similar technology and methods, in terms of results at least, is there potential for a little… connective tissue between the two?
TONY STARK IRON MAN #17
(W) Dan Slott, Christos N. Gage (A) Francesco Manna (CA) Alexander Lozano
"THE ULTRON AGENDA" continues! Chapter 2: Compatible Parts
Is Tony Stark dead? Is he alive? Who can tell? Whatever he is, he IS Iron Man. And he's all that's standing in the way of Ultron Pym and everyone that Tony Stark loves. Or loved. Because Tony might be dead.
2020 is coming. The robot revolution has begun. So suit up, fleshbags. Suit up or die. Rated T+In Shops: Oct 23, 2019 SRP: $3.99

MARAUDERS #1 DX
(W) Gerry Duggan (A) Matteo Lolli (CA) Russell Dauterman
THE X-MEN SAIL AT DAWN!
Even in this glorious new dawn, Mutantkind faces hardships and oppression from their human counterparts. Led by Captain Kate Pryde and funded by Emma Frost and the Hellfire Trading Company, Marauders Storm, Pyro, Bishop and Iceman sail the seas of the world to protect those hated and feared! Rated T+In Shops: Oct 23, 2019 SRP: $4.99