"Baltar Creating The Cyclonics Is Very Victor Frankenstein" – Tony Lee Talking BSG 1880
Dynamite Entertainment is taking their second dip into the world of Steampunk. Their first trip was Legenderry: A Steampunk Adventure from Bill Willingham. There they took all the heroic characters they publish and worked them into a single story. Now, they are taking one of the most popular sci-fi franchises and doing it again. Writer Tony Lee is telling the tale of Steampunk Battlestar Galactica 1880 starting this August and I got a chance to chat with him about the project.
BLEEDING COOL: Let's start with the steampunk movement. Where do you think it came from and what do you think is the draw of it for so many people?
TONY LEE: I don't think Steampunk came from any particular location, I think it was an amalgamation of many things over the years. The aspects of Steampunk, ie steam or alternative fuel (like Cavorite) powered machinery have been around for centuries. Mary Shelly hints at it in Frankenstein, although it took the films to truly show it. H.G Wells and Jules Verne, even Percival Leigh took their readers into the realms of Steampunk, but at the time it was contemporary to them. Metropolis gave us the world designs, but in my opinion it's only recent books and films that have pushed back the clock to the Victorian era. And a lot of that is because of people like William Gibson and an interest in Babbage's Difference and Analytical Engines, theoretical computers as such that, if they'd ever been built could have changed everything, bringing mankind to a point generations before it happened.
And I think that's why it's so interesting – that 'what if' that we love to play so much. What if we had that technological advance back then? What if Cavorite ore, or Nemo's submarine truly existed?
Like Bill Willingham, I'm not too much a fan of the term 'Steampunk' as I feel the title belittles the genre, but it's one of those titles that creates an instant vision, and I can see why it appeals to so many people, myself included. BC: How did this project come about? Was this an idea you had or did Dynamite approach you about doing it?
TL: It was Dynamite's idea to start, I think they liked my Starbuck series and wanted to see what else I could do in the universe. I was in Los Angeles when they emailed, and within a couple of hours I'd already replied back with how I saw the series working. In fact, I think I'd plotted out the first half of issue #1 by the flight back to the UK.
Dynamite are one of the best publishers in the industry for creators, as they have a team of editors (in my case Joe Rybandt and Molly Mahan) who really let their creators push the envelope when they put together the story, encouraging them to see where we can go with these tales. Of course they reign you back in when you start to go all crazy eyes, but it's the trust they have in their creators, I think, that has us going back for more.
BC: Since the timeline of BSG is a little odd (they spent years going to a 1970's – 80's Earth), it is conceivable that the 1880 series could be in continuity. Is it or are we looking at an alternate reality story?
TL: Although it's called 1880, it's not actually set on Earth or anywhere during that time. The '1880' was partly because of Galactica: 1980, and also because of Steampunk inspired games like Space: 1889.
The world of the series is completely self contained, and nothing to do with the original series one. That said, I have spoken to Joe and Nick about some kind crossover. I'd love to see both Baltars meet! BC: What do you see as the major themes of Battlestar Galactica that can be taken out of its current setting and moved into a steampunk environment?
TL: The biggest and most obvious one is man verses machine. A steampunk world is one reliant on technology – what happens when it turns on you? We play with that. Baltar creating the Cylonics (the Steampunk world Cylons) is very Victor Frankenstein, the idea of a Colonial Empire of course takes us right back to the source, the British Empire during Victoria's reign.
That said, I honestly believe that Steampunk is so variant now, you could take any story from any age and 'Steampunk' it.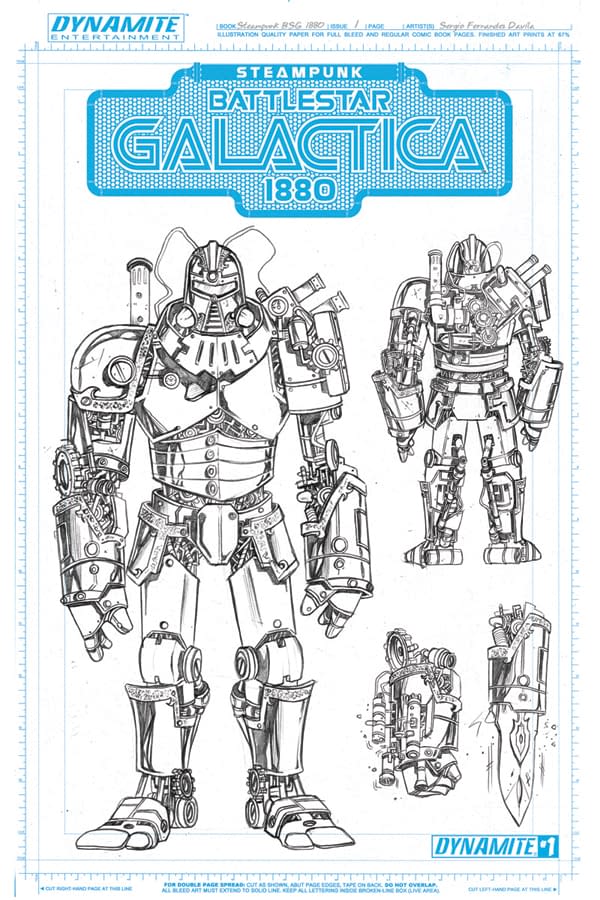 BC: What is the one thing you see in the new series that you think fans are going to be saying to themselves: "Damn, that is cool"?
TL: Giant clockwork Cylonic 'Centurions', the size of Pacific Rim Jaegers taking out entire cities. Pirate Queens and Aethership smugglers. And I think our rethink of Muffit the Daggit is going to raise some eyebrows. He truly is the Chewbacca to Starbuck's Solo. BC: You are known for wearing the occasional waistcoat… so I have to ask, has there been a steampunk version of Tony Lee? If so, what was the gear and why?
TL: Not to my knowledge! Although I do recall a San Diego a few years ago, back when I still wore waistcoat and pocket watch where, as I walked through the Marriott bar, a Steampunk cosplayer looked at me and yelled 'Dude! Neo Victorian! Yeah!'. I had no idea what the hell this was at the time, and I remember turning, smiling and going 'Actually, it's I'm just British.'
For more on Steampunk Battlestar Galactica 1880, click here.