Batman #109 Review: Yesterday's News
A character here simply states what seems to be the central thesis of this issue — "Batman is yesterday's news" — and throws a lot of evidence into proving that right. With a gigantic showing of characterization by tyro troublemaker Ghost-Maker, both for ill and for naught, Batman #109 is the grim Ahch-To adjacent Future State fate of Bruce Wayne closes in with every panel.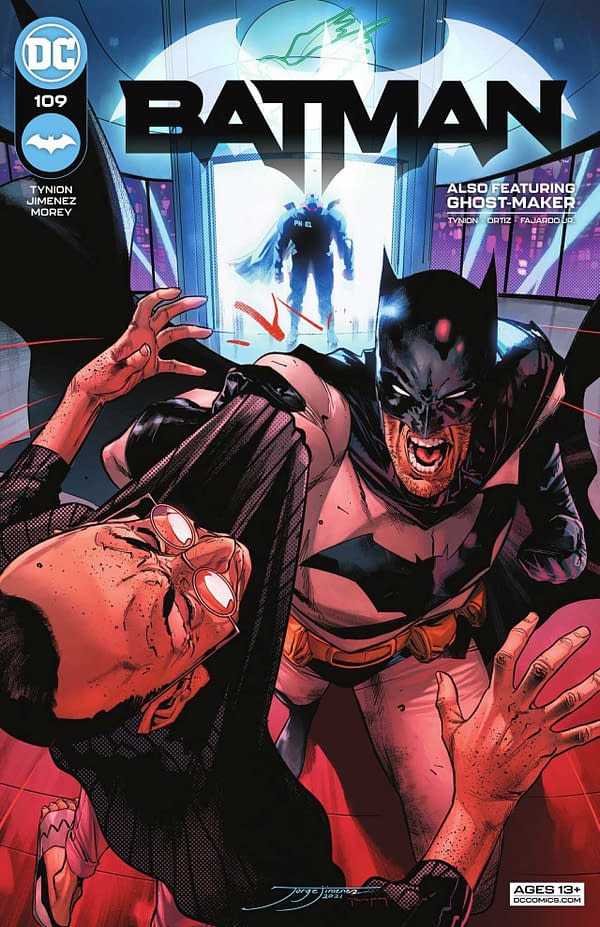 After tripping the light fantastic with the Unsanity Collective, Batman grapples with his legacy and how much positive effect he's had. He's hot on the coattails of Simon Saint, a new rich guy with a plan for Gotham City. Why? His motivations are thin, and his methods should be easier to handle for someone who fought Darkseid, but hey, here we are.
Honestly, you can ignore a lot of that to dig into why Ghost-Maker is so desperate to out-Bat the dark knight detective. He takes Harley Quinn to his Gotham City haunt where she asks, "is this a 'you-want-to-kill-me' situation or a 'you-want-to-bang-me' situation?" His answer, or lack thereof, is riveting a relative newcomer called the Gardener has a side quest that could explain why Ghost-Maker left no impression on Future State.
With both the lead story and the backup, James Tynion the Fourth swings the character of Ghost-Maker around like a swashbuckling rapier, sucking the air out of every page Batman can't handle as much as Urkel took over Family Matters from its intended star, Reginald VelJohnson. The visuals from Jorge Jiminez, Ricardo Lopez Ortiz, Tomeu Morey, and Clayton Cowles have a dynamic flair, be it a case of Bat-intimidation or an actual sword fight.
This was very close to making the grade, adding even some fun moments from Barbara Gordon to spice things up. If only Batman's prevarication was less feckless, this could have been truly great. RATING: HONORABLE MENTION.
Batman #109
By James Tynion the Fourth, Jorge Jiminez, Ricardo Lopez Ortiz
Main Story: Mayor Nakano green-lights the Magistrate pilot program for Gotham City as Batman goes toe-to-toe with the augmented and bloodthirsty Peacekeeper-01! It's a brutal battle for the ages, but what secrets does Harley Quinn hold about the man beneath the armor, Sean Mahoney? And how does this all play in to the Scarecrow's hands?! Backup: Ghost-Maker is fighting through incredible odds to reach the nefarious Madame Midas…but will his next opponent — BRAINSTORM — be impossible to overcome?!