Did you get a copy of Batman #89 today? What about at last night's midnight opening for Wolverine #1? If so, well done. They have sold copies for $30 each on eBay today, even after we pointed out that Punchline, the Joker's new girlfriend, was only in it for a speech balloon and a mouth shot. That's it.
But there are other things afoot of note. We have a much better look at other new villain The Designer…
Will he be Domino to Punchline's Deadpool or Gideon? Only time will tell. And just as last issue, Batman #88, we got to see a new kind of holographic system that turns any Waynetech car in Gotham (which is all of them) into a Batmobile if Batman needs it, we see a new surveillance and assault vehicle in Batman #89…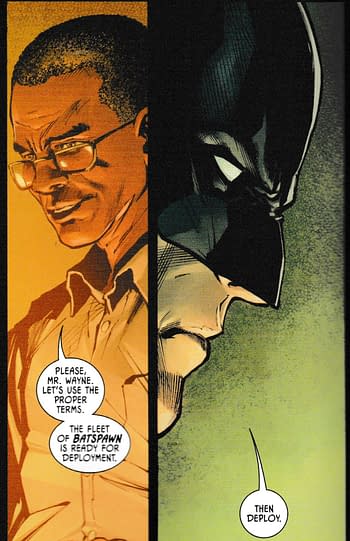 The Batspawn. Maybe they could be used in the third Batman/Spawn crossover? Batman Vs Spawn with the Batspawn?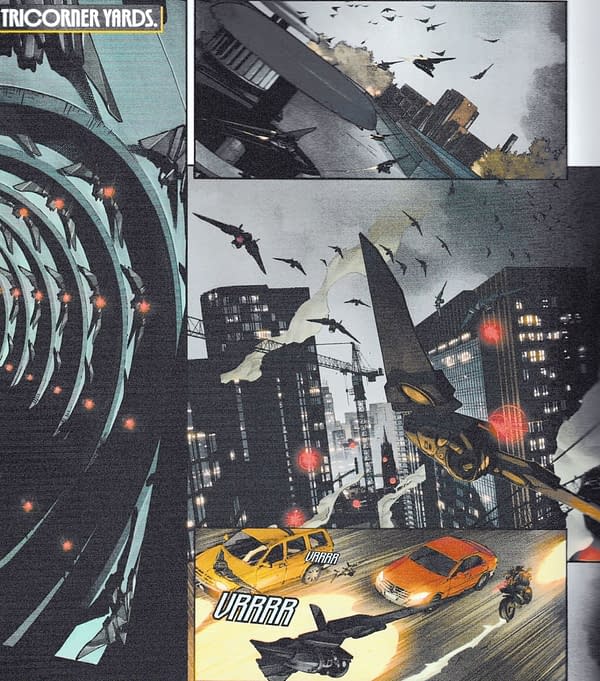 Now, no one is going to hack those, right? Good. And as Harley Quinn determines that the Joker corpse she found is not her old puddin', she has plans to rectify that as soon as possible.
Harley Quinn is going to kill The Joker, everyone. I mean, if this is the final Batman Vs Joker storyline, why not let her have first crack with the mallet?
BATMAN #89
(W) James TynionIV (A) Guillem March (CA) Tony S. Daniel
Batman must stop Deathstroke from killing the mayor of Gotham City! But to do so he has to figure out who ordered the hit in the first place. If his four main suspects aren't 'fessing up to the crime, then is there someone even more sinister lurking in the shadows waiting to deliver the coup de grâce? Whoever it is, one victim will fall under their attack!In Shops: Feb 19, 2020
SRP: $3.99
Batman #89 is out today from DCComics… if you are lucky to be able to buy one. I was – I bought mine from Piranha Comics in Kingston-Upon-Thames. Piranha Comics is a small south London comic store chain with a small south-east store in Kingston-Upon Thames's market centre, which runs Magic The Gathering nights on Fridays, and a larger south-west store in Bromley, which also runs Magic nights and has an extensive back issue collection and online store. If you are in the neighbourhood, check them out.

Enjoyed this article? Share it!