Batman: Urban Legends #2 Review: A Strong Effort
Batman: Urban Legends #2 is a thick anthology that has points to recommend but only actually shines without flaw in one space, with an outstanding Oracle story. There's emotional depth in the Red Hood story, good-looking action with the Outsiders, and Ryan Reynolds-worthy banter with Grifter, but all of those are merely pieces of actual comics broken at what feels like arbitrary points.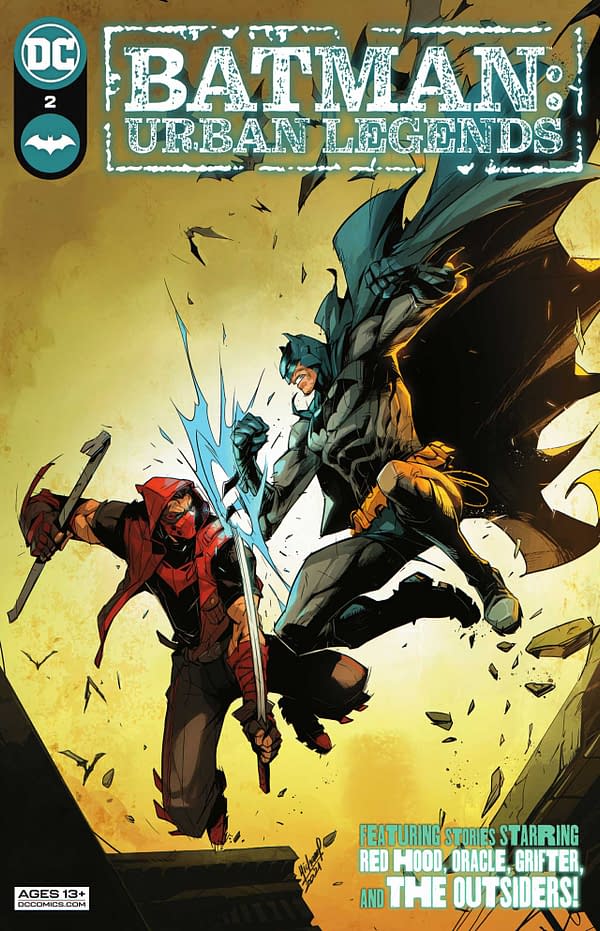 Let's start with the good: Cecil Castellucci should be writing an Oracle series with this brilliant new swing at how Barbara Gordon can make more of a difference riding public transit and typing than she did swinging across rooftops. Her innovative new take on how Barbara wields the digital world was as engaging as the antagonist here, a fitting foil over DNS focused on fomenting chaos where Oracle enforces order. With the stylish imagery from Marguerite Sauvage and Becca Carey. This back door pilot should have us seeing the digital adventures of this savvy polymath.
The Red Hood story continues by looking at the messy cost of collateral damage in the costumed conflict against crime. The flashbacks are fantastic characterization, and the work with Jason Todd wrestling with his better angels was great. Unfortunately, the myopic privilege of the Bat served as a detraction, and this story plodded along without a clear solution, and that was less engaging.
The Grifter tale was enjoyable only because of the characterization as well, with Cole Cash a trigger-happy explosion of dialogue and bullet casings. Charged with protecting Lucius Fox from any threats incoming, Grifter follows a John McClane-styled path in grinding through fairly anonymous threats, drifting from thing to thing while getting a new origin grafted on to the traditional DC timeline and shedding some of the old Wildstorm baggage. Not bad, but again is not served by the anthology format.
Finally, there were some very poster-worthy moments in the Outsiders story that follows through from things done in the recent Batman and the Outsiders series but literally doesn't get very far as Katana wrestles with old business that just felt like the stakes were unimportant.
Overall, this was a strong effort, and for Bat fans, this is gonna have them chomping at the bit. If the premise has even a shadow of a doubt, given that this book is eight bucks, this might not pull your dollars from your grasp. RATING: HONORABLE MENTION.
Batman: Urban Legends #2
By Chip Zdarsky, Eddy Barrows, Eber Ferreira, Julio Ferreira, Marcus To, Cecil Castellucci, Marguerite Sauvage, Brandon Thomas, Max Dunbar, Matthew Rosenberg, Ryan Benjamin
The new Batman anthology series continues! In part two of Chip Zdarsky and Eddy Barrows's epic Batman/Red Hood story, Jason Todd has taken a man's life, and now his mission is to keep the dead manâs young son safe. But Batman plans to take down Jason before he can make another mistake. Then, in chapter two of Matthew Rosenberg and Ryan Benjamin's senses-shattering tale, Cole Cash earns his pay as personal bodyguard to billionaire Lucius Fox, but what led him to Gotham in the first place? How does the mysterious HALO Corporation play into it all? And which Bat-Family character does he have an unfortunate meeting with in this chapter? And in part two of Brandon Thomas and Max Dunbar's epic Outsiders story, see Katana's perspective on what brought the Outsiders to Japan, who wants her dead, and what her ultimate punishment will be for no longer having her husbandâs spirit in the Soultaker sword. Plus, Barbara Gordon has identified a citywide system hack from a foe she faced before as Batgirl — but this time around, Babs may have found a way to defeat her for good as Oracle!