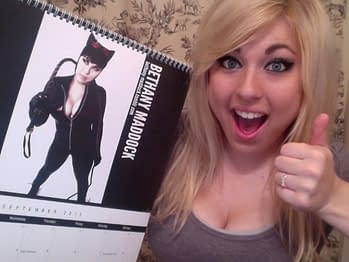 Bethany Maddock is a cosplayer and artist from the East Coast. You'e probably seen her at one of the major conventions dressed as either Captain Marvel, Domino, Arkham City Catwoman, Juliet Starling, Killer Frost, Scorpion or one of the other characters she brings to life.
Besides wearing the costumes, she crafts them and has decided to take up sharing her knowledge with other cosplayers. I came across a link to her first youtube tutorial and really enjoyed watching it. The two-part tutorial focuses on Worbla – a thermoplastic plate and modeling material – and how to use it to make pieces for your costumes. The tutorial is exactly what you'd want it to be. Bethany is knowledge, well spoken and gets the information across well… but she is also personable and fun. You can tell she's having a good time doing the video and you have a good time right along with her.
I hope this is just the first of many tutorial's she puts together. For more on Bethany check out her tumblr or her facebook page.
[youtube]http://youtu.be/H7gMIAIBSGY[/youtube]
[youtube]http://youtu.be/M5_8ySWIqEI[/youtube]
Enjoyed this article? Share it!