Black Panther #170 Review: The Story Grinds Forward with a Climactic Battle
[rwp-review-recap id="0"]
Black Panther, Shuri, Thunderball, Zawavari the mystic, and the Hatut Zeraze have confronted Ras the Exhorter and his hordes of Originators and the powers of the Lost-Forgotten God. Reinforcements are on the way, but Ras' powers may be too great for even them.
Elsewhere, Changamire confronts the incarcerated Tetu.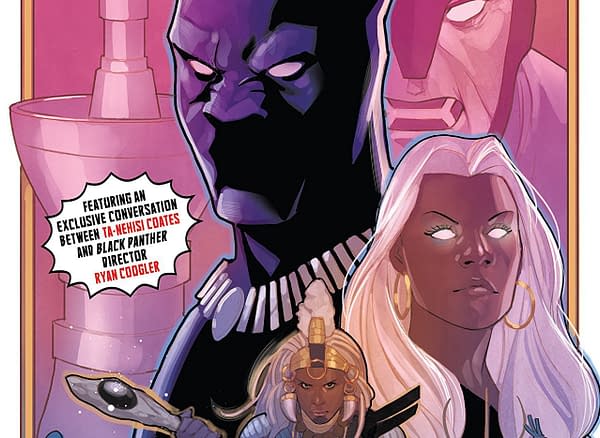 Black Panther is starting to wrap up 'Avengers of the New World', but even this is starting to prove slow.
This issue brings a climactic battle between Black Panther and his allies versus Ras the Exhorter. Given the amount of build-up and tension placed on this confrontation, it's hard not to be immediately invested. That also gives the comic a lot of room to fail. While I would argue it doesn't, it is underwhelming in how little it actually advances the story.
They are also converging on Asira (Queen Divine Justice and character I'm decently sure I've mistakenly referred to as Monica Lynne in recent reviews), so this plot angle can be wrapped up. Without giving anything away in that regard, it ends up raising more questions than answers.
Frankly, the Midnight Angels' assault on the Klaw's fortress was an exciting development at the end of Black Panther #176, and it is a little frustrating that Ta-Nehisi Coates didn't elect to continue that plotline after the Annual.
It is good to see Changamire again. He is an interesting side character, and I feared that the book had forgotten him after the conclusion of 'Nation Under Our Feet'.
I'm still engaged. I'm still interested. However, this story's crumbling beneath its own weight unabashedly continues in this issue.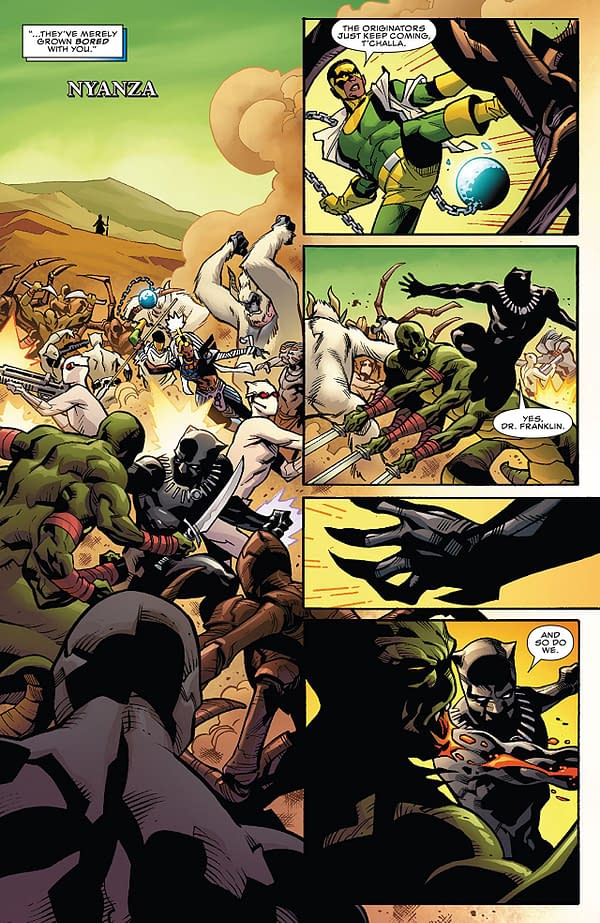 Leonard Kirk provides the art to this issue, and he can do some damn good work in an action scene. Unfortunately, the ones presented here are large and chaotic. There isn't a lot to focus on, though the clash of magic between Panter's sorcerers and Ras do have some cool moments to shine. Laura Martin's color art continues to be solid, though some of the desert battle scenes can become oversaturated with bright color.
Black Panther #170 isn't a bad issue, but the continued reluctance to move forward is increasingly tiresome. While I can still recommend this issue, it really needs to advance soon. It's very likely this will conclude whenever the new title starts. That's not too far ahead, at least. In any case, feel free to pick this issue up. It's still solid.
[rwp-review-ratings id="0"]
[rwp-review-form id="0"]