Brian Bendis Writing Ultimate Spider-Man in Young Justice #12? (Spoilers)
Yesterday, we noted that in an upcoming issue of Thor #2, Donny Cates will be writing the Justice League, and quoted from unreleased script pages. Well in today's Young Justice #12 by Brian Bendis, John Timms and Gabe Eltaeb, it seems like Brian Bendis has brought in the star of his best-known comic for Marvel, Ultimate Spider-Man. I mean, this issue is meant to be a Wonder Comics crossover but how far will they take it? This specific twist begins with the arrival of the Dial H For Hero couple, meeting up with the Wonder Twins, Young Justice and Naomi. Although the solicitation for this issue is a Bendis-solicitation, as in it doesn't seem to match up with the comic.
It's an epic Wonder Comics crossover: Naomi, the Wonder Twins, and Young Justice all come together for the first time to confront the secrets behind the entire first year of the teen team's series. Where did Connor Kent come from?
Not answered or addressed.
Why does Bart Allen remember everyone but no one else does?
Not answered or addressed.
How does it all connect to Jinny Hex's trunk?
It doesn't. Not answered or addressed. The trunk is there but connections aren't.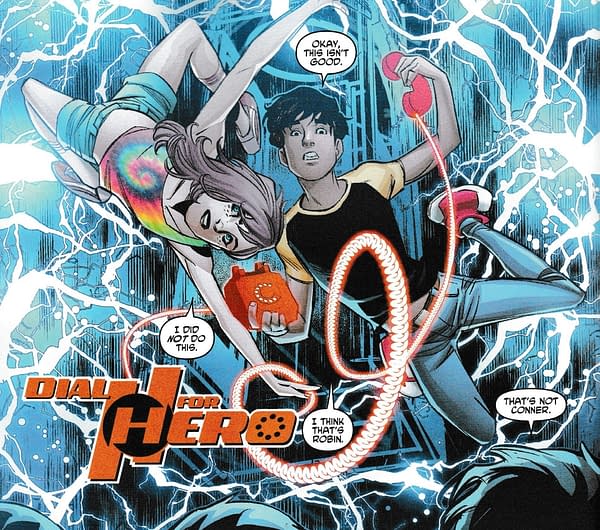 I mean, we do learn that Jinny Hex also has a Dial H phone along with everything else that could destroy the world in her precious trunk. But that doesn't relate to anyone else…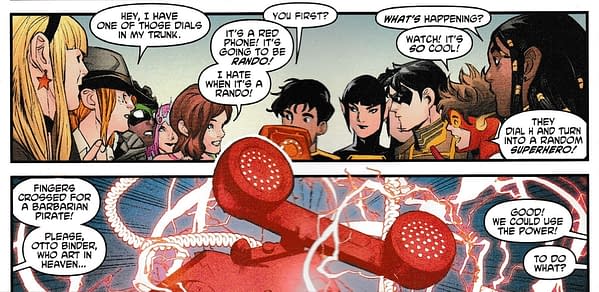 And as well as a reference to a classic Captain Marvel/Shazam writer, the rando red phone gets dialled transforming our Dial H hero into…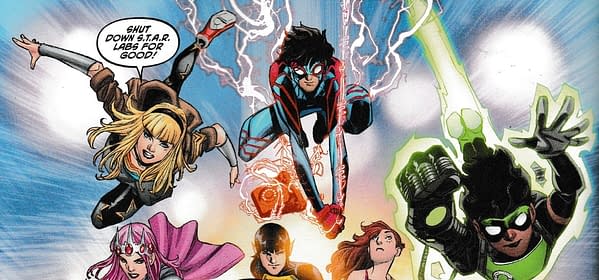 The red. The blue. The white eyes. And while we can see his hair and face, that energy-webbing is very familiar. Yup, Brian Bendis just brought his ultimate Ultimate Spider-Man to the DC Universe.
Young Justice #12 is out today from DC Comics, #13 will be out in February… I bought mine from Piranha Comics in Kingston-Upon-Thames. Piranha Comics is a small south London comic store chain with a small south-east store in Kingston-Upon Thames's market centre, which runs Magic The Gathering nights on Fridays, and a larger south-west store in Bromley, which also runs Magic nights and has an extensive back issue collection and online store. If you are in the neighbourhood, check them out.

YOUNG JUSTICE #12
(W) Brian Michael Bendis (A/CA) John Timms
WONDER COMICS
It's an epic Wonder Comics crossover: Naomi, the Wonder Twins, and Young Justice all come together for the first time to confront the secrets behind the entire first year of the teen team's series. Where did Connor Kent come from? Why does Bart Allen remember everyone but no one else does? How does it all connect to Jinny Hex's trunk? It's a Wonder Comics blockbuster! In Shops: Jan 08, 2020 SRP: $3.99

YOUNG JUSTICE #13
(W) Brian Michael Bendis, David F. Walker (A) Mike Grell (A/CA) John Timms
Another Wonder Comics extravaganza kicks off with Young Justice searching for Conner Kent as the teen Superboy find himself trapped in the mysterious world of Skartaris, the home of legendary DC character Warlord! Wonder Comics curator and Young Justice writer Brian Michael Bendis welcomes writer David F. Walker to the team alongside rising-star artist John Timms!In Shops: Feb 05, 2020
Final Orders Due: Jan 13, 2020 SRP: $3.99