Catching Up With Aw Yeah Comics At C2E2
By Makarim Salman
We talked to Aw Yeah Comics's Art and Franco as they worked on a couple of Art Appreciation commissions. Art Baltazar: Right now I'm working on Action Cat. Got some stuff with Dark Horse coming up. I love that as it's creator owned. And some other things with big companies that I've been working on for the last 18 months which I can't announce yet. I'm doing a lot of digital work. And I'll be launching some books on Comixology's platform.
We currently have three stores. Skokie. Muncie. And Harrison New York. There's always some planning [to potentially open more stores]. We don't know what those plans are. But we want to be doing this – making comics, selling comics – for the rest of our lives.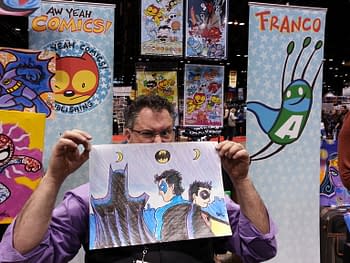 Franco Aureliani: We've got a new DC comics project being announced this summer
Lots of events happening at the store. There's an Alex Ross signing at the Skokie store coming up which everyone is excited about.
And behold, the finished pieces inspired by Rene Magritte's The Mysteries of the Horizon.