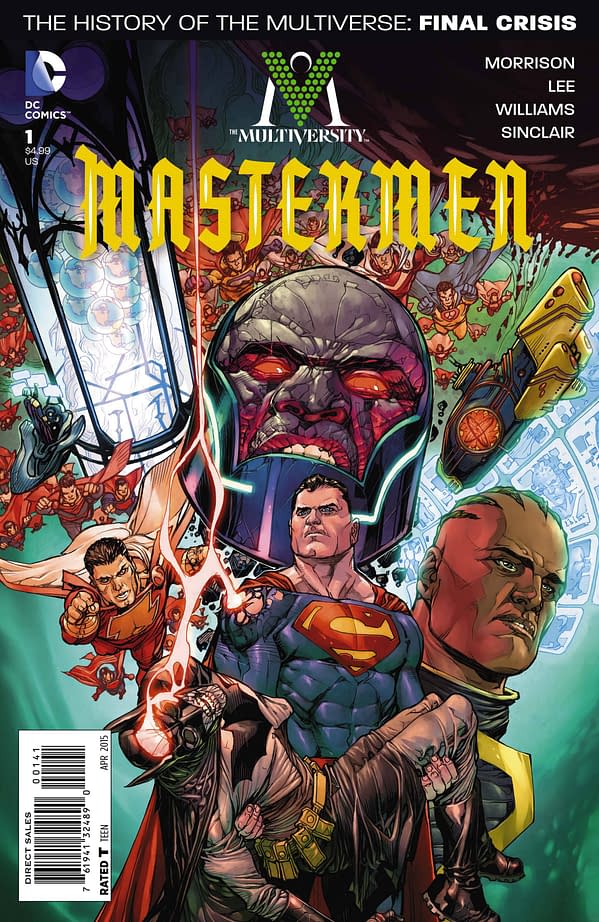 A few slips, twixt solicitations and publication, from the Big Two.
Guardians 3000 #6 will no longer be drawn by Gerardo Sandoval.
Batman Eternal #46 was solicited with art from Alessandro Vitti, but had Christian Duc and Ronan Cliquet join them. The cover was by Jae Lee, not Ethan Van Sciver.
Earth 2: World's End #20 has Cullen Bunn added to the solicited writing team of Daniel Wilson, Marguerite Bennett and Mike Johnson. The art, solicited as from Jack Herbert, Robson Rocha, Eduardo Pansica and Jorge Jiminez adds Tyler Kirkham and R.B. Silva, an drops Jack Herbert and Eduardo Pansica.
Marvel Universe: Guardians Of The Galaxy will not be by Joe Caramagna. but will be drawn by Adam Archer and written by Mairghread Scott.
Injustice: Gods Among Us – Year Three #10 was solicited as written by Tom Taylor but was actually by Brian Buccellato. And the art, solicited from Bruno Redondo and Mike S Miller was actually by Pete Woods and Mike S Miller.
Multiversity: Mastermen #1 had a 1:50 Variant cover by Yanick Paquette but was actually by Howard Porter. Though Diamond still list this as by Paquette.
New Avengers #32 will now be drawn by Mike Deodato and Carlos Pacheco instead of Kev Walker..
New 52: Futures End #42 didn't have art by Jesus Merino and Dan Green as solicited, but by Scot Eaton and Scott Hanna instead.
Red Hood and the Outlaws #39 didn't have art by RB Silva but by Tom Derenick.
Uncanny Avengers #3 will now be written by Gerry Duggan as well as Rick Remender.
Superman/Wonder Woman #16 added Ed Benes and Mark Irwin to the solicited team of Doug Mahnke and Jaime Mendoza. While Ed Benes also took the cover from Doug Mahnke.
Wonder Woman #39, solicited as drawn by David Finch and Batt was actually by David Finch and Jonathan Glapion. And Glapion showed the process below. The 1:100 variant cover solicited as from David Finch was actually by Emanuela Lupacchino….
Enjoyed this article? Share it!