Record store Mad World Records in Denton, Texas, is closing permanently. Already closed because of shutdown, and transitioned to curbside pick-up, owner and manager Mark Burke is making it permanent after nine years. He is now launching an online shop, something he'd been dead set against until the pandemic. The store applied for the Denton County Small Business Grant program the day the applications opened, but two weeks ago, it was denied. Mark posted on Facebook,
"Before we locked the doors, I would have customers come in and cough in their hands and then flip through our merchandise. It was terrible and impossible for me to ignore these all too common actions once the virus became a real threat to my customers and employees. Honestly, I am not a healthy guy and I have a wonderful little guy an wife at home, so even on a personal level this seemed crazy scary to me. My employees and I were playing Russian Roulette while we were open. It was frightening, and this was when the virus numbers were still relatively small. Three months later, the Denton County virus infections are staggering. Texas is failing at keeping its citizens safe on an epic scale…

"While the virus forced us to reluctantly create an online store and a curb-side only location, we were watching the outside world through the store's windows. The day that Abbott opened the state, I witnessed a toddler lick our front window for 5 seconds and then walk over to his oblivious mother and share her ice cream until it was gone (they used the same spoon, y'all). I have seen 99% of patrons going into businesses and hundreds of people pushing on the store's locked door with NO masks on during a international health crisis. I have heard people shout through our front door and read people online call us horrible, offensive things because we are doing curbside and aren't open to the public. They could still buy the same products from us online or if they would call and ask, but evidently that is not enough. As a side note, I watched thousands of peaceful protesters march for equal rights in front of my store and 99.9% of them were wearing masks. This shouldn't be political, but when you have City, State, and National leadership downplaying the virus, at the very minimum, it leads to an issue of the uninformed and obstinate ruining it for the rest of us."
The store sold indie and mainstream used and new releases vinyl records and CDs, unique pin-back buttons, vintage T-shirts and other collectibles was a community hub for the Denton music scene, with several of the store's employees going on to be in local bands, such as Daniel Fried of Texan punk bands Bad Sports, Radioactivity, VIDEO, Wax Museums and Silver Shampoo.
But in its place will be a new store from More Fun Comics & Games, currently five stores down, and run by Tim Stoltzfus. The new store will be called More Fun Toys! and will stock an eclectic combination of new toys and pop culture merchandise, as well as vintage toys and collectibles ranging back to the '70s
He told the Dallas Observer, "We're going to work with Mark so his customers can come by and pick up orders in person. So they can continue to help support Mark while checking out our new store." The new store is planned to open, one way or another, in mid- to late August.
Good luck everyone out there.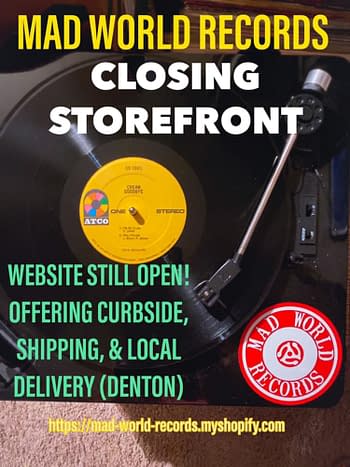 Enjoyed this article? Share it!