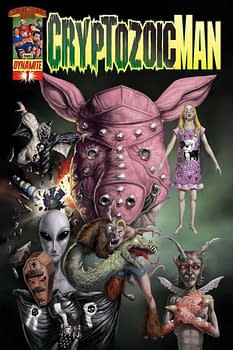 Back in October, after the release of Cryptozoic Man #1, it was a book that sold for $2 on eBay. And that was after five bids. Even after having a plug on AMC's Comic Book Men, the stars being the book's creators, Walt Flanagan and Bryan Johnson, and a high profile launch with the team from Dynamite, the book kinda sunk.
Then this week's episode aired, featuring the finished comic book more prominently, with Kevin Smith.
Yesterday the first issue sold for $21.50 after eight bids.
Today the one-per retailer copy signed by the Comic Book Men is up for $250 after ten bids.
And issue one and two together are currently selling for over $40 with hours to go after six bids.
Issue two on its own is currently receiving bids of over $16.
With two days to go this issue one is at $8.50. How much higher will it go?
It is kicking off. No idea where this will lead…
[youtube]http://www.youtube.com/watch?v=oXWpnxHi3WU[/youtube]
Enjoyed this article? Share it!