Dan Abnett Returns to Marvel Cosmic for Annihilation Scourge in December Solicits
Marvel has revealed the December solicitations for Annihilation Scourge, following the Annihilation Scourge Alpha one-shot that launches the event in November. It looks like the event will include a series of one-shots in December and then wrap up with an Omega issue that same month. It's not revealed whether there will be any additional one-shots or series or if this is the entire event.
So far, Michael Moreci will write the Beta Ray Bill one-shot with fan-favorite artist TBD. Christos Gage and Diego Olortegui will bring us the Fantastic Four one-shot. Matthew Rosenberg, who is also writing the Alpha and Omega issues, will write Nova (Richard Rider) with Ibraim Roberson, while Manuel Garcia is the artist on the Omega issue. But in one of the coolest announcements of this event, Dan Abnett, one half of the DnA writing team that helped return Marvel Cosmic to prominence spinning out of the original Annihilation event, will return to write the Silver Surfer one-shot with Paul Davidson.
Check out the solicits below, as well as a quote from an EX-X-XCLUSIVE interview with Matty Rosenberg on Marvel media partner Newsarama.
Annihilus plays a pretty huge role in this. It is sorta named after him, of course. But he is NOT the threat here. I can't say too much, but let's just say we're going to see Annihilus in a very different way here. This new threat has him scared and fighting for his life. And when that new threat reveals itself… Well, he's going to need some help if he hopes to stop it.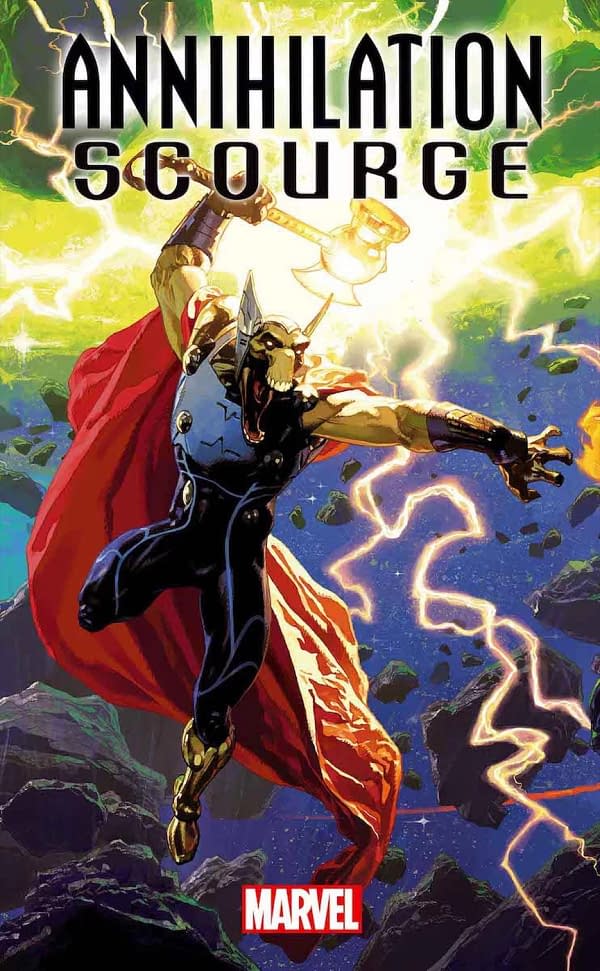 ANNIHILATION – SCOURGE: BETA RAY BILL #1 (WITH DIGITAL CODE)
Written by MICHAEL MORECI
Penciled by TBD
Cover by Josemaria Casanovas
Variant Cover by Patch Zircher
The Scourge has arrived! As the local population becomes infected, will Beta Ray Bill be able to fight back the horde and save the innocents—or are they already lost? Overwhelmed, will Bill himself fall victim to the Annihilation wave?!
40 PGS./ONE SHOT/Rated T+ …$4.99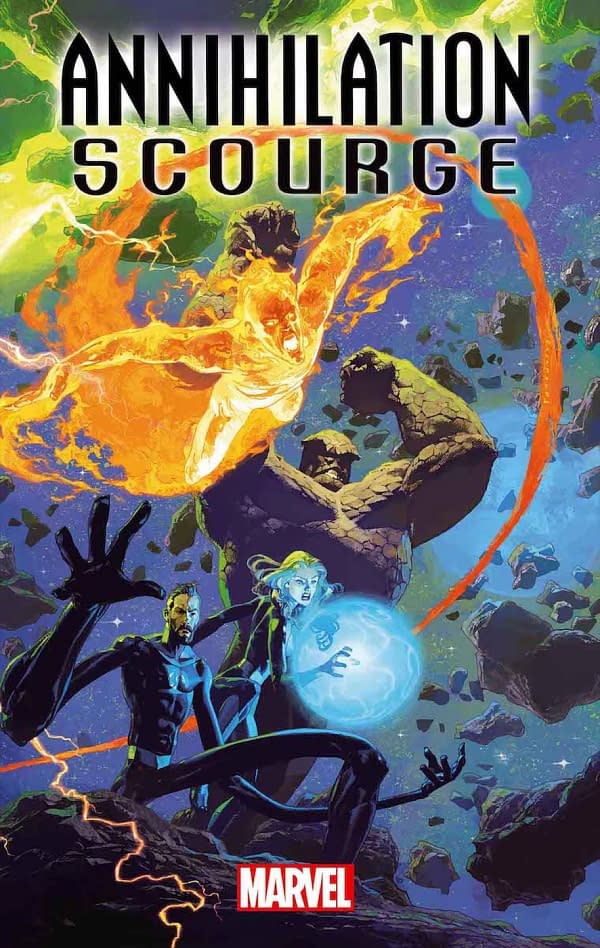 ANNIHILATION – SCOURGE: FANTASTIC FOUR #1 (WITH DIGITAL CODE)
Written by Christos Gage
Penciled by Diego Olortegui
Cover by Josemaria Casanovas
Variant Cover by Phil Noto
Alerted to a potential tear in the dimension, the Fantastic Four go to investigate – but what they discover is so much worse than they prepared for! Will the Fantastic Four be able to hold back the Scourge or will the Negative Zone finally succeed in tearing this family apart? Overrun, the Fantastic Four are about to learn: No one ever truly comes home from war.
40 PGS./ONE SHOT/Rated T+ …$4.99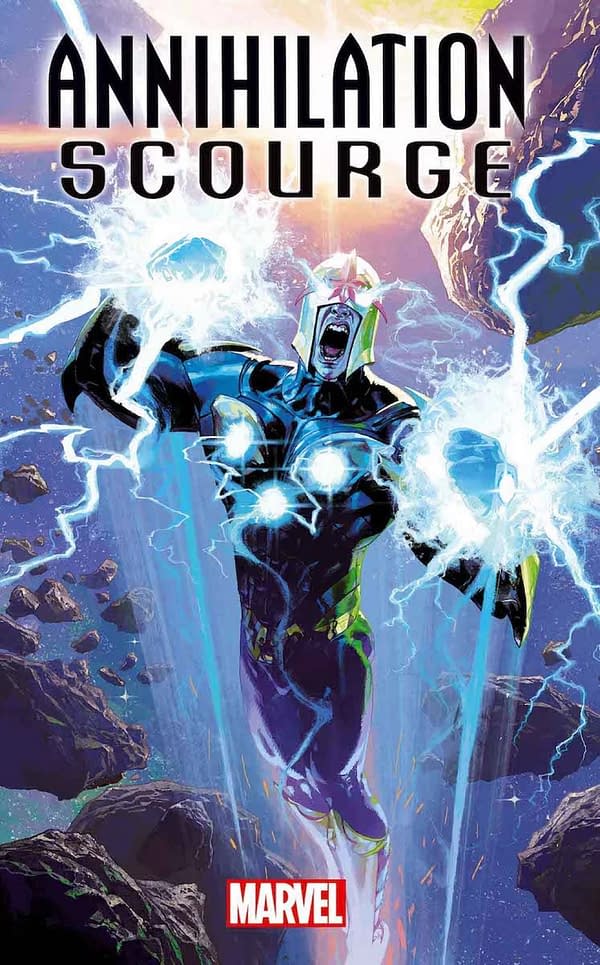 ANNIHILATION – SCOURGE: NOVA #1 (WITH DIGITAL CODE)
Written by Matthew Rosenberg
Penciled by Ibraim Roberson
Cover by Josemaria Casanovas
Variant Cover by Eduard PetrovicH
The universe hangs in peril! With no room for old grudges, Nova is forced to team up with one of his most nefarious adversaries – ANNIHILUS! But can Richard Rider trust the ruler of the Negative Zone to fight alongside him—or will this turn into a war with two fronts?
40 PGS./ONE SHOT/Rated T+ …$4.99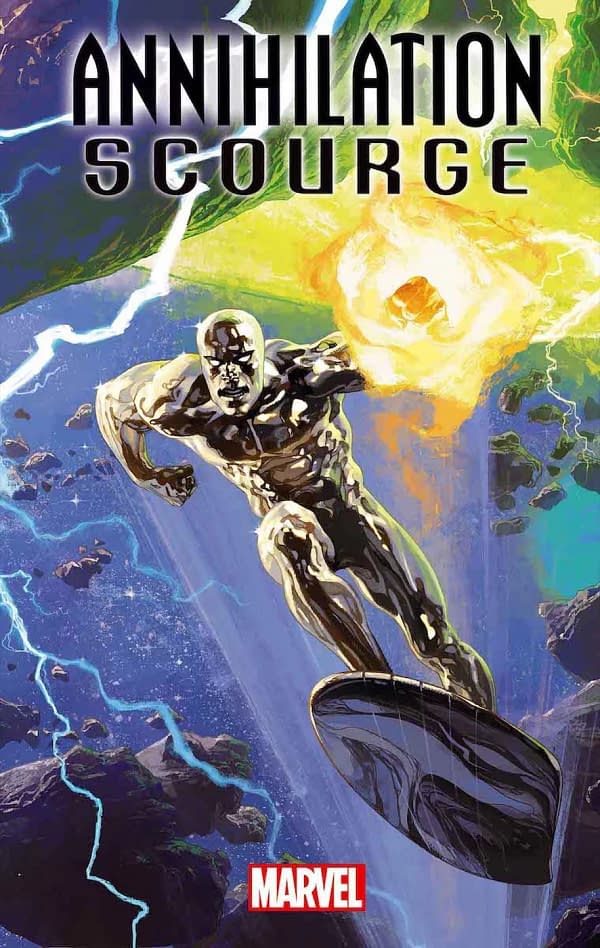 ANNIHILATION – SCOURGE: SILVER SURFER #1 (WITH DIGITAL CODE)
Written by Dan Abnett
Penciled by Paul Davidson
Cover by Josemaria Casanovas
Variant Cover by Ozgur Yildirim
The Scourge is closing in, wreaking havoc across the galaxy. The Silver Surfer has returned in time to bear witness to the Scourge's atrocities – but his new status quo leaves him helpless to intervene! Will the Surfer be able to find a way to save the fleeing innocents around him – or will he be forced to stand by and herald in a new age of death?
40 PGS./ONE SHOT/Rated T+ …$4.99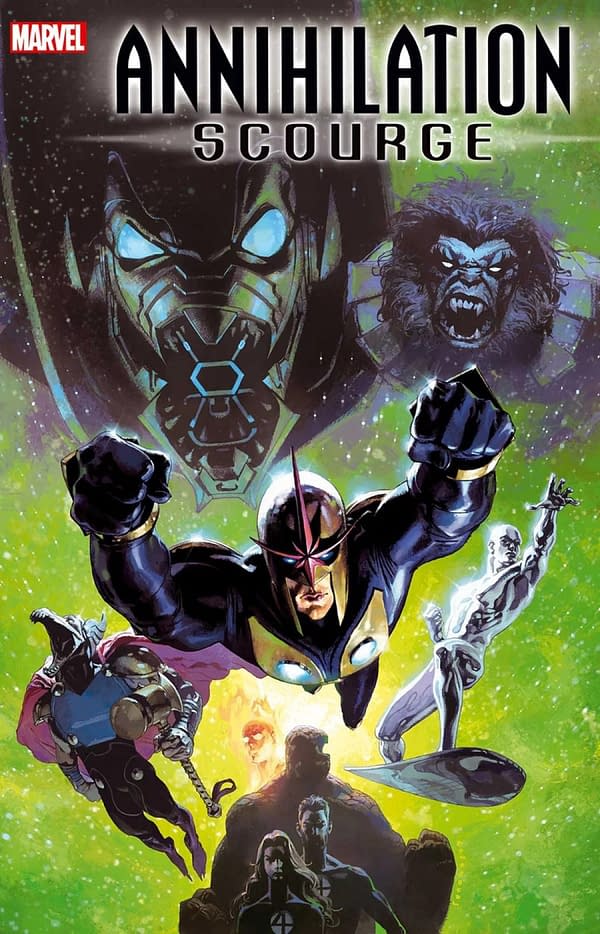 ANNIHILATION – SCOURGE OMEGA #1 (WITH DIGITAL CODE)
Written by Matthew Rosenberg
Penciled by Manuel Garcia
Cover by Josemaria Casanovas
Variant Cover by Arthur Adams
In the face of the Annihilation, there is no more room in the cosmos for heroes or villains—only survival.
40 PGS./ONE SHOT/Rated T+ …$4.99