Daredevil #23
{{ reviewsOverall }} / 10
Users
(0 votes)
Summary
Writer: Charles Soule, Artist: Alec Morgan, Color Artist: Matt Milla, Publisher: Marvel Comics, Release Date: Out Now, Price: $3.99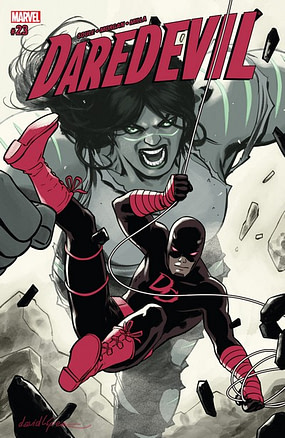 In Daredevil #23, while Matt Murdock continues his efforts to set a precedence for the validity of anonymous superhero testimonies in court, Wilson Fisk begins to plot against him. He hires a former Stark legal advisory who simply goes by Mr. Legal to represent the criminal Slug in the case. The Kingpin also hires Lonnie Lincoln, AKA Tombstone, to kill Matt Murdock. Meanwhile, Matt goes to fellow attorney Jen Walters, aka the She-Hulk, for advice.
This story is charting a very interesting path for the Man Without Fear, as this is a new angle to introduce into superhero comics. To allow them to testify in court to make sure the criminals they capture get locked away would answer a lot of criticisms about the genre while adding new angles for the storytelling methods.
I genuinely have no idea where writer Charles Soule is going with this. The only two outs seem to be Matt actually succeeding or Daredevil being unmasked once again. Both do offer a lot of enticing opportunities for future stories. There is the possibility that a third currently unknown outcome could arrive, but, right now, I'm giving Daredevil the benefit of the doubt that it won't disappoint on this one. I mean, Mark Waid did have Daredevil unmasked for a few years when he wrote the book.
The only shame is that I don't expect many other comics to take notice and involve this idea should the story outcome be that Matt Murdock succeeds in his legal quest. That does kill the stakes a little bit. However, I'm still hopeful for some interesting outcomes to be brought about by this story arc.
In regards to this specific issue, it's good, but it does feel like something of an interlude. The plot develops some with Matt having to take on Mr. Legal in an appeals court. However, the arguments there are left hanging at the end of the comic.
It was cool seeing the lawyers team up with Daredevil and She-Hulk. However, even that is sadly short-lived. Matt doesn't even get to suit up, and Jen lays out Tombstone pretty quickly.
The ending to the meeting between Jen Walters and Matt Murdock is a bit ominous, with Jen warning Matt that "Just because you can do something doesn't always mean you should." This seems like foreshadowing, which leaves me pleasingly curious about where this story is going.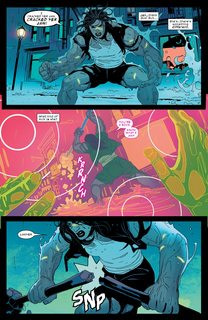 The opening sequence with Kingpin beating a punching bag bloody was a neat little scene. Legal seems like an interesting character who has the compulsive need to repeat the phrase "I am Legal," over and over again like a Batman villain. I'm not even being disingenuous about that; this character is actually entertaining. He also looks a good bit like Alan Arkin.
The addition of Alec Morgan as the artist gives the book an aesthetic reminiscent of Chris Samnee's artwork from the Waid days. This is a congruent aesthetic given that this story is more about above-the-board work as opposed to the noir-esque adventures of previous issues of Soule's run. Matt Milla's color work is still muted, which doesn't fit Morgan's work that well. This seems to invite a more dynamic palette, but the overall comic still looks good. That being said, the scenes with Daredevil's radar sense are more colorful than ever, and this looks really cool.
This comic was decent. It didn't add much to the overall plot, but it did bring in a neat little team-up with a rocking, if short, fight between Tombstone and She-Hulk. Give this a read if you're a fan of the Man Without Fear or the Savage She-Hulk.
What people say... Leave your rating
Order by:
Be the first to leave a review.
Show more