Roxxon CEO Dario Agger is featured in a very revealing pose on Giuseppe Camuncoli's connecting variant cover for War of the Realms. Marvel revealed the variant today, which features Agger in his minotaur form, sans clothing, enough to distract even the mighty She-Hulk.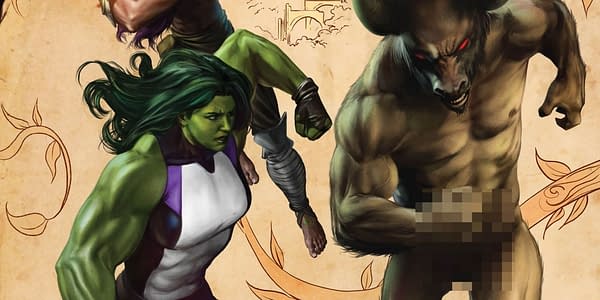 Unfortunately for fans hoping for an uncensored Roxxon: Damned type of situation, Agger's nethers are shrouded in shadows, preventing us from getting a good glimpse at his minotaur dong. It just goes to show that Roxxon has more sense than Wayne Enterprises, which allowed its Chairman, Bruce Wayne, to bare all to the world in Batman: Damned #1 before later censoring the images with shadows in digital releases, similarly to the technique used on Agger's junk in the cover below.
What more is there to say? Check out the press release and the variant.
New York, NY—March 1, 2019— The War Of The Realms is coming…and no corner of the Marvel Universe will be untouched! Today, Marvel is excited to release the first piece of a stunning Connecting Realm variant cover from superstar artist Guiseppe Camuncoli!

This April, all hell will break loose as Marvel's epic event from the award-winning creative team of Jason Aaron, Russell Dauterman, and Matthew Wilson usher in an event of unparalleled scale! Plus, don't miss a special midnight release of WAR OF THE REALMS #1 for retailers – be sure to check Marvel mailers for details!

For more information on WAR OF THE REALMS, visit Marvel.com.

WAR OF THE REALMS #1 (of 6)
Written by JASON AARON
Art by RUSSELL DAUTERMAN
Cover by ARTHUR ADAMS & MATTHEW WILSON
WAR OF THE REALMS 1 CAMUNCOLI CONNECTING REALM VARIANT (JAN190877)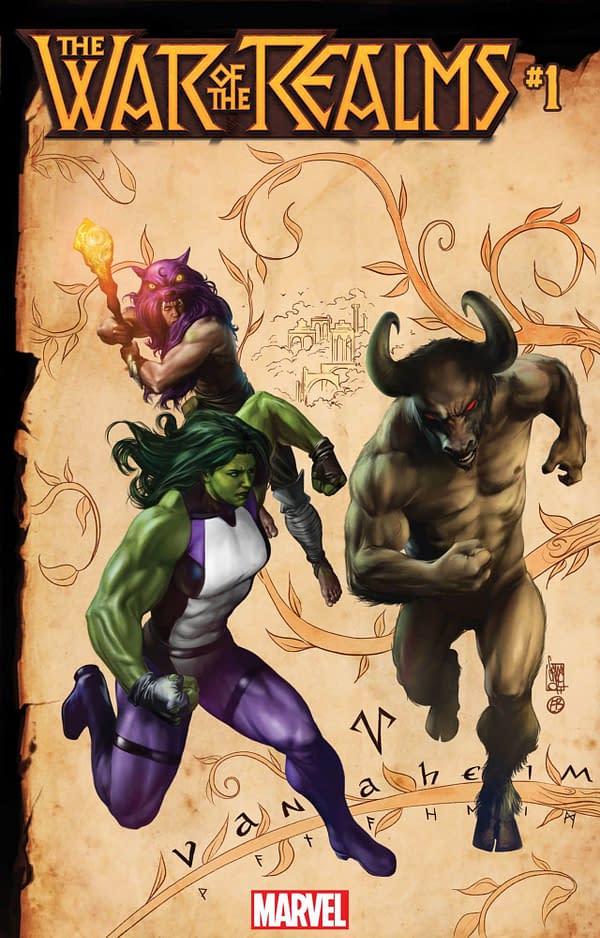 Enjoyed this article? Share it!