Darkseid vs Doomsday in Newest DC Versus
In what has been one of their most-requested versus matches, DC has now pitted two of their biggest hitters against one another. The Dreadlord of Apokolips himself, Darkseid, and the unstoppable killing machine Doomsday.
It's a pretty interesting matchup in that the two are very different styles of fighters. Darkseid can get down and dirty with some fisticuffs, but tends to be a more intellectual fighters using his overwhelming strength, mental powers, and the Omega Beam to defeat his opponents. Doomsday smashes and keeps smashing while he evolves to get better against his opponent. This is one of those fights wherein location and style play a huge part.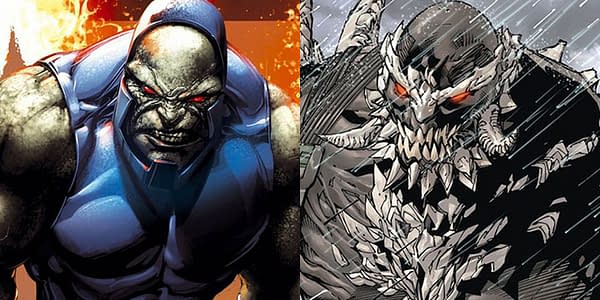 Doomsday was created to defeat any opponent; his body will adapt to any attack, protecting him from a second use of that attack. It is possible that if Darkseid didn't kill him with the first blast of the Omega Beam, a second would prove less effective or even useless. Both are close to invulnerable. Darkseid has the power and intelligence to, if given time, create a situation where he could immediately hit with a kill shot and win the fight. But if it turns into a brawl, it is possible for Doomsday to hold out long enough for his body to evolve into something that could actually hurt Darkseid… like those jagged protuberances on his hands and arms turning into Radion, the one material that harms Darkseid.
I call it impossible to choose a winner without known all the other variables.