DC All Access: Super Hero Girls, Legends, Bombshells, And Gal Gadot On A Horse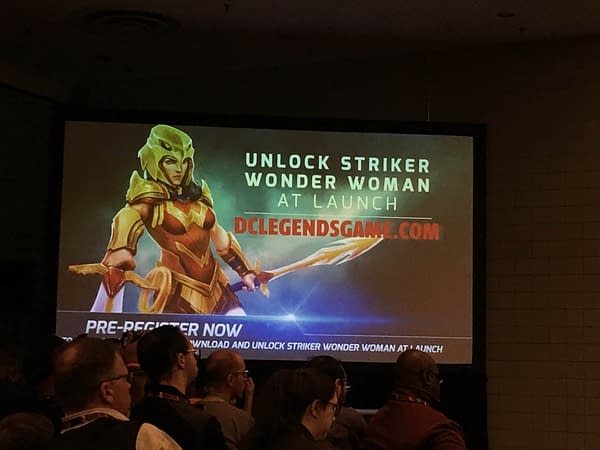 Panelists: Marguerite Bennett (DC Comics Bombshells), Shea Fontana (DC Super Hero Girls), Steve Orlando (Night of the Monster Men), Joshua Williamson (The Flash, Vertigo's Frostbite), Sean Duggan (WEBC entertainment), with Paul Malmont moderating.
"Everyone reading rebirth?" And a joke about DC being back in New York for a few days were the openings for the DC All Access panel. There were obligatory DC All Access programming, app, DC Fans channel, and Vertigo Lounge plugs. DC Fans content will be ported into the DC website soon, to try and connect with fans in a mostly superficial way as the content is all fan-created.
For DC Comics Collectibles, their new releases include a Nightwing Black and White statue based off Jim Lee's Hush storyline. Its the first time they're doing Nightwing with the Black and White line. Wonder Woman is getting three deluxe statues from the Wonder Woman movie. The first a 12" statue of Gal Gadot's Diana on a horse. They will also be doing a 12" statue of Diana in a "training outfit" and a statue of Diana and Steve Trevor as seen at San Diego comiccon.
Marguerite Bennett is the creative mind behind DC Comics Bombshells and seems to enjoy subverting the traditional comic origins of super heroes as ones giving rise to their female counterparts as none of the bombshells are derivatives of male heroes in this universe. DC's Bombshells #20 hits the stands
December 7th
.
James Tynion IV
, Steve Epting and Marguerite Bennett will be launching a Batwoman series in February for Rebirth. Bennet launched into a passionate story about her love for Batwoman as a flawed, human character could bode well for the book. Or it could not.
Steve Orlando will be doing Justice League of America with Andy Macdonald. Orlando was gushing about including Vixen, The Ray, The Atom, and Killer Frost in his JLA comics. Speaking about his Supergirl series, Orlando emphasized that she is not a "punch first" kind of hero. That she tries to understand her enemies. "What is really Super about her is her understanding."
Josh Williamson will be heading
Justice League vs Suicide Squad
stating
December 21st
with art by
Jason Fabok
. The overall storyline is that the JLA will find out about the Suicide Squad and try to end their existence the main twist of the book will be the unnamed third group that eill show up in the book. Its a massive event including 25 characters with "a lot of fighting… But there is also a lot of emotional stuff." Williamson admitted to being surprised by how much he loves writing Harley Quinn, as well as writing a "pissed off Batman, he is angry all the time." He also gushed about his collaborators on the event. Vertigo's Frostbite is "Mad Max in the snow" based on a world where humanity survived the next ice age.
Shea Fontana's DC Super Hero Girls will be debuting animated shorts on their website starting today. Today's short centered around Cheetah staging crimes so that she could solve them in order to be Hero of the Month. Fontana wrote the shorts, the graphic novels, the feature film, and the comics making DC Super Hero Girls her own universe. Harley is Fontana's favorite to write as she "gets all the punchlines." DC Super Hero Girls is also getting a bi-weekly digital only comic from the original creative team.
DC Comics Legends is DC's latest game which allows you to collect all your favorite heroes and villains in a mobile strategy RPG. The characters are upgradeable and allow for customization. The missions are based on DC comics storylines. Your nemesis is Necron, based on the Darkest Night storyline, with a twist. There are campaign modes, pvp, and special events. It looks like an amusing way to pass the time during your commute, if nothing else. The game will launch at the end of November. It does include different versions of your favorite characters so you can make your own team, with your own roster. If you pre-order now, you can get the special Striker version of Wonder Woman.
"Night of the Monster Men" will be continuing with Batman #8 and Nightwing #6 on sale now. The storyline takes place over one single night with the monsters getting larger and larger as the night wears on.