Well Jody Houser is very happy…
I SAID I HAD MORE COOL NEWS THIS WEEK! I'm writing a Harley Quinn and Poison Ivy limited series, spinning out of Heroes in Crisis! Drawn by @Adriana_Melo, with covers by @LaraWest and variants by @Artgerm! ❤️💚🖤💚❤️ https://t.co/RlVh2xduH7

— Jody Houser ✒️🗯️🎲 (@Jody_Houser) June 13, 2019
We have, in September, the first Harley Quinn and Poison Ivy officially teamed comic book running for 6 issues, and featuring the Poison Ivy that was seen in Heroes In Crisis, reinvented as an agent of The Green, alongside her girlfriend Harley Quinn. By Jody Houser and Adriana Melo.
We mayalso see the presence of the Swamp Thing make itself known… unless that's the King Of Flowers. And the series will also be part of the DC's Year of The Villain event. Given that they are both ostensibly villains of the piece…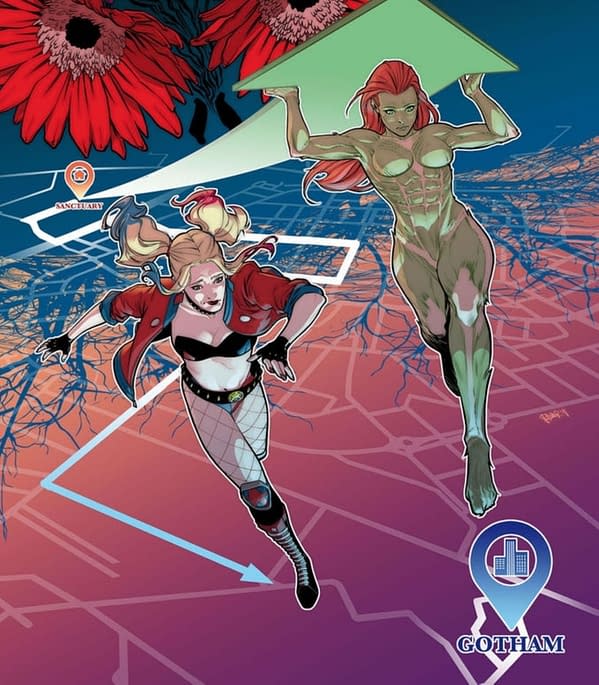 HARLEY QUINN AND POISON IVY #1
written by JODY HOUSER
art by ADRIANA MELO
cover by ELENA CASAGRANDE
Harley Quinn card stock variant cover by STANLEY "ARTGERM" LAU
Poison Ivy card stock variant cover by STANLEY "ARTGERM" LAU
Harley Quinn and Poison Ivy are taking their show on the road in this new miniseries! They'll have to evade villains and heroes alike while they explore their relationship and unpack their time and experiences at Sanctuary. Set after the events of HEROES IN CRISIS and smack in the middle of "Year of the Villain," it's a journey across the DC Universe that will change their friendship forever…if they live that long!
ON SALE 09.04.19
Enjoyed this article? Share it!