"The Future Is Young" Batman Dark Knight Message Now Part Of Hong Kong Protests
Over the weekend, Bleeding Cool reported that DC Comics has withdrawn a tweet using the Rafael Grampa upcoming cover of Batman: The Dark Knight Returns: The Golden Child. This came after criticism from Chinese critics that it made reference to Hong Kong protests, featuring Batwoman dressed in black throwing a molotov cocktail and that the use of the colour Gold in the title was also a reference. Bleeding Cool was able to confirm that DC Comics hadn't withdrawn the cover, just the tweet, and the comic will be published next week – including in Hong Kong comic shops, such as Metro Comics.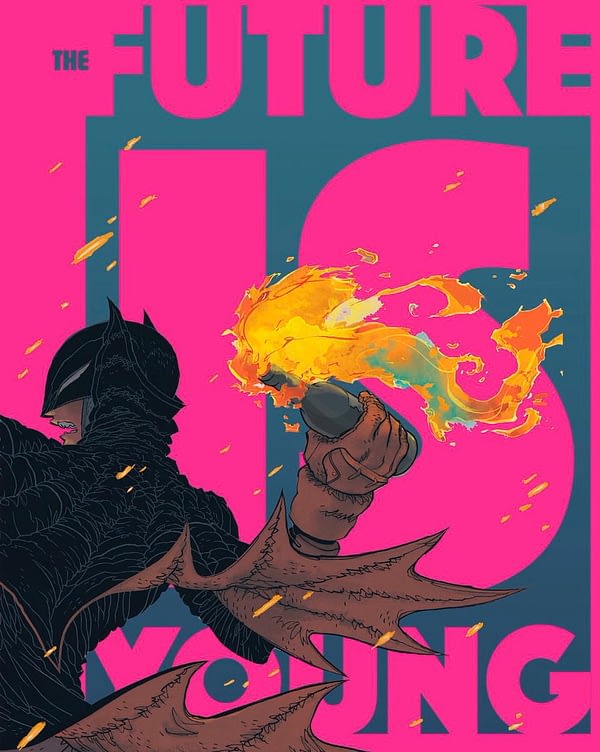 But, in another example of the Streisand Effect, the language used on the image has now actually become part of the protests, against threats to Hong Kong autonomy from Chinese authorities. This image was taken on the streets of Hong Kong by photographer May James, working for the Hong Kong Free Press, who have plenty of coverage of the situation, and is reproduced here with permission.
Batman: The Dark Knight Returns: The Golden Child by Frank Miller and Rafael Grampa, first announced on Bleeding Cool, will be published on the 10th of December from DC Comics.
DARK KNIGHT RETURNS THE GOLDEN CHILD #1 RAFAEL GRAMPA VAR ED
Frank Miller returns to the Dark Knight Universe!
It's been three years since the events of Dark Knight III: The Master Race. Lara has spent the time learning to be more human, and Carrie Kelley has been growing into her new role as Batwoman. But a terrifying evil has returned to Gotham City, and Lara and Carrie must team up to stop this growing threat-and they have a secret weapon. Young Jonathan Kent, "the golden child," has a power inside of him unlike anything the world has ever seen, and it's about to be unleashed… Dark Knight Returns: The Golden Child is Frank Miller's triumphant return to the world of the Dark Knight and joining him is the superstar artist Rafael Grampá, the mastermind behind the groundbreaking Mesmo Delivery. Following work in advertising and film, this incredible collaboration marks Grampá's first comics work in six years, bringing his extraordinary detail and storytelling to the Dark Knight saga, resulting in a Dark Knight story like nothing you've ever seen before.In Shops: Dec 11, 2019
SRP: $5.99