Bleeding Cool just ran DC's statement to comic book retailers, confirming that they will be seeking alternative distribution (and presumably printing as well) during the current coronavirus pandemic shutdown that has seen Diamond Comic Distributors close, their printers Transcontinental close and thousands of comic book stores and bookstores close. As well as getting certain comics to certain comic books stores that are: a) in the USA, b) in states that haven't entirely shut down and c) operating mail-order services, DC has confirmed to Bleeding Cool that they will also continue digital distribution, with a handful of titles being digitally distributed this Wednesday on the DC app, ComiXology, Amazon Kindle and the like.
Which titles will be chosen are still unclear, but the original plan for this Wednesday would have included the following. I understand the selection hasn't been entirely settled upon yet. Here is the pre-coronavirus pandemic list as we had it when last we looked. Might it include a certain cover feature of Punchline?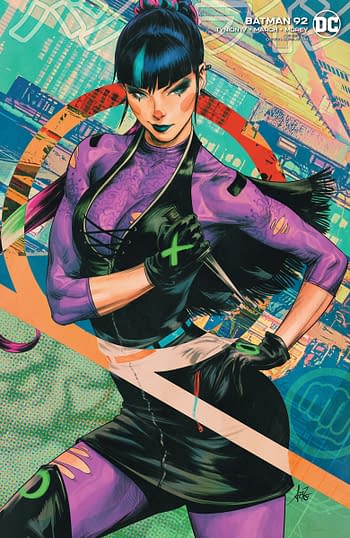 Batman #13 (Dollar Comics) 2nd
Batman #89 (3rd Printing) 2nd
Batman #92
Batman #92 (1 in 25 Punchline Jimenez Card Stock Cover) *
Batman #92 (Card Stock Artgerm Cover) *
Batman: Last Knight On Earth
Batman: The Golden Age Vol. 8 (Omnibus)
Daphne Byrne #4
Daphne Byrne #4 (Variant Cover) *
Freedom Fighters: Rise of a Nation
Gotham High
Green Lantern #1 (Dollar Comics) 2nd
Harley Quinn #72
Harley Quinn #72 (Frank Cho Cover) *
Justice League #44
Justice League #44 (Variant Cover) *
Justice League of America: A Celebration of 60 Years
Justice League: Odyssey #20
Justice League: Odyssey #20 (Skan Cover) *
Lois Lane #10
Lois Lane #10 (Tula Lotay Cover) *
Metal Men #6
Metal Men #6 (George Perez Cover) *
Nightwing #70 (2nd Printing) 2nd
Strange Adventures #2
Strange Adventures #2 (Evan Shaner Cover) *
Swamp Thing by Nancy A. Collins (Omnibus)
The Dreaming #20
The Last God #3 (2nd Printing) 2nd
Transmetropolitan Book 3
Wonder Woman Vol. 2: Love Is A Battlefield
Year of the Villain: Hell Arisen #3 (3rd Printing) 2nd
gen:LOCK #6
Enjoyed this article? Share it!