Tomorrow sees the launch of two new comic books from Marvel, both featuring wielders of magic swords. The first, on the nose, is Sword-Master #1, featuring reprinted, translated comics from Marvel's operations in China as well as a new story introducing the character to the Marvel Universe – especially, Shang-Chi, Master Of Kung Fu, who may be getting a bit of a PR job courtesy of a planned movie from Marvel Studios in their Phase 4.
And he has some sage advice for his new student, on the streets of New York.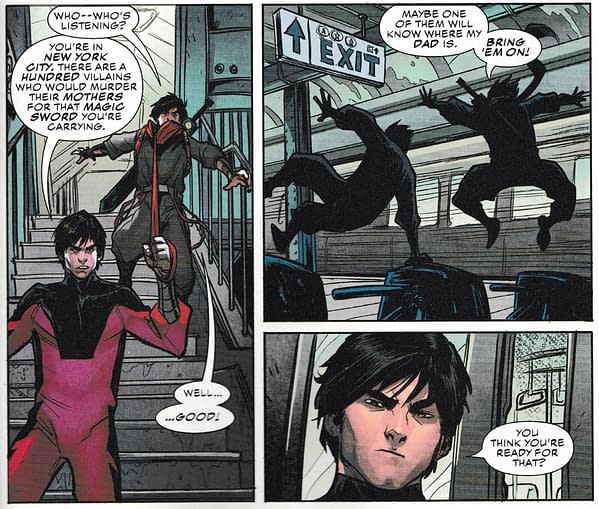 'You're in New York City, there are a hundred villains who would murder their mother for that magic sword you're carrying'. Something new villain Gold Rush may have taken account of over in Valkyrie #1, also launching tomorrow. Fighting alongside Bluestreak against the Valkyrie, as part of a Marvel version of the Power Rangers…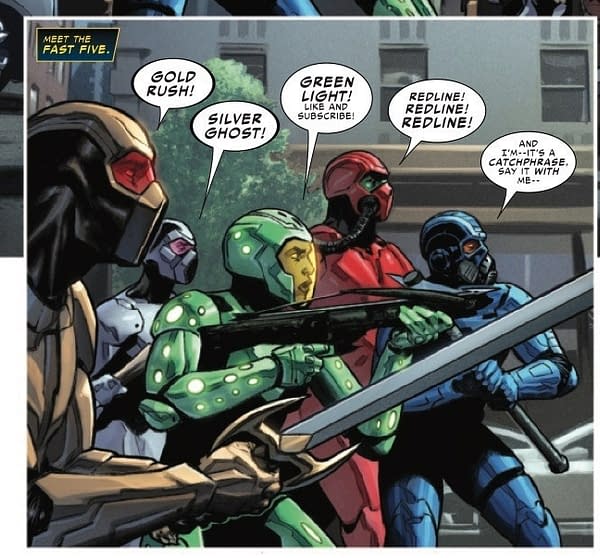 And keeping the Dragonfang from the new Valkyrie, Jane Foster. The new inhabitant of that role, easing the passing the journey from the living to the dead. Also getting a bit of a PR bump.
And after successfully absconding with it, falling foul of Shang-Chi's prediction.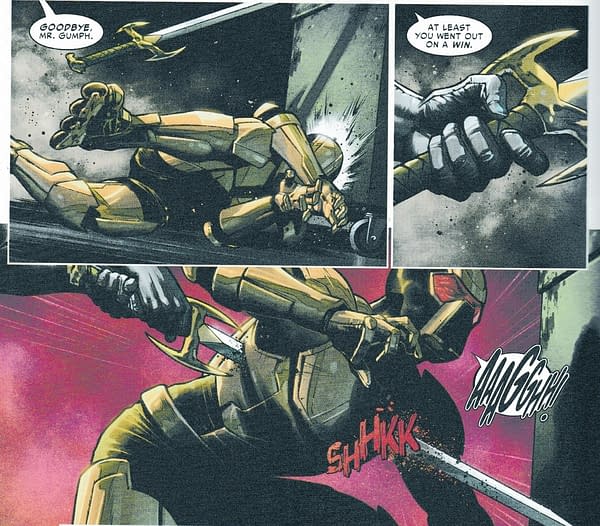 And as Valkyrie takes a trip to Hell to talk to the previous Valkyrie about her role in life – and how to find that pesky Dragonfang sword… reminding everyone in Hall H of Jane Foster's previous position in the Marvel Universe…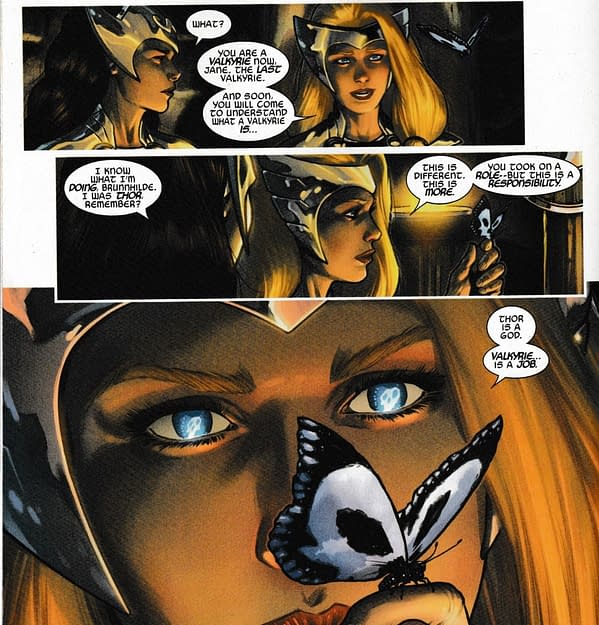 And leading to the death of another god at its blade. Major spoilers here. You may wish to wait… Remember though, these are Asgardians gods, Ragnarok is all part of the cycle – as tomorrow's Official History of The Marvel Universe #1 will remind you…
And Mark Waid read a lot of his co-collaborator Al Ewing's work when preparing this volume as well.
As for who has the Dragonfang sword now? Well, solicitations for Valkyrie #2 will tell you all… spoilers… and the solicit for #3, as well as the visit to Bruhilde previously, demonstrates how this will not be the end for a certain someone.
VALKYRIE JANE FOSTER #1
(W) Jason Aaron, Al Ewing (A) CAFU (CA) Mahmud A. Asrar
JANE FOSTER STARS IN AN ALL-NEW NEW ONGOING SERIES! A new hero emerges straight from the pages of THE WAR OF THE REALMS! For years, you knew her as Dr. Jane Foster, one of Thor's most steadfast companions. Then you knew her as Thor, the Goddess of Thunder, who took up the mantle when no other hero – god or human – was worthy. Now Jane takes on a new role as Valkyrie, guide and ferrywoman to the dead! But her days of punching are far from over. WAR OF THE REALMS master architect Jason Aaron and superstar Al Ewing (IMMORTAL HULK) join forces with rising star artist CAFU for the book that'll have everyone talking!
Rated T+In Shops: Jul 24, 2019
SRP: $3.99

SWORD MASTER #1
(W) Shuizhu, Greg Pak (A) Kris Anka (A/CA) Gunji
MIGHTY MARVEL MARTIAL ARTS DOUBLE TROUBLE! ALL NEW ONGOING SERIES! You saw him tear through Fire Goblins in WAR OF THE REALMS with his big, damn magic sword! Now learn the mysterious origins of LIN LIE, A.K.A. SWORD MASTER, Marvel's newest Chinese superhero, in the English language debut of the original series written by Shuizhu and drawn by Gunji! Haunted by dreams of demons, Lin Lie hunts for his missing archeologist father – and for the secret of the black sword he left behind. And in a brand new story written by Greg Pak (NEW AGENTS OF ATLAS), Sword Master teams up with SHANG-CHI! What happens when an undisciplined, untrained kid with a magic sword tangles with the one and only, undisputed MASTER OF KUNG FU? (Spoiler alert: they will indeed drive each other crazy, with huge ramifications for the Marvel Universe!)
Rated TIn Shops: Jul 24, 2019
SRP: $3.99

HISTORY OF MARVEL UNIVERSE #1 (OF 6)
(W) Mark Waid (A) Javier Rodriguez (CA) Steve McNiven
ALL-NEW STORY BY LEGENDARY CREATOR MARK WAID! Everything you ever wanted to know about the Marvel Universe – in one lavishly illustrated series! From the Big Bang to the twilight of existence, HISTORY OF THE MARVEL UNIVERSE chronicles completely, for the first time, everything that was, is or will be! Lushly illustrated text tells the complete story of the Marvel Universe, revealing previously unknown secrets and serving as the ultimate reference book for Marvel fans! Witness the greatest tale ever told – and be prepared for some shocking revelations!
Rated TIn Shops: Jul 24, 2019
SRP: $4.99

VALKYRIE JANE FOSTER #2
(W) Jason Aaron, Al Ewing (A) CAFU (CA) Mahmud A. Asrar
INTRODUCING THE GOD OF THE KILL – BULLSEYE!
The deadliest shot in the Marvel Universe just got his hands on the sword of a god! With the Asgardian weapon Dragonfang, Bullseye has the power to kill a god in a single stroke – and he's about to prove it. Jane Foster, the newly christened Valkyrie, must learn a hard lesson: Not every death can be prevented. Who is next on Bullseye's list – and what is the assassin really after?
Rated T+In Shops: Aug 21, 2019
Final Orders Due: Jul 29, 2019
SRP: $3.99

VALKYRIE JANE FOSTER #3
(W) Jason Aaron, Al Ewing (A) CAFU (CA) Mahmud A. Asrar
VALKYRIE TAKES A BELOVED FRIEND ON THE JOURNEY OF THEIR AFTERLIFE!
When a longstanding Marvel character dies at the hands of Bullseye, Jane Foster must accept her new role and carry them to the world beyond. But she is not the Valkyrie of the past – nor is Bullseye's victim any ordinary hero. Valhalla is only one hall of the dead. The multiversal afterlife awaits.
Rated T+In Shops: Sep 18, 2019
SRP: $3.99
Comics provided by Marvel Comics.
Enjoyed this article? Share it!