Deathstroke #31 Review: Bringing Down the Batman
[rwp-review-recap id="0"]
A plane carrying Deathstroke and Wintergreen is shot down over Saudi Arabia, and Slade finds someone dressed like the Batman on the ground. In Gotham, a highly advanced chip developed by Wayne Enterprises is stolen from a man in a bar. Commissioner Gordon brings this information to Bruce Wayne, and he goes to investigate.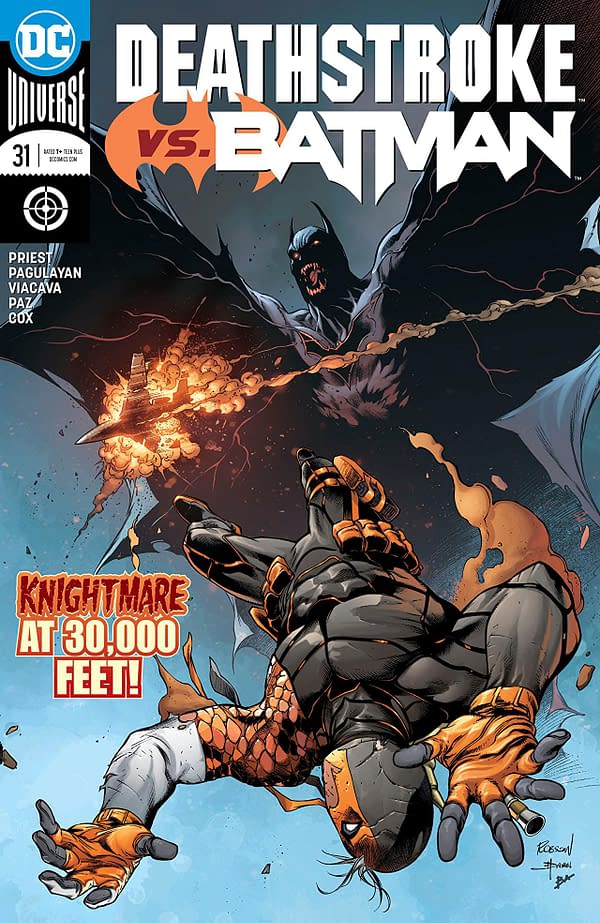 This issue shows how Deathstroke vs Batman is going to be able to last multiple installments. Slade and Bruce begin attacking one another indirectly and using their allies.
It makes for interesting reading. Both men are intelligent and driven. They employ labyrinthine plots to strike at one another while remaining firmly dedicated to not allowing the other to victory.
As is often the case of Christopher Priest's Deathstroke, the writing is methodical and detail-focused. It lends itself to a detective tale, even if we do know who is behind these "crimes."
Deathstroke gets an opportunity to show his trademark bravado and cruelty once again in this issue. It is somewhat undercut by his use of the word "effing," which doesn't seem especially intimidating when we're talking matters of life and death in the middle of Saudi Arabia.
Carlo Pagulayan and Roberto Viacara provide some very impressive artwork across this comic. The world is highly detailed, characters are expressive, and panels are composed very well. The two artists have complimentary styles to boot, so the comic doesn't have disparate page-to-page moments. Jason Paz and Jeromy Cox bolster the visuals with great inkwork and color art respectively. This is an all-around gorgeous comic.
Deathstroke #31 continues the explosive beginning of Deathstroke vs Batman with an action-packed issue that shows the various ways these two men can and, possibly will, destroy one another. The artistic team contribute some phenomenal work to this book, and the overall product follows up on the previous installment excellently. This one gets a recommendation. Check it out.
[rwp-review-ratings id="0"]
[rwp-review-form id="0"]