"Dejah Isn't A Character I Ever Expected To Write…" – Frank Barbiere On Dejah Thoris
As the new Dejah Thoris series is set to launch, Byron Brewer sat down with series writer Frank Barbiere to talk about the new take on the character and how he'd never expected to be playing in this universe. Cover art by NEN.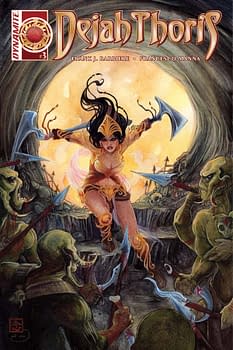 BYRON BREWER: So Frank, how are you enjoying Dynamite's new take on one of its favorite cover girls, Deja Thoris?
FRANK BARBIERE: It's been a great and rewarding experience. Dejah isn't a character I ever expected to write, so it's been a unique opportunity and I've grown to love the character. I'm very thankful that Dynamite gave me the chance, and for the great initial story ideas from Gail Simone.
BB: Did you do any extra research for this more militaristic Dejah?
FB: I've had to invent a whole new supporting cast, and that's been a lot of fun. I wouldn't say I did any additional research, but there's a lot of mining the Burroughs mythology and learning a lot of the "language' of the world. As a writer, that stuff is a blast and always enriches the work.
BB: Tell us some specifics about the "Army of Barsoom" please.
FB: So what we're dealing with is the People's Army of Barsoom. It's basically a mercenary army that has risen up out of a distrust of Helium's army (led by none other than warlord John Carter) and populated by hardened commoners. They are certainly a rough group, and they don't let just anyone in. They've provided Dejah with a place to foster a whole new side of her character, and it's been a real blast fleshing out the different, new characters who make up the infrastructure of the group.
BB: What does artist Francesco Manna bring to this alien table?
FB: Francesco, along with colorist Morgan Hickman, has been doing outstanding work. The style of the book is just beautiful, and as we move forward there are a lot of diverse locations and characters that the art team is just knocking out of the park. I couldn't be happier with my artistic collaborators, and think fans will love the style they've brought to Dejah!
For more on Dejah Thoris #3, click here.