Diamond Removes GEM from Three Jokers and Other DC Comics
In every Diamond Previews catalogue, a number of items from all of the Premiere comics publishers , DC, Dark Horse, IDW, Inage, Dynamite and Boom – are labelled with the GEM logo, while other titles including those from Marvel have a Spotlight. These are intended for each publisher to choose heir most notable offerings of the month, the one or titles that should stand out, often launches or anniversary issues. Diamond also names its annual awards after these, the Gem Awards.
For April 2020's catalogue, for comics intended to be published in June the Gems were as follows:
CHU #1 (MR)
BLACKHAND & IRONHEAD HC VOL 01
YOU LOOK LIKE DEATH TALES UMBRELLA ACADEMY #1 (OF 6)
BARBALIEN RED PLANET #1 (OF 5)
DCEASED DEAD PLANET #1 (OF 6)
BATMAN THREE JOKERS #1 (OF 3)
SNAKE EYES DEADGAME #1
TMNT ANNUAL 2020
BETTIE PAGE #1
BUFFY THE VAMPIRE SLAYER WILLOW #1
While many other titles including those from Marvel also have Diamond Spotlight highlights. However, something appears to have happened between the publication of the catalogue and the current situation. In that time, DC Comics appears to have withdrawn from Diamond Comic Distributors in favour of two new distributors, UCS Comic Distributors and Lunar Distribution, created by two comic stores Midtown Comics and DCBS. Diamond states that they will still be distributing the DC Comics they have been holding when they went into shutdown. However, DC Comics seems to have reprinted those comics and are getting them out through these new means and telling retailers that their orders through Diamond have been cancelled. Diamond disagrees.
This dispute seems have had other effects though, such as the removal of all Gems and Diamond Spotlights from DC Comics titles. On the current catalogue page, where titles have Gems or Spotlights, they are moved to the front of the Previewsworld listing and look like this, such as the listing for Image Comics.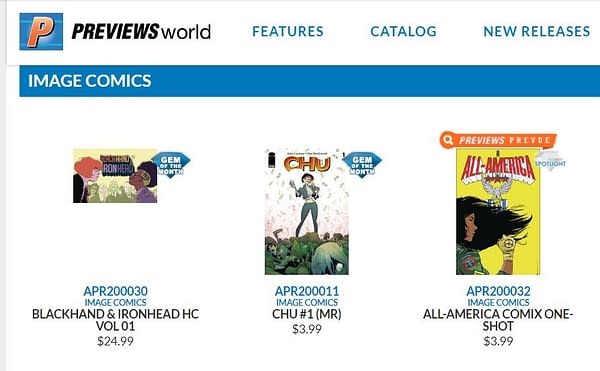 But for DC Comics' listing, nothing has been moved to the front and the highlights have been removed from the books. Including a certain Three Jokers. This is only for the April-for-June catalogue, previously catalogues retain their GEM and Spotlight notations.
Gems and Spotlights draw retailer attention to certain titles, act as a double-check for retailers to make sure they have ordered enough and generally add a level of excitement to the comic books in question. But Diamond has decided that they are no longer necessary for DC Comics titles. Are these the latest shots fired in the New Distributor Wars of 2020?