Diamond Comics Launches Digital Pullbox System for Comic Shops and Their Customers
Recently ComiXology removed their Pullbox system that allowed retailers to run digital reserve-and-keep lists for their customers for comic books coming in every week. In their wake there have been a few other systems that have tried to take its place. But, at ComicsPRO this week, Diamond launched a brand new system for the direct market with the big boys pulling the levers.

Diamond Comic Distributors announced the upcoming release of Pullbox, a cloud-based software application that will allow comic shop customers a better way to preorder titles and products from their local comic book specialty shop.
Described as being developed from the ground up to help customers place orders with their local comic shop, Pullbox handles monthly comic subscriptions, preorders for upcoming titles and products, and special orders all from Diamond's consumer pop-culture website, Previews World, while also providing comic shop retailers with the back-end tools necessary to manage their pull-and-hold customer base.
The new cloud-based software is announced as part of a broader strategy by Diamond to create an easy way to funnel orders to local comic book shops and make the preorder process a much more viable and vital process for the entire comics industry.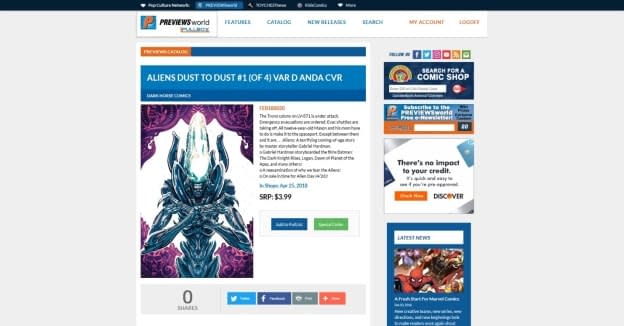 Pullbox will let customers manage preorders by adding titles to monthly pull-and-hold list, order additional titles and products from that month's catalogue and track their weekly purchases.
Synch with a participating local comic shop. And both place speciual orders or create a wishlist so friends and family can buy you a gift you really want from your comic shop.
While retailers get a host of functions to approve new customers, get alerts for new orders, set ordering dates and upload their own ordering requirements and guidelines. Retailers can synch orders with their initial orders online, or export orders into ComicSuite or other POS software. And they can integrate pull lists, subs and special orders into existing ComicSuite software.
Pullbox is set to launch later this spring and is a free service to comic readers from Diamond – though retailers will have to pay. It will be demonstrated at the upcoming Diamond Retailer Summit, in Chicago before C2E2.