Dieselfunk Dispatch: Why WICOMICON? With Nerds of Color's Keith Chow

Greetings, Dieselfunkateers! WICOMICON COMETH! Like a Phoenix from the ashes, WICOMICON has come to save the day after the abrupt postponement of Universal FanCon. This event, formed in only a few days, seems to be a move towards the positive in this sorely needed period for Fandom for Inclusion.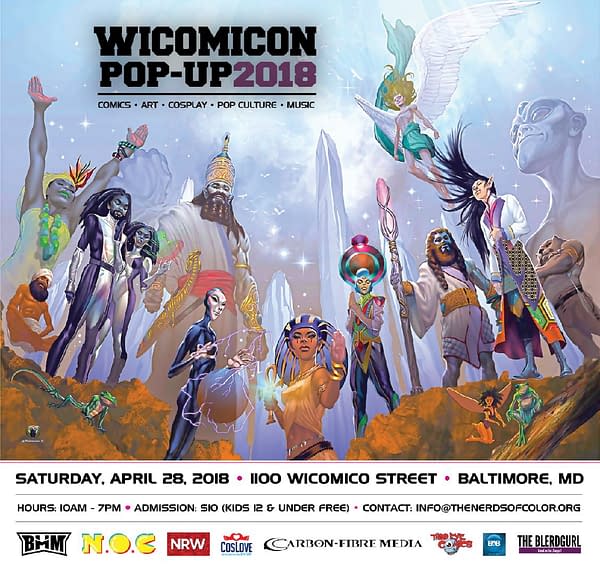 It's amazing what can happen when people are forced to work together. I had the pleasure of speaking with Nerds of Color head honcho, Keith Chow:
DD: Tell us a little about WICOMICON.
KC: WICOMICON happened because we saw a community hurting. A community we're all a part of. It is the result of a collective effort between Nerds of Color, Black Heroes Matter, New Release Wednesday, Carbon-Fibre Media, theblerdgurl and the Be A Boss App. WICOMICON is a one day pop-up convention at 1100 Wicomico St. in Baltimore on Saturday, April 28th. Its a place for those left stranded by FanCon to find community.
DD: That's an incredible lineup of sponsors, and it's admirable that such a diverse group would form under these circumstances. If you could wish for an outcome for WICOMICON, what would it be?
KC: The best outcome, honestly, is to see this community of fans heal and come together to celebrate one another again.
DD: That's a powerful goal.
Keith was very honest about the need to pull together. In fact, that feeling extends to the further community. Milton Davis, science fiction and fantasy author and creator of MVmedia, LLC. as well co-founder of the upcoming Blacktasticon had this to say:
"When a Black Speculative Fiction event struggles, we should ask ourselves what we can do to help. Now is not the time to add to the pain. We should also contemplate what we can do in the future to help increase the chances of success for other events. Don't get me wrong; we as organizers are responsible for whatever projects we create. In the end, the success or failure of the event lies on our shoulders. But if we are aware of a new venture, we should consider offering our help through advice or whatever else we think is necessary or what we are capable of. Everyone has the right to refuse, but at least the gesture was made. Black Speculative Fiction events have existed for over 20 years, so the viability of them is not in question. What people outside our community think of what we do is irrelevant. What matters is what we think, what we say, and most importantly, what we do. Food for thought."
In times of uncertainty what tends to happen, particularly with people of color and marginalized voices, they FIND A WAY. There always a silver lining. If people rally together, perhaps WICOMICON can go from pop-up to permanent? In the near future will will cover as many spaces of inclusion as we can. The Dieselfunk Dispatch will always endeavor to signal boost where needed. WICOMINFORYA!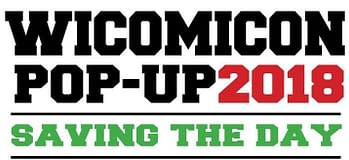 Here's the Press Release from WICOMICON:
This week, diverse pop culture fans from all over the world will be coming to Baltimore en masse looking to celebrate their fandom and their communities. Unfortunately, for many of these people, their plans have abruptly changed due to the cancellation of Universal FanCon. Fortunately, the WICOMICON Pop-Up 2018 is here to #SaveTheDay!
The name "Wicomico" is derived from the Algonquin words meaning "a place where homes are built." Housed in a historic building at 1100 Wicomico Street in Baltimore, MD, WICOMICON 2018 will be a home for fans and artists left homeless by the postponement of FanCon.
Featuring some of the most acclaimed names in the comic book, arts, and entertainment industries, WICOMICON 2018 will open its doors starting at 10am on Saturday, April 28 and run until 7pm. In addition to dozens of exhibitors, this unique pop-up convention will also feature panels, cosplay contests, surprise guests, and a wide variety of food options. Admission at the door will be only $10 ($5 for FanCon ticket holders) and free for children under 12.
Please visit hardnocmedia.com/popup for more information on how to be a part of WICOMICON on Saturday, April 28 from 10am to 7pm.
For press inquiries or questions about exhibiting, contact keith@hardnocmedia.com
For programming inquiries and panels, contact theblerdgurl@gmail.com
For cosplaying and entertainment inquiries, contact nrw.press@gmail.com
For volunteering inquiries, contact e.kelley@beabossnow.com
For all other questions, contact info@thenerdsofcolor.org
#WICOMICON #SaveTheDay #ConTogether