Doctor Strange Damnation #2 Review: More Good Stuff to Balance Out the Problems
[rwp-review-recap id="0"]
Mephisto and his corrupted Avengers are holding Doctor Strange. This leaves it up to Wong and Bats to put together a team to save the Sorcerer Supreme. This team consists of Iron Fist, Blade, Elsa Bloodstone, Doctor Voodoo, Ghost Rider, Moon Knight, and the Man-Thing. With this motley crew, Wong lays out his plan, and the group heads to Las Vegas.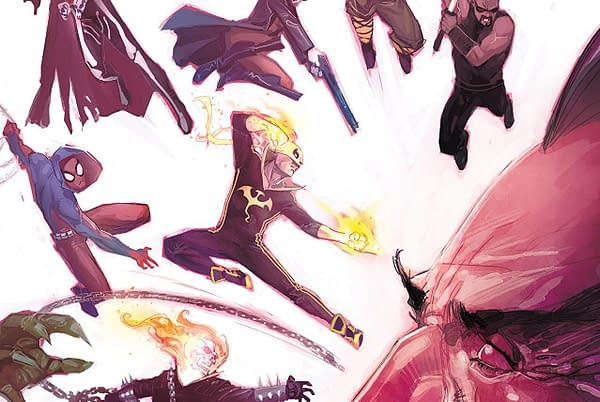 Doctor Strange: Damnation #2 continues to highlight many of the problems that made Damnation #1 a rough ride. The opening scenes have narration from Stephen Strange treating what he did like a whoopsie-daisy, Wong seems unwilling to admit that Strange messed this one up, and even Ghost Rider talks about how Doctor Strange has caused messes like this before.
However, there is enough unique and enjoyable content in Damnation #2 to better offset the problems of the premise.
I mean, this is a bizarre crew to gather, even if they all have magic in their MO to varying capacities. They don't all get along either, and they shouldn't. Ghost Rider is bitter about being there at all. Elsa and Blade keep poking at each other because each thinks the other is a hack.
Wong's exasperation with the situation is entertaining on its own. If there's one thing genuinely compelling in the core of this story, it's Wong's devotion to his self-destructive friend.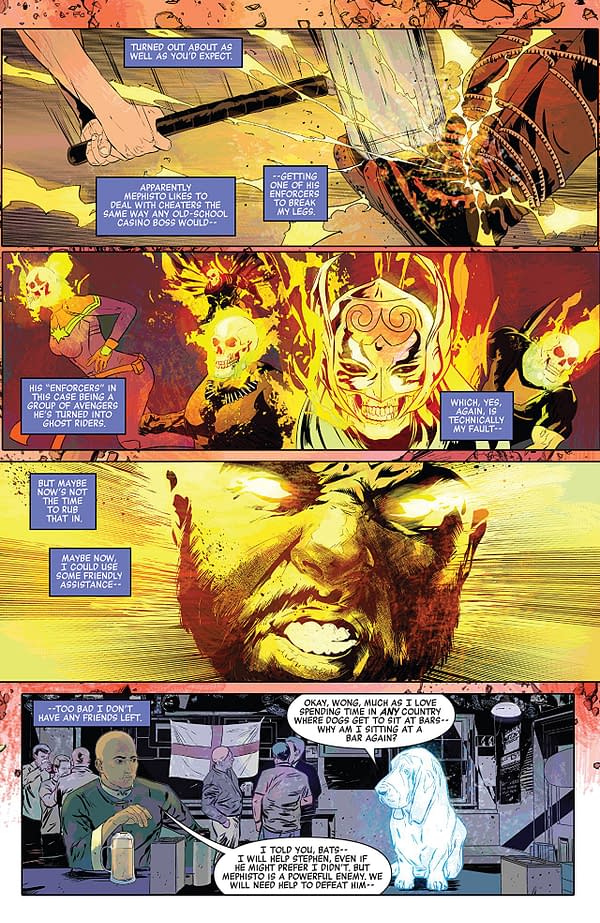 While it's weird that we're already swapping artists in this miniseries, I'd be lying if I said Szymon Kudranski's artwork didn't look damn good. It mixes realistic detailing and ethereal vagueness to create a compelling style for this story. Plus, Dan Brown's color art is more faded, which also works well for the comic's magical themes.
Doctor Strange: Damnation #2 is better than the first issue, even if it has the same problems. The weird Ocean's Eleven but with magic wielders and fighters allows me to forget some of the unappealing parts of the premise. It's still not great, but it's a little better. The different art helps too. I can recommend it to anyone who is interested in this cast, because they are used well in this story. Feel free to give this one a read.
[rwp-review-ratings id="0"]
[rwp-review-form id="0"]