Doug TenNapel, the creator of the comic book character and gaming star Earthworm Jim, has launched a crowdfunding campaign for a new comic Earthworm Jim series on Indiegogo, and with two months left of his campaign to go, has already raised $195,154. His previous Indigogo campaign last year for the less-famous Bigfoot Bill comic raised $196,546 over its entire run, so it is likely that Earthworm Jim: Launch The Cow, telling Earthworm Jim's origin will top that. Probably tonight.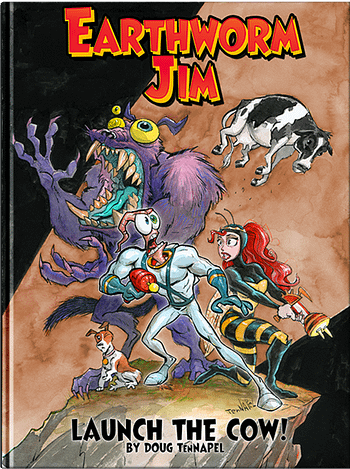 Image Comics recently republished TenNapel's Creature Tech graphic novel in January, and he is working on a new Earthworm Jim game with ten of the original programmers, artists, audio team members, and level designers of the original for the upcoming Intellivision Amico video game console for the game's 25th anniversary.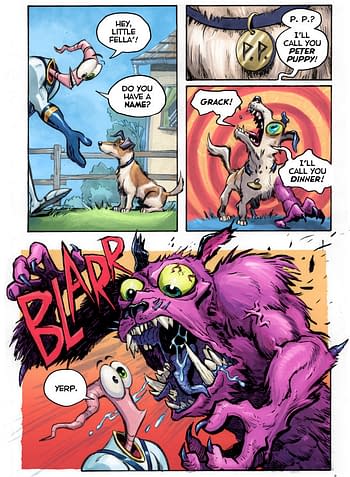 Which has also brought new attention to accusations that the writer and cartoonist has made numerous homophobic and transphobic statements over the years. Recent coverage included links to a Bleeding Cool article from 2017, in which Doug TenNapel is cited as repeatedly and intentionally misgendered trans reporter Heather Alexandra. In response, the CEO of Intellivision has responded, saying
"I totally respect everone's right to decide whatever the heck they want. No worries. The reality is if we do the game with Doug, some people may get upset. If we did the game without Doug, other people would be upset. So it's a no win situation no matter what as it's absolutely impossible in this day and age to please everyone. But it's very important to know that although Doug was the creator of the actual character, it was the entire team of 10 of us who created the experience that everyone knows and loves. A complete team effort with no one having more important opinions or visions over anyone else. Making the game with the original team is the only true way to keep it 100% authentic."
But he also followed up saying,
"I'd also like to point out (not that I need to), but Intellivision currently has 3 transgender folks working for us. Pretty funny considering that people were comparing me to Hitler because I refused to kick Doug off the team."
While TenNapel successfully promoted Bigfoot Bill using the #Comicsgate hashtag and allied himself with members of the activist group which fights against progressive voices in comic books, often with organised campaigns of hatred and division, he recently decided not to do so with Earthworm Jim and parted company with comicsgate. After being targeted by a group called WarCampaign who were trying to determine which CG participants were 'pure' – genuine or not in their adoption of the comicsgate tag, he stated that,
WC prolongs and escalates another stupid internal CG war. Are you sick of this? I am! I can't have my comics business associated with groups who attack backers and creators.

I'm out of CG and moving on to focus on what my backers are about: great comics & no drama!

— Doug TenNapel (@DougTenNapel) 16 May 2019
We'll see how that goes. Doesn't seem to have hurt his fundraising ability one way or another.
Enjoyed this article? Share it!