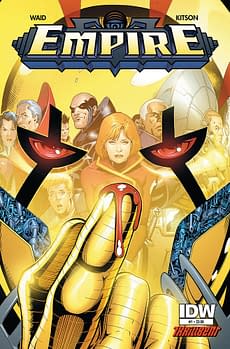 Digital comics portal Thrillbent is partnering with IDW Publishing to bring their unique digital comics to print starting spring of 2015.
Thrillbent was founded in 2012 by Mark Waid and John Rogers as an experiment in new-media comic publishing. Their goal was to challenge the 75 years of accepted rules on what comics are and are not. Since their launch, the publisher has worked with over 60 creators to publish 20 ongoing digital-only series so far.
The first two series to see print through this new partnership are Empire Volume Two and Insufferable, both written by Waid. Empire Volume Two is the sequel to the Eisner nominated series Waid created with Barry Kitson in 2000. The two teamed up again to continue the saga of Golgoth, the villain who actually conquered the Earth. IDW Will also produce a new edition of Empire Volume One.
While Insufferable is Waid with co-creator Peter Krause in a series about what happens when a sidekick grows up to be at war with his mentor and what happens when they have to work together again.
Both these books will be shipping in the Spring of 2015.

UPDATE: Rich adds: Although this info came directly from IDW's website, not everyone seems to be quite on board yet.
@RedHeadedFanboy Okay, I see Bleeding Cool has jumped the gun on this. I still haven't signed the contract!

— Peter Krause (@petergkrause) November 2, 2014
Enjoyed this article? Share it!