Eric M Esquivel and Eddie Berganza Launch New Comics Publisher. Yup.
Eddie Berganza was a long-standing editor at DC Comics in the nineties and noughties, promoted to Executive Editor of DC Comics. In 2012, after a series of "indiscretions" first reported by Bleeding Cool, Berganza was demoted to Group Editor and underwent Warner Bros HR procedures. In 2016, Buzzfeed followed up with a long report, detailing a series of allegations of sexual harassment over a long period of time. One day later, Berganza was let go by DC. Since then, Berganza has been in Mexico, buildin homes for the homeless and working as a teacher. Including teaching comics classes.
Eric M Esquivel was a relatively well respected minor comic book writer, working on titles such as Border Town, Adventure Time, GI Joe and Bravest Warriors. In 2018, Esquivel was accused by a woman of subjecting her to ongoing sexual and emotional abuse. As a result, his creative collaborators on Border Town withdrew from the project, as well as dropping plans for Esquivel to write the Nightwing series.
Today, Esquivel tweeted the following, that he and Berganza would be working on a comics project together, with artist Jocelyn Ojeda, who Berganza recruited from his comics classes, and that their Kickstarter would begin on March 1st.
https://twitter.com/ericMesquivel/status/1223066449591164928
Here are the plans he posted, for new a publishing line Alternate Empire, it's first title El Ronin and how Eric and Eddie's paths crossed.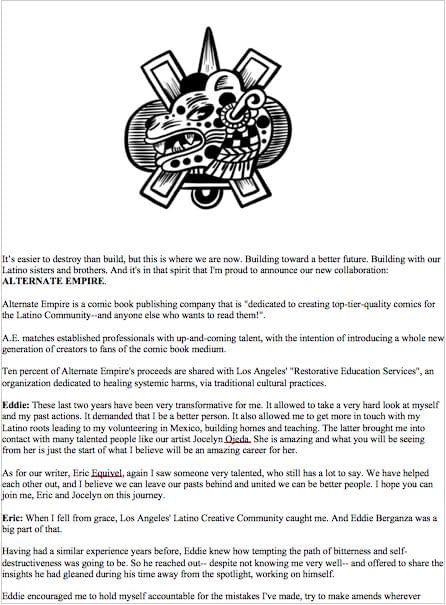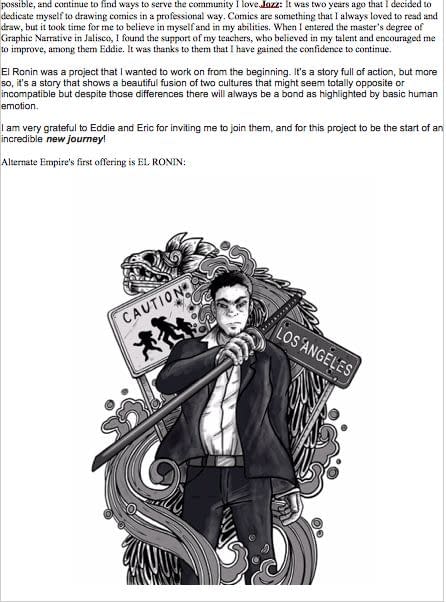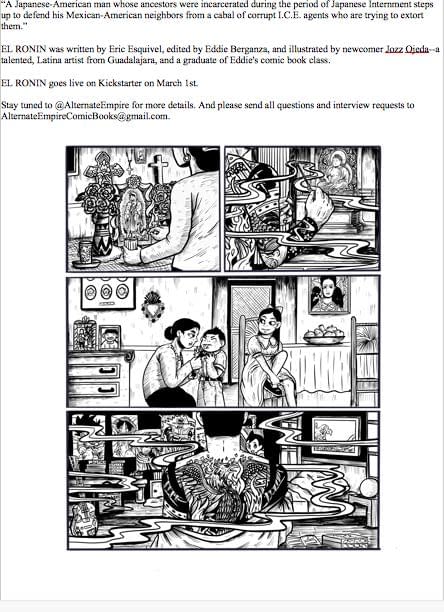 The essay also talked about the comic raising money for Los Angeles 'Restorative Education Services'. Bleeding Cool understands that this is a new initiative from those at The Boyle Heights Arts Conservatory, which intends to provide a focus on career development for youth who are interested in film, television, broadcasting, and content creation, who otherwise would have limited access to training in the creative arts economy.
I spoke to Esquivel earlier today who wished to let his earlier statements stand, but asked that people leave the artist, Jocelyn Ojeda "out of the hazing" – though he wanted people to know that she was fully aware of Berganza and Esquivel's history. Here is some of her art from El Ronin.