Eric Stephenson Trademarks Pacific Comics For Publishing
Pacific Comics (PC) was a comic store chain, a comic book publisher, and a comic book distributor that began in the early seventies. Fifty years later, it appears that may be back. A trademark had been registered for "PACIFIC COMICS PC" by Image Comics publisher Eric Stephenson, for the purposes of publishing comics.
A little Pacific Comics history
First a little history; Pacific Comics was founded in 1971 as a mail order comic store, by teenage brothers William and Steve Schanes. Three years later, it launched as a physical store in Pacific Beach, California. Unable to secure enough comics to sell, they helped form the nascent direct market of comic book distribution, dealing directly with publishers and supplying to other stores on the West Coast. That then became a chain, and a comics publisher in its own right, Pacific poached writers and artists from DC and Marvel to produce creator-owned titles, which were also not subject to any Comics Code and which paid royalties, something unheard of at the time. Pacific claims to have become the first company to pay royalty payments to Jack Kirby when they published Captain Victory and the Galactic Rangers in 1981.
Pacific then published Kirby's Silver Star and launched a line of colour titles, including Mike Grell's Starslayer, Dave Stevens' The Rocketeer, Steve Ditko's Missing Man, John Byrne's ROG-2000 and Sergio Aragones' Groo The Wanderer as well as Art Adams' first work on Alien Worlds 3-D. Defections from Pacific to First Comics harmed the publisher, as did the rising debt levels on the distributor side owed to Pacific by comic stores, with rising competition and concerns over conflict of interest between the publisher and distributor wings of Pacific. Faced with lawsuits over foreign rights, Pacific went bankrupt in 1984. Steve Schafer co-founded Blackthorne Publishing with his wife. At the same time, William Schanes became a prominent figure as Vice President for Purchasing at Diamond Comic Distributors, working there full-time for 28 years.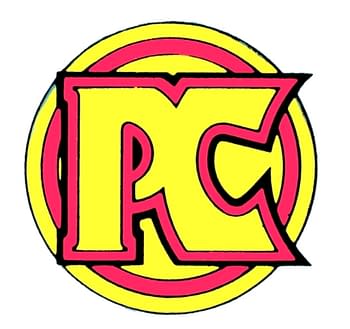 What's happening now with Pacific?
Now we have a trademark registration. That is all. Pacific has been called the template for Image Comics and now Image Comics publisher Eric Stephenson has registered the trademark. Pacific Comics PC is listed under Eric's own name, registered to Portland, Oregon. The trademark categories include "downloadable electronic publications in the nature of comic books and graphic novels, Comic books and graphic novels" as well as for "bookmarks; calendars; decals; folders; posters; stickers; trading cards; photographic prints, Clothing, namely, hats, t-shirts, sweatshirts, and hooded sweatshirts". William Schanes did not chose to comment on this at this time but Eric told me the following. "Pacific Comics and Image Comics share a certain kinship in terms of creator-owned comics, and I thought it would be cool to use the name for an Image imprint at some point in the future, so after discussing the idea with Bill Schanes at San Diego last year and getting his and his brother Steve's blessing, I started looking into securing the trademark. That said, there are no solid plans at this time for Pacific Comics at present. We have other priorities right now due to COVID-19.". I look forward to finding out more at the appropriate juncture.