Here we have an exclusive first look at what Dynamite has coming up for their Legenderry spinoff series in May of 2015. Here we have the covers a solicitations for the penultimate issues of Legenderry: Green Hornet by Daryl Gregor and Brent Peeples, Legenderry: Red Sonja by Marc Andreyko and Aneke and Legenderry: Vampirella by David Avallone and David Cabrera
LEGENDERRY: GREEN HORNET #4 (OF 5)
Cover A Main: Sergio Davila Writer: Daryl Gregory Art: Brent Peeples
Green Hornet and Kato team up with Brass Hornet to track down Lidia Valcallan. But it's five miles to Breed Tower, they're on foot, it's dark, and they're wearing goggles. Oh, and every gang in the city is trying to kill them!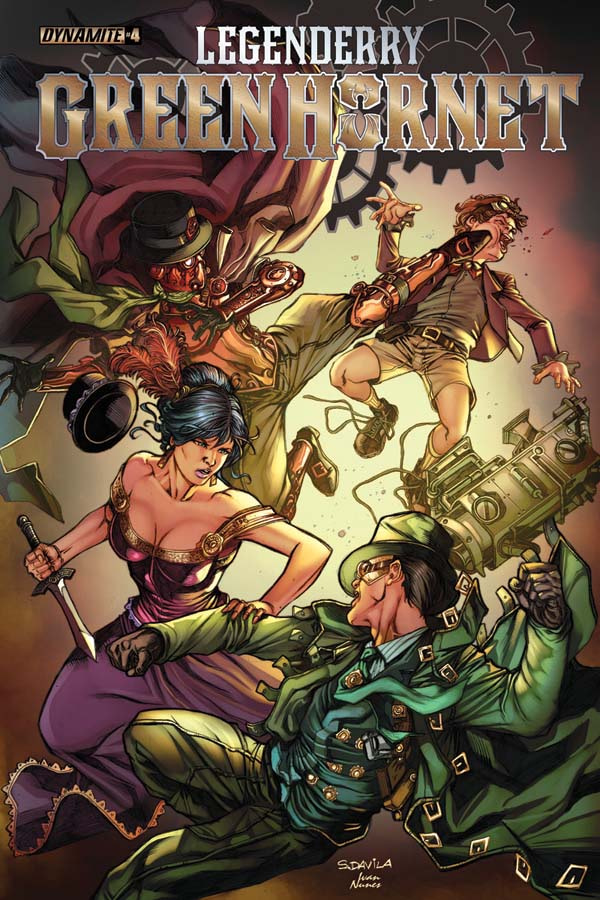 LEGENDERRY: RED SONJA #4 (OF 5)
Cover A Main: Sergio Davila Writer: Marc Andreyko Art: Aneke
After coming face to face with the evil that is Victor Frankenstein and seeing the horrors he has planned for the world, Red Sonja must struggle not only to survive an army of monsters, but to save herself from a horrible fate! With her only ally taken from her, Red seems utterly alone against an insurmountable task. Can the clever swashbuckling heroine overcome the odds and live long enough to bring down Frankenstein's Army? Or will she be consumed by the sea? LEGENDERRY: VAMPIRELLA #4 (OF 5)
Cover A Main: Sergio Davila Writer: David Avallone Art: David Cabrera
Moreau makes a monster, Kurtz stirs the masses, and Toomey gets lucky in the most unlucky way possible. Vampirella kisses a boy, storms the Council and fights a Bat-Man. Sex, violence, and everyone is wearing goggles for some reason.