Exiles #2 Review: An Explosive Second Installment
[rwp-review-recap id="0"]
Blink, Khan, and Iron Lad narrowly escape demise at the hands (or mouth) of the Time-Eater. The three universe-hopping heroes find themselves in another version of Asgard, witnessing a Valkyrie in heated combat with Surtur, the Fire Demon. The Exiles aid Valkyrie against Surtur and his monstrous horde.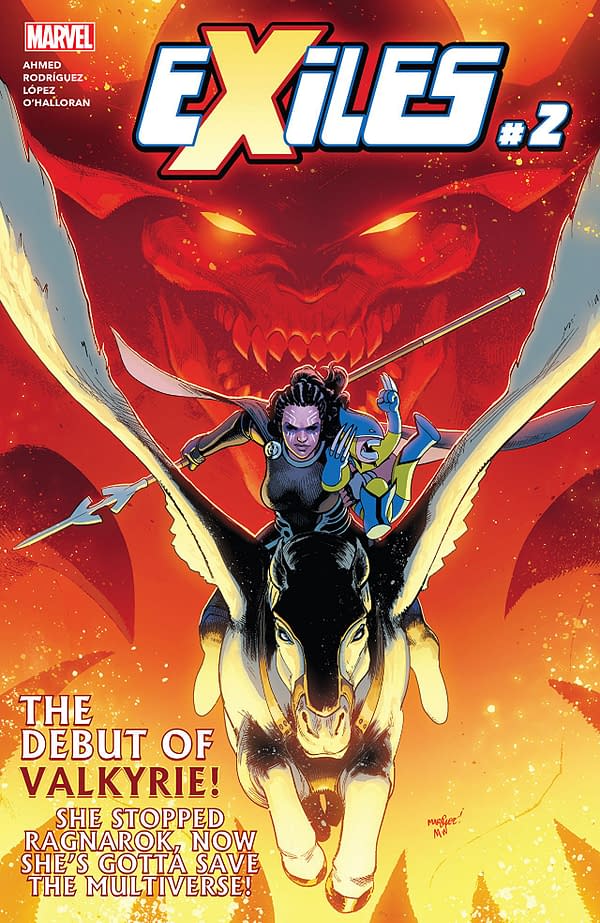 Saladin Ahmed and Javier Rodriguez's Exiles continues to impress with a stellar second issue detailing the continued formation of Blink's new team. The pacing of the story continues to be quick, with wild turns and strange new worlds for our heroes to explore. The chemistry continues to form, with Blink being the beleaguered leader, Khan being the war-weary soldier, and Iron Lad being the optimistic yet naïve genius.
This version of Valkyrie isn't too much like Tessa Thompson's version of the character in Thor: Ragnarok. Where the film version of Valkyrie was more snarky and impatient, this one is a boisterous and booming warrior ever on the lookout for another chance to be a hero. I prefer the film version more for its originality, but this one can still easily win my affections.
As you could likely guess from the cover, Lil' Wolvie does show up, and it's just as goofy as you might expect. However, the comic lends itself to that kind of goofiness, so I wasn't too bothered.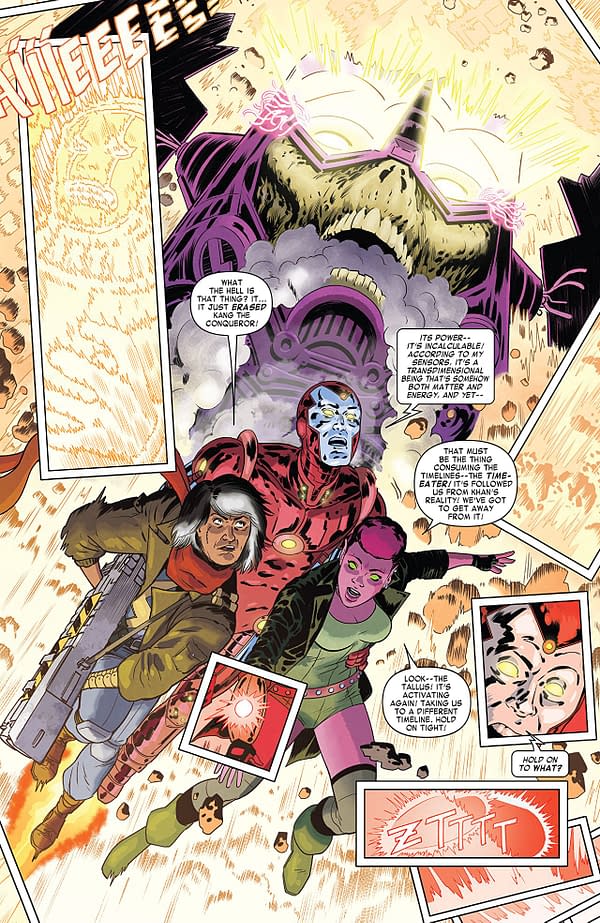 Rodriguez's artwork continues to be distinct, appealing, and highly energetic with its fairly cartoonish style that adds a softness to the world of the Exiles. It looks good, and it adds a level of levity to the apocalyptic proceedings of this first arc of the comic. Alvaro Lopez's inkwork keeps the lines thin and prevents them from being distracting. Chris O'Halloran's color art is bright, wild, and fitting for the tone of this comic.
Exiles #2 is another highly entertaining read for this new take on the team. The characters are likable, the narrative is bizarre, fun, and fast-paced, and the art is great. This one gets another strong recommendation. Give it a read.
[rwp-review-ratings id="0"]
[rwp-review-form id="0"]