Exiles #4 Review: Walks the Tone Tight-Rope and the Genre Plank
The Exiles have narrowly escaped an atomic blast and now find themselves on another Earth in the late 1700's. Slavery is still practiced, and saving a runaway leads the team to Blackbeard, aka Benjamin Grimm. He and his pirate allies are waging war against the slavers, and he wants the Exiles to help. Doing so will, hopefully, lead the team to the missing Tallus.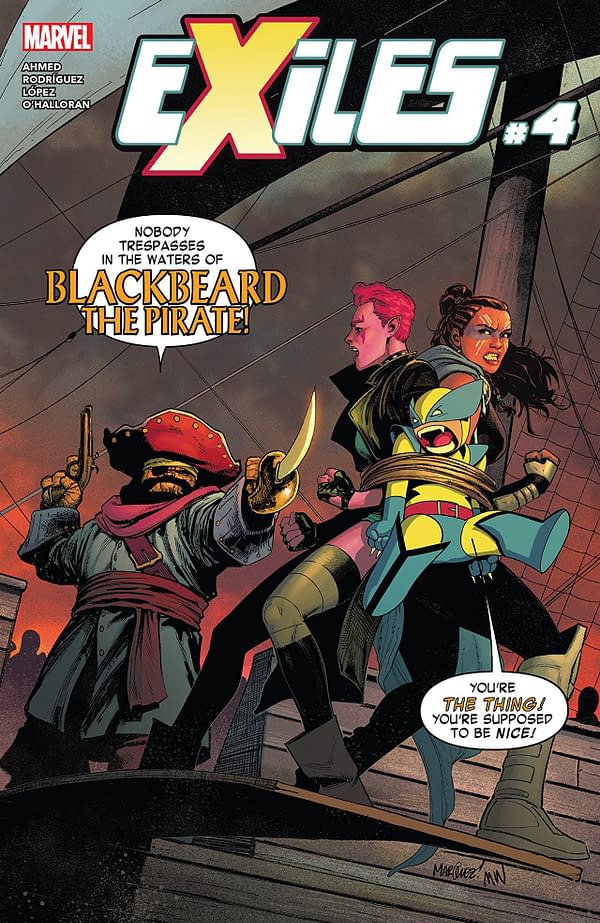 Exiles #4 presents the reader with another fantastical world where we get to see Marvel characters in different roles and places. This Ben Grimm is from yet another Earth's future, but he's not the only familiar face in the setting.
That said, the comic has a swashbuckling and whimsical air to it that does not fit a story about the historical slave trade. While there is something to be said about pairing a classic film genre (Ben even namechecks Errol Flynn) with the harsh realities of slavery a la Django Unchained, it's hard to keep a smile on your face when you know how this atrocity went down.
This issue's a bit wordier than previous installments too.
Those criticisms considered, I still had a hell of a time reading this comic, and this is one occasion where significant tone issues don't entirely kill the story.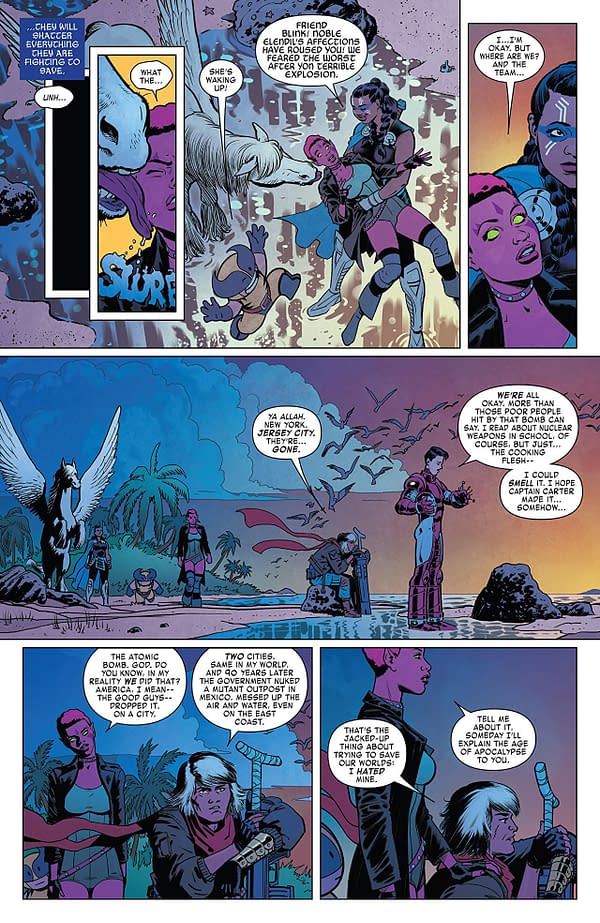 The artwork of Javier Rodriguez continues to dazzle and amaze in this installment. The distinct style helps keep the tone lighter even with the real-world horrors referenced by the comic. The fight scenes are frenetic and satisfying, and there is one splash-page that risked being too busy for its own good but managed to stick the landing impressively. Chris O'Halloran balances the colors in an interesting manner in this issue, using a darker evening sky and the brown of the boat to darken the palette. In all honesty, this contributes to the tone issues, but it does at least look good.
Exiles #4 frankly made a dire gambit in telling a swashbuckling pirate adventure about ending the slave trade, but it made it work…barely. It's hard to ignore the jovial tone cast against literal ship holds full of men and women in chains. That said, the comic makes the mess work if only narrowly. I can recommend it, though I would keep what you're getting into in mind. If you're can cope with these drawbacks, then feel free to check it out.