First Look At Walking Dead's Clementine Graphic Novel In Skybound X #1
Already sold out and gone to second printing, Skybound X #1 is hotting up on eBay, particularly due to the continuance of Rick Grimes 2000 from Walking Dead #75 but also the first comics appearance of Clementine from the Tell Tale Games Walking Dead stories. A new story for the Skybound X anthology celebrating ten – okay – eleven years of Skybound. And it also previews the new Clementine YA graphic novel by Tille Walden out next year, with ads and previews aplenty.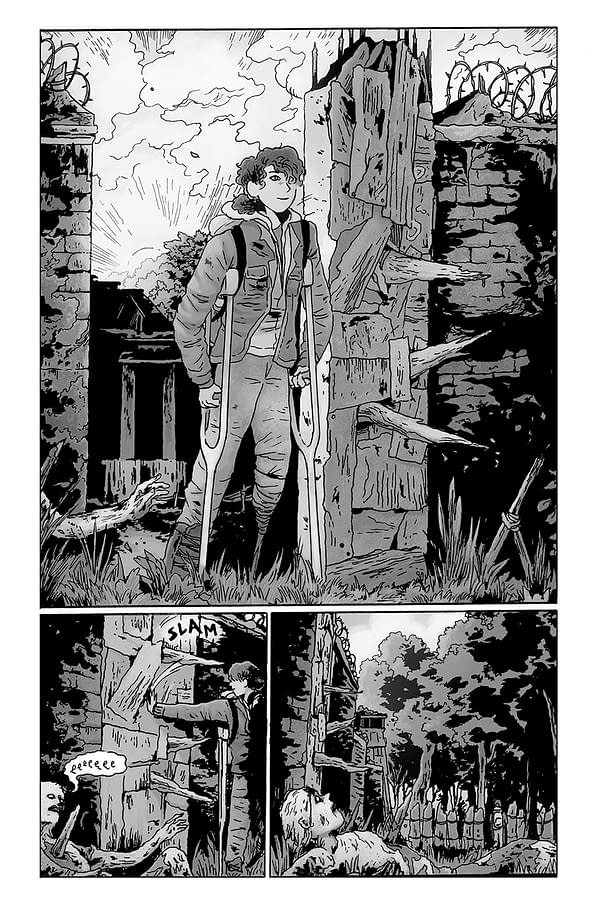 The Charlie Adlard Clementine cover has been selling for $16 each on eBay while the Tille Walden cover has sold for up to $14.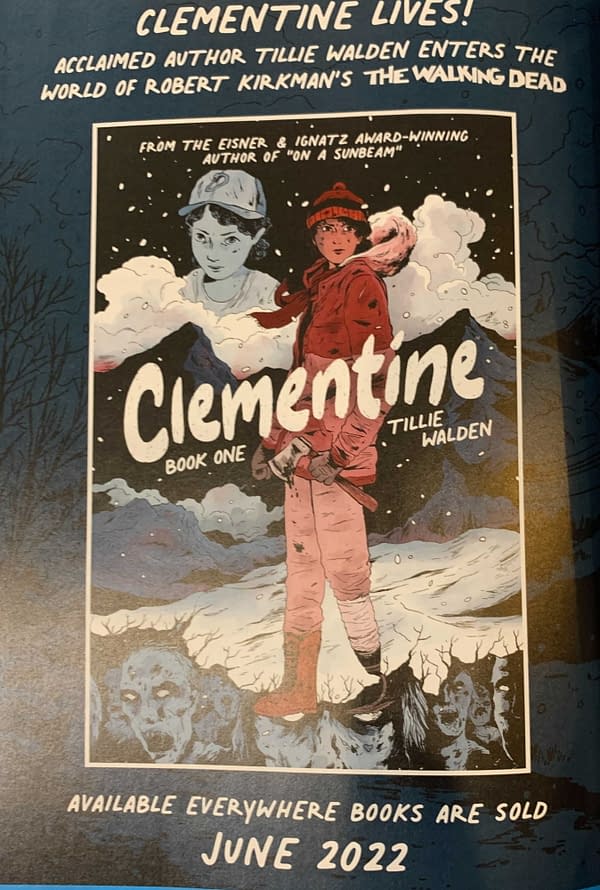 Skybound editor Alex Antone states "Bringing the beloved Clementine into comics for the first time is almost as daunting a task as surviving a horde of walkers. Thankfully, there's no one in comics more fearless than Tillie Walden. We fell in love with Tillie's haunting and emotional work in graphic novels like On a Sunbeam and Spinning, and when we received her initial pitch for CLEMENTINE: BOOK ONE, we knew it was something special. The short story in this volume serves as a bridge between the Telltale Games series and CLEMENTINE: BOOK ONE, a brand new graphic novel that takes place in the same world as the game and THE WALKING DEAD comic books. Of course, the branching narrative of the game meant we needed to make some decisions, but our North Star was always to stay true Clementine's journey while pushing her forward into bold new places. We love Clem as much as you do, and just like Lee, we'll do anything to protect her… We're also pleased to announce that CLEMENTINE: BOOK ONE is the beginning of a TRILOGY of Clementine original graphic novels all written and drawn by Tillie Walden! Book One will be released June 2022 and officially kicks off our new Young Adult and Middle Grade graphic novel imprint – SKYBOUND COMET! Keep an eye out for more SKYBOUND COMET titles and first appearances within the pages of SKYBOUND X…we can't wait to show you what we've got cooking! So to Clementine fans old and new, and Skybound fans young and old, we hope you enjoy our story, and all stories to come… Still not bitten…not even close,"
SKYBOUND X #1 CVR A OTTLEY (MR)
IMAGE COMICS
MAY210037
(W) Robert Kirkman, Tillie Walden, James Harren, Chris Dingess (A) Tillie Walden, James Harren, Matthew Roberts (A/CA) Ryan Ottley
Celebrate a sensational 10 years of Skybound with a cavalcade of your favorite creators and all-new stories of your favorite series past, present, and future! Each issue of this oversized,
weekly series will kick off with a new chapter of a serialized THE WALKING DEAD story – RICK GRIMES 2000 – by ROBERT KIRKMAN & RYAN OTTLEY! In addition, we'll be debuting all-new series and characters every issue, starting with the first appearance of the most requested WALKING DEAD character of all-time: Clementine, star of the bestselling Telltale's The Walking Dead video game series! Did we mention new ULTRAMEGA and MANIFEST DESTINY stories?! If you want to know what to expect in Skybound's next 10 years, it all starts here!In Shops: Jul 07, 2021
SRP: $4.99