Five Thoughts, One Bon Mot: The First Collection Of The Highest House.
One of Vertigo's longest running teams, Mike Carey and Peter Gross (Lucifer, The Unwritten), announced The Highest House at a French publisher Glénat to relatively little fanfare. IDW debuted an English language edition in 2018 to less excitement than a Transformers spinoff. Which is crazy, so in no particular order, here's five thoughts about the IDW collection.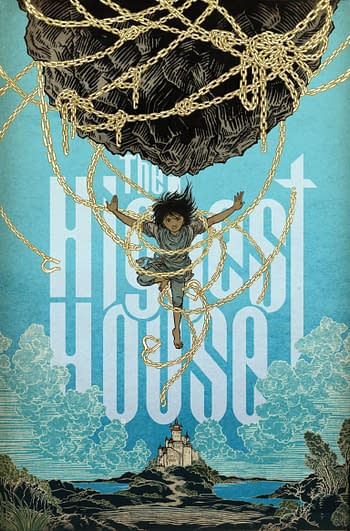 1. I'm annoyed and surprised how little discussion of how The Highest House made it to the English language market: second. Glénat paid for it, and IDW bought the license. In a market where every English publisher looks for cuttable corners, I'd've thought this might be the start of a new way for English publishers to make money. Let the Europeans front the costs to commission the works, and piggyback off them. Then again, I haven't heard anything about The Highest House volume 2, so maybe it bombed spectacularly. The people that know aren't talking to me.
2. Mike Carey and Peter Gross worked for Vertigo for two decades, so to see IDW publish this one feels like either a coup for IDW or a changing of the guard at Vertigo. Speaking of which, The Unwritten cover artist Yuko Shimizu returns for The Highest House, so most of The Unwritten gang returns here, without colorist Chris Chuckry.
3. Mike Carey's really good at bon mots, and I don't see enough people write about that. My favorite:
"'I'm Lord Demini's daughter. If you harm me, my father will sow your whole country with salt!'
'Well, salt adds savor to anything.'"
4. The Highest House is a great showcase for the positives of European comics production. Peter Gross had additional time to complete his pages, so they look great. (A downside of The Unwritten: By the end, the schedule was so aggressive that many of the series' final issues required a second penciller.) And since the pages are larger in here, there's more of Peter Gross' best work.
5. The downside, of course, is that these six oversized issues are all that currently exist. I suppose I'll just have to re-read it, this time for the all the Gormenghast nods.