Forty-Six Thoughts About Forty-Five Comics – Kick Ass 3, Black Science 1, Aphrodite IX, Damsels, Jonah Hex, Justice League Dark, Dark Shadows, Five Ghosts, Infinity Heist, Infinity Hunt, Nova, Conan, Itty Bitty Hellboy, Half Past Danger, Goon, Infinity, Avengers Assemble, Powers, Doctor Who, THUNDER Agents, Ghostbusters, GI Joe, TMNT, Judge Dredd, Maxx, Peabody & Sherman, X-Files, Zombie Tales, Captain Midnight, Dark Knight, Criminal Macabre, Wolverine And The X-Men. Forever Evil: ARGUS, Teen Titans, Superman, Revival, Danger Girl, Morning Glories, Tom Strong, Walking Dead, Thief Of Thieves, Star Trek, Hawkeye, Flash, Aquaman
A ton of comics seem to have landed on my desk this week. Massive Wednesday before Black Friday. So what have I been reading… and what will you be reading too?
Bristols… time for a bit of rhyming slang folks, to help you understand Justice League Dark a little better. "Bristol… Bristol City… Titty." Though, as we discover in time travel crossovering All Star Western… … in comparison with Jonah Hex, John Constantine is rather discreet and well mannered. Though a few people seem to be emulating his look and tone. Like this fella from Half Past Danger… there's more to come as well.
There's a lot of Fantastic Four here in Black Science #1. Probably a batch of Challengers Of The Unknown. And definitely Lost In Space. So let's talk in those terms. We've basically got a Mr Fantastic who has just seen Sue Storm die, in a race back to his children to save their lives from his anarchist science meddling and its all his fault. But even in that, he preserves empathy for his enemies, especially those whose situations are similar to his own. But… no, you really wouldn't want him for a Dad. And this is why Remender isn't writing the Fantastic Four relaunch. When Mark Millar used to be asked if he'd ever put any of the real Real Life Superheroes into Kick Ass he said that, what with what was coming up for them, this would be most unfair. Well, today, we find out exactly what he meant… Aphrodite XI has a point, it's a lot harder to hide in plain sight when there's not quite as much shade. And sand is bound to get caught in all those cloth crevices. I blame computer games for this Damsels behaviour. As in, the kids should play some. Take your frustrations out with a diminutive moustachioed fellow with a red cap rather than picking on the real thing. You wait a whole year for Goon #44 and you need a translation dictionary to read it. Although "procreation" in such a scenario may not need much translation and suddenly gives me flashbacks to Neonomicon…
Itty Bitty Hellboy in Heaven. And yes it's just as odd and silly as it sounds. Such prejudice from those who say they are above us, I don't know. All he is is the escaped son of Satan trying to live the live of an ordinary boy. He should get Heaven's Human Resources invlved, get God to sign an official notice of apology and maybe a gift voucher. From Infinity #6. Thor hits Thanos with his hammer. If only they'd thought of this tactic back in June. Hell, Conan thought of that tactic in the Age Of Hyboria. And he had one of those Superior Spider-Man spy things, too. Nova's version of reality may owe something to reality, but I so want that Punisher reaction to be the true one. There's a lot of smelling going on this week. Dark Shadows has the smell of death about one character… The smell of sulphur and pheromones on others in Infinity Hunt. And the smell of sweat and masturbation on another in Powers. I dunno, with all those scents mixing around, Infinity Heist, not having a nose might actually come in useful sometimes. As might not having toes in his presence. Avengers Assemble, hot off the bat onto this Inhumanity thing, reminds us, as the movie did so well, that Iron Man is a massive heavy machine walking around the place. Dents in thge floorboards too, I expect. Though it's not the only mind reading Quentin Quire is getting up to in Infinity Hunt. Boy, he's a tinker. Outing a new Marvel gay character like that. Time to add Striker to the list, folks. Though mind reading is not always necessary, such as in Five Ghosts, when the target have the password setting ability of my grandmother. Lovely panel to panel storytelling here though. Note, "King" not "husband" in this Six Months Later issue of Aquaman, Funny to pop forward to the future when so many other DC Comics are going backwards. Talking of which. Flash Zero Year goes back to one very important meeting. And DC Comics continue to torture the Wally West fans. And will do for much of this year, I reckon. Not the only hero/cop meeting this week, as we check in with the long awaited Hawkeye #14, starring Kate Bishop as… Veronica Mars? Because, yeah, like that promise will keep.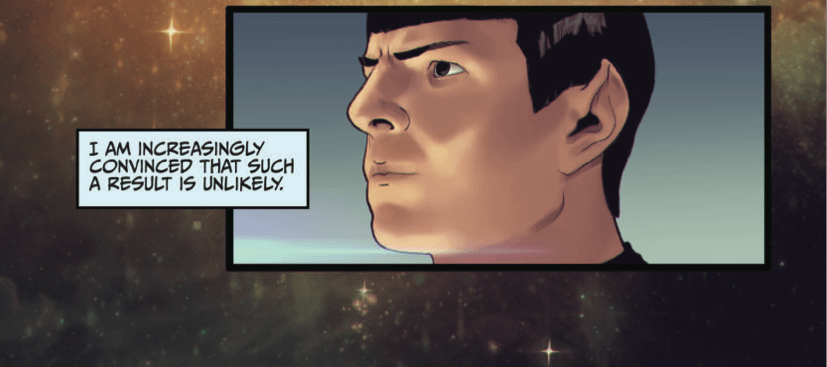 Yeah, what Spock said, Kate.
There are other ways to greet a cop on your doorstep of course. As Thief Of Thieves nobly demonstrates. Skybound's is rather sweary today, isn't it? Thank you, Walking Dead. Delayed publishing schedules gives Chris Sprouse two books this week, after Flash. But we also get the continuing adventure of Tom Strong. And a nice bonding moment between hero and proud terrorist. Apparently, if you own a gun, the person most likely to get shot with it is you. Morning Glories goes through the practicality of that. Yes, yes it did, Danger Girl #3. In Revival, it looks like the John Constantine is catching on. Dye your hair fellow, or you'll look like Keanu Reeves. And not in a good way. Is there a good way? Another World Without Superman, in today's Superman… and it's not the only Super character that people are going to have to do without today. There may be tears… Oh dear, Kid Flash in Teen Titans. If you break it, you bought it. Looks like you may be revealing your true red-tinged colours. Okay, so someone working on Forever Evil: ARGUS #2 saw White House Down, didn't they? The Warbirds have a point in Wolverine And The X-Men Annual, teaching art to children only encourages them to draw comics, and enter a life of servitude and no health benefits. No wonder they have to turn scratching out occult symbols to make ends meet. Like in Criminal Macabre: Eyes Of Frankenstein #3… Finally. In Batman: The Dark Knight, someone has taken the Joker's poison gas and weaponised it in the effort to make an audience laugh and get a permanent gig at the local flophouse as a stand up comedian. It just would have to be Clayface, wouldn't it? You see, I know this is meant to be a massive bomb in Captain Midnight. But it actually looks like the state of my fuse box under the stairs. Maybe I could get the Captain to pop round and sort me out as well. ZOmbie Wars there… I think most wars seem to have the same result, don't they? Scully does her best Victor Meldrew impersonation in X-Files Season 10. Here;s a comparison.
[youtube]http://www.youtube.com/watch?v=mLNrLI3OBwg[/youtube] No. Just, no. There's no such thing as too British, Peabody And Sherman #1! And I say that as a pip pip, what what, I said good day sir, rather! I say old bean, old fruit, apples and pears, old sausage, va banana!
Sorry, apparently, there is such a thing. Doesn't Maxx #1 look shiny now it's been Maxximized! Cleaner, more detailed, it looks like it's about to be my rediscovered old favourite once again. Seriously, who needs Miracleman now?

Tense, nervous headache? Maybe you were just stabbed in the brain. Take two Judge Dredds twice a day and you;ll be right as rain. Very amusing, GI JOe Special Missions, but you'l never be able to sell that on eBay now. No one show this page to Bleeding Cool's Brendon or he won't be able to go to sleep for a month. What is it with people trying to wake folk up. Seriously, blue humanoid from Thunder Agents or spooky clown from Ghostbuster, let people sleep in one in a while, okay?

Indeed, he was Merlin wasn't he. It's annoying when a future version of yourself just has to contradict you. You can't make any definitive statements about yourself or your commitment to reducing your waist line when someone further up the line is gorging themselves on jammy doughuts. Given the success of Rocket Raccoon at NYCC, I think the second they make a plush Lying Cat with a squeezable voice box… well, I can think of a number of people who would try and lose their virginity to it.
Comics courtesy of Orbital Comics, London, hosting a signing with Frank Barbiere this very second.