Exclusive: Gallery 13 Grab Stephen King's The Dark Tower Graphic Novel Rights from Marvel
Gallery 13 will publish eleven graphic novels based on Stephen King's series of novels The Dark Tower, it was announced today exclusively to Bleeding Cool by Jennifer Bergstrom, Vice President and Publisher of Gallery Books.
Marvel Comics first published The Dark Tower series of comic books, based on the Stephen King novels, with Peter David, Robin Furth and Jae Lee back in 2007. And this year and last have spent every month liquidating backstock to retailers. Today we learn why – Marvel has lost the rights to publish Dark Tower comic books to Simon And Shuster's graphic novel imprint Gallery 13.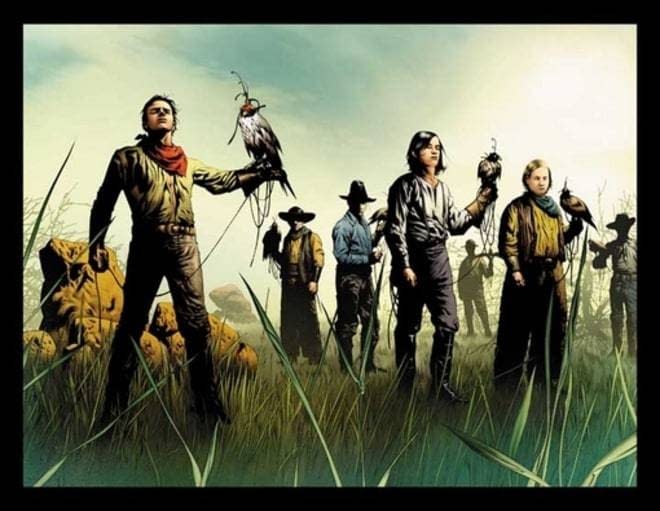 The acquisition of publishing rights includes five prequel works focusing on Roland Deschain of Gilead's coming-of-age and told in chronological order, now officially titled BEGINNINGS: The Gunslinger Born (Book #1), The Long Road Home (Book #2), Treachery (Book #3), The Fall of Gilead (Book #4), The Battle of Jericho Hill (Book #5); AND the six-part comic adaptation of the 1982 bestselling novel The Gunslinger: The Journey Begins (Book #1), The Little Sisters of Eluria (Book #2), The Battle of Tull (Book #3), The Way Station (Book #4), The Man in Black (Book #5), and Last Shots (Book #6).
Creatively overseen by Stephen King himself, these official graphic novels are illustrated by Hellshock's Jae Lee and Richard Isanove, plotted by longtime Dark Tower expert Robin Furth, and scripted by Hulk's Peter David, serving as an introduction to Stephen King's classic The Dark Tower for new readers, and giving longtime fans adventures merely hinted at in his novels. And you know it's going to be better than the film.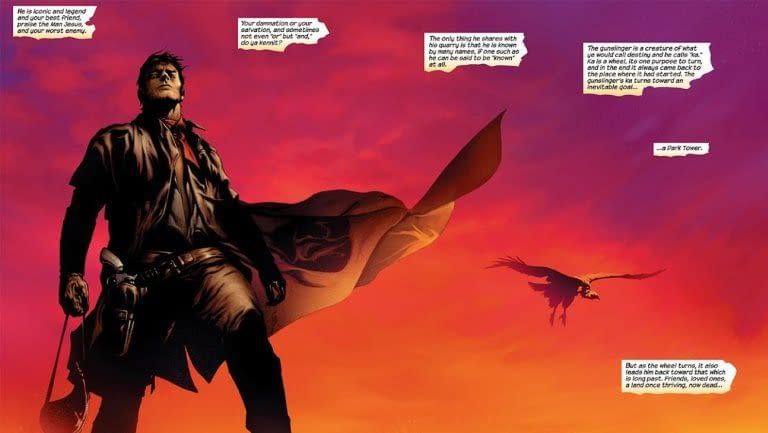 Gallery 13 will be publishing the Beginnings prequel graphic novels every two weeks starting with The Gunslinger Born on August 14, 2018. The Gunslinger novel adaptation will publish in Spring 2019.
"I'm delighted to see my stories in this exciting format, where they can reach new readers," said Stephen King.
"Simon & Schuster has been the official publisher of Stephen King for twenty years now, and we're thrilled that Gallery 13 will be publishing these essential works that he and Marvel Comics originally and vividly brought to life as a canonical expansion of the #1 New York Times bestselling Dark Tower novel series. Whether you're just joining Roland Deschain on his brutal and epic journey to the Dark Tower or have already been a longtime member of his ka-tet, these graphic novels boldly and unforgettably capture the one-of-a-kind essence of Stephen King's Dark Tower reading experience in comic form," said Ed Schlesinger, Senior Editor at Gallery 13. He acquired US, Canada, and Open Market rights from Chuck Verrill at Darhansoff & Verrill.
Stephen King is the author of more than fifty books, all of them worldwide bestsellers. His recent work includes The Outsider, Sleeping Beauties (co-written with his son Owen King), End of Watch, the short story collection The Bazaar of Bad Dreams, Finders Keepers, Mr. Mercedes (an Edgar Award winner for Best Novel and now an AT&T Audience Network original television series), Doctor Sleep, and Under the Dome. His novel 11/22/63—a recent Hulu original television series event—was named a top ten book of 2011 by The New York Times Book Review and won the Los Angeles Times Book Prize for Mystery/Thriller as well as the Best Hardcover Book Award from the International Thriller Writers. His epic works The Dark Tower and It are the basis for major motion pictures, with It now the highest-grossing horror film of all time. He is the recipient of the 2018 PEN America Literary Service Award, the 2014 National Medal of Arts, and the 2003 National Book Foundation Medal for Distinguished Contribution to American Letters. He lives in Bangor, Maine, with his wife, novelist Tabitha King.
---
---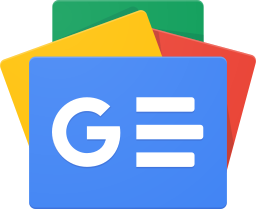 Stay up-to-date and support the site by following Bleeding Cool on Google News today!