The Geek Shopping Ninja Strikes: Game Of Thrones
Greetings Bleeding Coolers! Winter is coming…a.k.a. Game of Thrones is back on HBO! Can you guess what this weeks theme is? Welcome to the thirteenth installment of The Geek Shopping Ninja Strikes. Each week I will be your personal shopper and provide you with five delightfully geek-tastic things that might pique your interest. This week I have gathered the best of the kingdom to share with you.
Game of Thrones Tyrion and Drogon Season 5 Poster [11×17] from HBOSHOP.com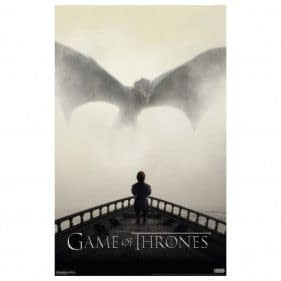 ($9.99)
I love the overall epic-ness of this poster. You can't get much more badass than Drogon and Tyrion being in the same space.
Mystery Minis Blind Box: Game of Thrones Series 1 & 2 from Funko.com
($7.99)
Just as a preface I want to say that Series 2 isn't out yet, but you can still grab Series 1 right now. The reason I'm recommending these over the normal POP! Vinyl collectibles that I brag about, is because I love the quirky style of them. The unique poses and comical facial expressions make them a more intriguing thing to collect. They are blind boxes, so be careful. If you start the addiction, it's difficult to stop.
Game of Thrones Dragon Egg Canister from ThinkGeek.com
($29.99)
Who doesn't want to store their freshly baked cookies in a dragon egg? I know I do. I'd say this is the perfect conversation starter to display on your kitchen counter.
Game of Thrones: Iron Throne 7" Replica from Amazon.com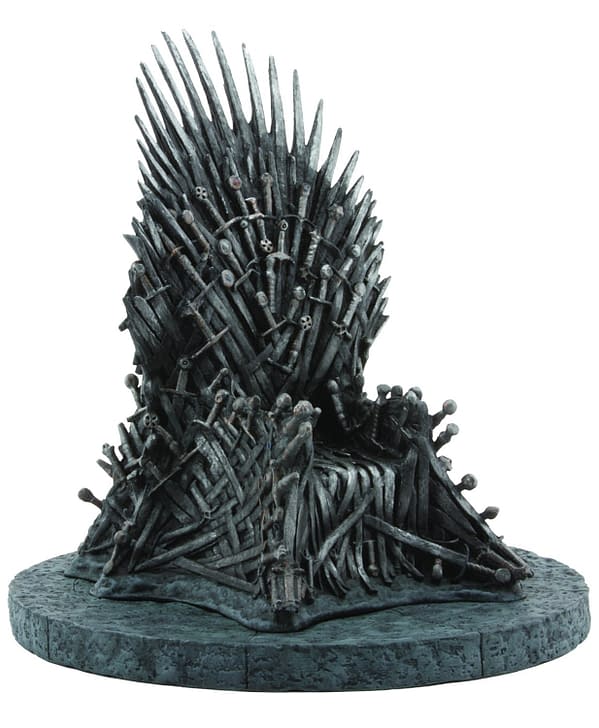 ($44.99)
The only thing better than a 7" Iron Throne replica, would be a real one. However, I wanted to give you a more reasonable way to display this iconic symbol.
Game of Thrones Longclaw Sword of Jon Snow from HBOSHOP.com
So, since I gave you a reasonably priced Iron Throne, it's only proper that I give you an overly priced insanely cool sword! You know you want it. The detail is pretty exquisite.
Well, the wait is over! We can finally enjoy another seasons of Game of Thrones. As an added bonus, I've posted a funny clip from Late Night With Seth Myers that features Jon Snow below. Enjoy! Thanks for joining me on Bleeding Cool for the thirteenth installment of The Geek Shopping Ninja Strikes! I hope you'll join me next week for another round of tempting merchandise ideas. If there's a particular theme you'd like to see featured on The Geek Shopping Ninja Strikes!, send me a tweet @AWritersWay!
[youtube]https://www.youtube.com/watch?v=BabsgCQhpu4[/youtube]
Christine Marie is a Staff Writer at Bleeding Cool, and bibliomaniac with a love for all things creative. She hopes to one day be a Superhero/Disney Princess/Novelist. You can find her on Twitter and Instagram @AWritersWay or on her blog writerchristinemarie.wordpress.com.