This issue of Gold Digger does not lack either ambition nor big ideas as it posits its lead as a multiversal mix of many of the classic "chosen one" motifs with a seductively friendly adversary willing to do anything to achieve goals.
On the good side, as noted, there are some very big ideas tossed around here that literally let the fate of entire universes hang in the balance. On the good side, the singular vision of the iconoclastic creator leans towards misogynistic and exploitatively gratuitous moments ("Top this Babooness!") and artistic shortcuts for faces and other details that make characters inconsistent from page to page.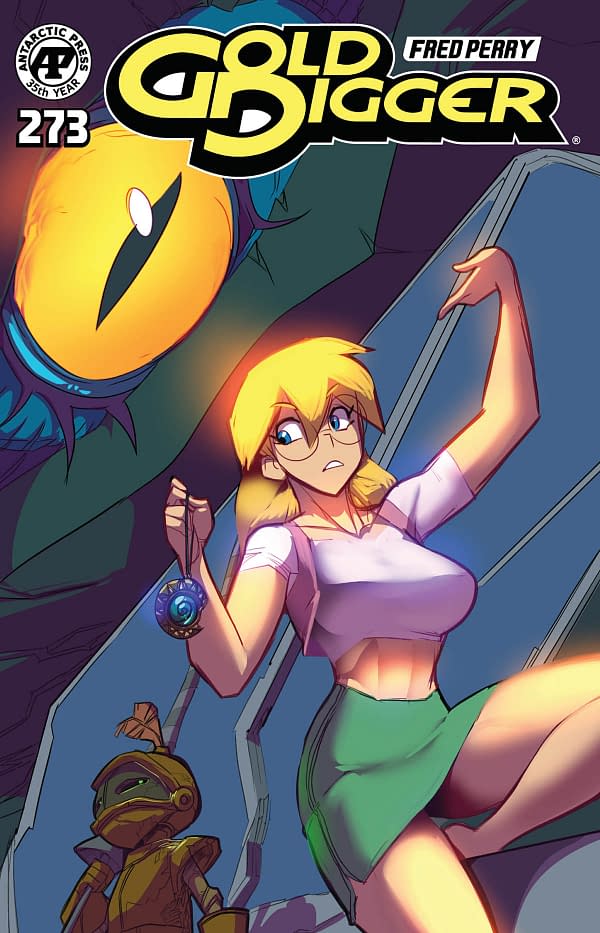 If you've even checked in on this series from time to time, you know none of the previously mentioned ideas are remotely unusual. The lead — Gina Diggers — is an archaeologist with a less culturally imperialistic perspective than your Joneses or Crofts but significantly more exaggerated physicality. The supporting characters aren't a far leap from there, but instead of playing this for the value of titillation like a title from Boundless but more comically themed like Tank Girl, just not as cleanly rendered.
Sadly, putting the whole universe at risk doesn't even raise a hint of actual anxiety as the cartoony presentations, and shallow characterization doesn't give this any stakes worth having. It's light, popcorn chomping, and mostly ridiculous entertainment not aiming for great literary heights. If that's your jam, hey, this series can do this all day. If you're looking for more meat on the bones of your story, you're going to find these calories pretty empty and not able to satisfy you.
There's something to be said for a single creator with this kind of longevity putting out material this consistently (273 issues is a lot, not counting Time Lincoln or the Last Zombie books or other stuff he's done). There's a lid for every pot, as they say, but for many, this will not show enough cooking to fill them up. RATING: MEH.
Gold Digger #273
Gina's been missing for a week, so a worried and angry Britanny and Penny confront the founders of the Explorers' Society, whose behavior has proven they ALWAYS keep track of what Gina does. In response, the founding members reveal their true natures, along with a tale of a brilliant but doomed explorer, Professor Gloriana Jones, the "original" version of Gina!
Enjoyed this article? Share it!