Grendel, Kentucky, A New Supernatural Thriller from AWA Studios
AWA Studios unveiled Grendel, Kentucky, a new supernatural Southern Gothic crime series by writer Jeff McComsey and artist Tommy Lee Edwards.
Order Code: Cover A JUL201084 (Tommy Lee Edwards)
The official synopsis goes thus:
"For two generations, the rural hill town of Grendel, Kentucky has honored its Faustian bargain with the monster living in its abandoned coal mine: a human sacrifice every season in return for agrarian prosperity the likes of which this rocky region had never before seen (including its greatest cash crop: the dankest weed in the land). When one town elder breaks this pact, Grendel's only hope is that its prodigal daughter will return home to face down the creature of her nightmares—and bring her all-female biker gang with her."
Order Code: Cover B JUL201085 (Mike Deodato Jr. – Wraparound)
Jeff McComsey is an illustrator and writer of video games and a relatively new name in comics, but judging by this series, which we've read, he'll be better-known once it's out. Grendel, Kentucky looks on the surface like a Southern Gothic crime series with warring families and factions. It gradually becomes a supernatural thriller when the family in question has to fight the mythical monster that no longer wants to stay quietly in the shadows and comes out to feed on the local populace, threatening the lives of everyone in the town. The series is an update of Beowulf with a female biker as the hero who set out to hunt down the monster that killed her loved ones. Tommy Lee Edwards is the perfect artist for the series.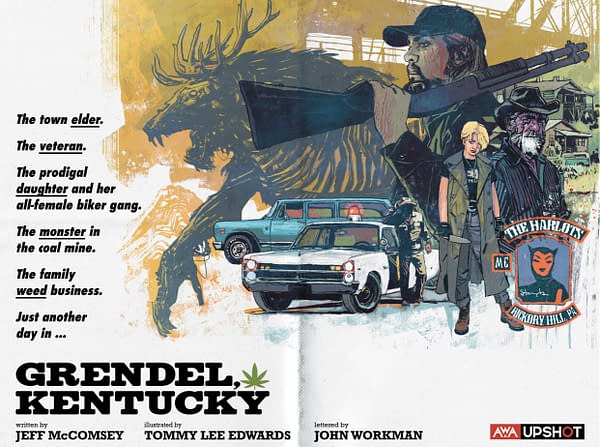 Upshot, the imprint from AWA Studios, continues to bring out solid thriller titles in a way that's unexpected and unpredictable. Perhaps that's because they're not the usual superhero ideas, the creators are also not always the most expected or obvious ones. They seem to be filling a gap in the comics market, and we're glad for that.
Grendel, Kentucky #1, is out on September 5th.