Looking for something to buy on Black Friday? Well, check out Gail Simone's foreword to the just-concluded-and-collected Hashtag Danger series by Tom Peyer, Randy Elliot and Chris Giarrusso, published as a trade paperback last week by Ahoy Comics. Gail writes,
TO: Tom Peyer

FROM: Gail Simone

HASHTAG: BACKSLASH!

Conventional wisdom says that you should 100% of the time judge a book by its cover. Far be it from me to disagree with "the popular opinion" and "those cool cats at Quotable Quotations," but I say you should judge a book by its foreword. And since this foreword is written by me, you know it's one badass bitch of a foreword and whatever book is lucky enough to have it is probably okay, too.

Just to be safe, if I were you, the unsuspecting reader, I'd read this foreword last. I'd recommend they put it in the back of the book but that would be confusing to the people who only bought this because they heard how good the foreword was. What's going to suck the readers in, if not this foreword? The story? Yeah, RIGHT.

Anyway, for a book this full of words and also art or whatever, I felt a mighty foreword was needed, and I went through several drafts of the opening sentence, each rejected (I've included my reasoning in a sort of 'Foreworder's Commentary,' you're welcome), and I thought you might enjoy reading them instead of a house ad for cranberry cigarettes.

REJECTED FIRST SENTENCES TO THIS KICKASS FOREWORD

THIS BOOK HAS WORDS AND PICTURES IN SEQUENCE

Good, and factually correct. But need to dig DEEPER.

I LAUGHED A LOT READING THIS BOOK
SLUGGO WAS THE FIRST SKINHEAD

Don't want to alienate 1940's style 'tuff guy' kid strip characters.

THIS BOOK NEEDS A FOREWORD
DEPUTY DAWG IS A WHITE SUPREMICIST

I'm just saying what we're all thinking.

THE WRITING OF THIS BOOK IS REAL REAL GOOD AND WHATNOT.

Too much spotlight taken away from the foreword? KEEP TRYING!

HASHTAG: DANGER CURES GONORRHEA.

Note to self: huge if true!

ALSO THE ART IS CHARMING AND FUNNY.

Note to self: Imagine a book that's all foreword! Oh, faptasmic day!

GOOD LORD BUT I HAVE A FULL, LUSTROUS HEAD OF HAIR.

Unrelated, but true. Give the people what they want.

HASHTAG: DANGER IS MY NEW FAVORITE BOOK.

It really is, though. Hashtag: It's dope.

Just as with any garden variety groin injury, eventually the fun stops and you have to get down to business. So here's my theory about Hashtag: Danger:

I think it's a Bizarro World Comic.

Hear me out.

Remember that comic where Batman was constipated and fought that serial killer who bit the heads off baby carolers and Christmas? What do you mean, "that's all of them?" You can keep your goddam bat-bashing to yourself.

The point is, most comics are grim. They have a fun factor of negative zero zero zero point five decimal zero machete to the face point one.

But in THIS book, whose name I forget, they seem to have gotten the formula exactly backwards. Or is that Zatanna? Damn you, silver age weirdo bastards. Talk normal, like Americans!

First, it's a fun set-up. It's like Challengers of the Unknown written for people who were born AFTER the dinosaurs died out. By issue somewhere around page one, I was hooked in. I love the characters, who are sometimes almost good people by accident, somehow. Like the best worst people you want to hang with.

Second, I've been a Tom Peyer fan for a long time, I was a fan even after that scandal with the nuns, and have always defended him (in public, in private, GROSS, TOM). I love how he fuses traditional adventure stories with often radical addition of the visual vocabulary and tactics of the best editorial cartoons. Each story is a joyful little nugget, complete in itself but part of a larger hole. I meant 'whole.' It'd be weird being part of a larger hole. Anyway, Tom Peyer is definitely part of a larger hole.

And the art is perfect. It's got the charisma of Jughead and the smarts of Jughead the Dracula or whatever thing they're doing with Jughead right now. I love the commitment to the bit, the entire Andy Kaufman-esque move of giving the sublime and the ridiculous the exact same level of verisimilitude. Chris Giarrusso is a wizard and I'm stealing him the first chance I get. EAT IT, AHOY.

Anyway, HASHDUMP: DANISH (or whatever, I don't 'see' logos) is a great book and now you're looking at it, Mr. or Ms. Fancypants.

Gail Simone

PS. GODDAMN, this is a great foreword!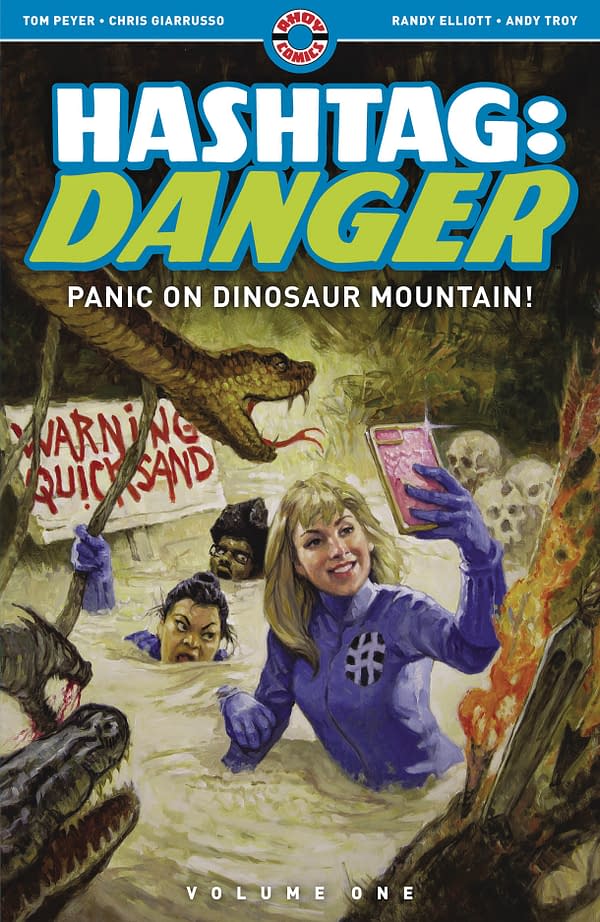 It is, Gail. Here's the solicitation…
HASHTAG DANGER TP VOL 01 PANIC ON DINOSAUR MOUNTAIN (MR)
(W) Tom Peyer (A) Randy Elliott, Chris Giarrusso (CA) Richard Williams
Three scientific adventurers face strange creatures, lost civilizations, and supernatural threats-when they're not too busy being complete jerks to each other. Written by Tom Peyer (The Wrong Earth, Hourman) with art by Chris Giarrusso (Mini-Marvels, G-Man). Collects issues #1-5, plus the back-features from AHOY titles High Heaven and Captain Ginger.In Shops: Nov 20, 2019
Enjoyed this article? Share it!