Bulletman and Bulletgirl Hit the Mark in Nickel Comics, at Auction
Bulletman and Bulletgirl were launched into an unusual series which cost five cents and was released biweekly from Fawcett Publications.
---
Bulletman is one of those golden age heroes that deserves a renaissance. Debuting in Nickel Comics to some controversy at the time since the cost of that comic was 5 cents and 32 pages, at a time when most comics were 10 cents and 64 pages, he was one of the stars of the Fawcett Comics era. He has also made a few appearances in modern DC Comics, in Infinite Crisis and Kingdom Come. But, those not familiar could pick up this raw copy of Nickel Comics #2 at Heritage Auctions today. For a golden age comic that displays this nice, the current $130 price tag is pretty low. You can see Bulletman fly into action down below.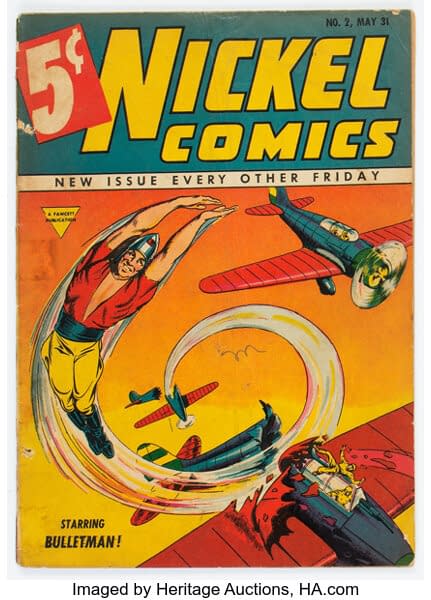 Bulletman Has A Classic Costume As Well
"Nickel Comics #2 (Fawcett Publications, 1940) Condition: Apparent GD. Bulletman cover and story (his second appearance). Jack Binder cover. Bindery holes, spine split, tape residue, hole through middle. Restoration includes cover glued at spine. Overstreet 2022 GD 2.0 value = $135. Nickel Comics was an experiment by Fawcett – half as thick as their typical comics, costing half as much, and coming out twice as often. Bulletman tracks Blackmask, whose "freezing gas" can stop anyone in their tracks – even Bulletman. Captured by slavers, the Jungle Twins are aided by Dagoo, who lures an army of snakes into the slaver camp! Aided by his raven Hugin and his Golden Hand of Abraxas, Warlock the Wizard tries to help a woman end the family curse that a demon will steal everyone who loves her. Plus an ad for Fawcett's Master Comics, featuring a photo of screen legend Mickey Rooney reading an issue of Master Comics. Who Is Bulletman?; The Suit Case; Jungle Twins; Death Treasure; Warlock the Wizard. 32 pages, Full Color. Cover price $0.05."
You can go right here to place a bid on this comic, and while you are there, go ahead and click around at all of the other books taking bids today.

Affiliates of Bleeding Cool buy from and/or consign to Heritage Auctions.