Heroes Reborn #4 Review: The Worst Thus Far
It's truly difficult for a series to progressively get worse as it continues along, but this crossover headline series is swinging for the fences with unlikeable protagonists that read like Comicsgate fans in spandex. After Hyperion's superiority complex and the insufferable smarm of Blur, possibly the worst thus far is "the most hated man in the heavens," Doctor Spectrum.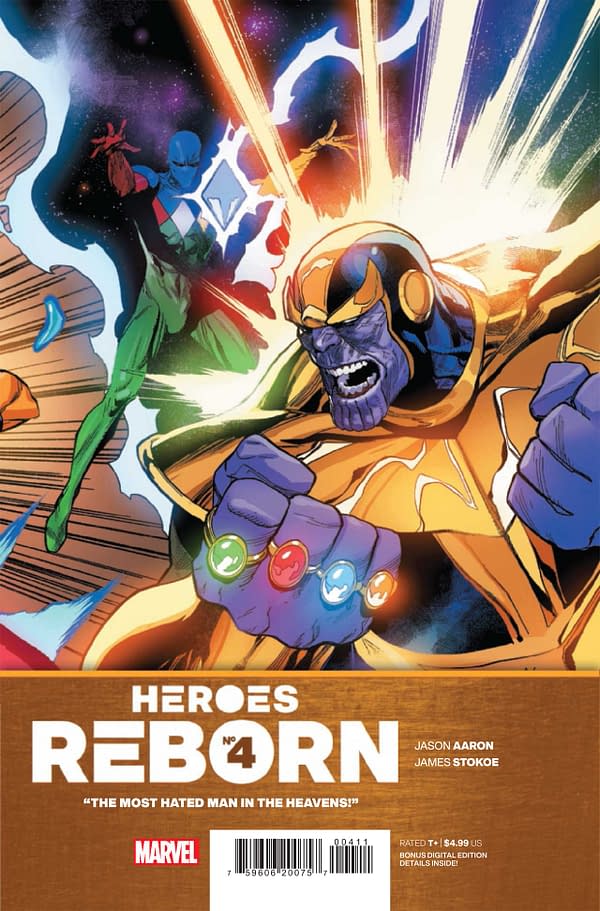 After using the Worf Effect on numerous galactic powers, including Thanos and a Celestial, to establish the threat of Doctor Spectrum as a patriotic brute dispensing his own idea of prejudiced justice throughout known space, after a while, people get organized and get a plan, and that leads to most of an issue long fight scene that ends hard and ugly. The artwork from James Stokoe is reminiscent of his detailed, aggressive work on Orphan and the Five Beasts and gives the extraterrestrial environs a sheen of weirdness that works well. Jason Aaron's script, as noted, makes a big show of the savagery and aggression the character is known by (according to the characters here). However, it's not exactly entertaining and has a reveal at the end that shows this crossover's cards and, ultimately, likely why this all won't work.
The backup segment, which ties loosely into events from Aaron's Avengers run, borrows two elements from the lead story and tries to show that as a countercurrent against the main story, but — given this issue's reveal doesn't seem to matter so much.
If the goal is to show horrible people doing horrible things without consequence, one could stream news reports from almost any year. Heroes Reborn #4 is a story, sure, but it's not exactly entertaining. RATING: NO. JUST … NO.
Heroes Reborn #4
By Jason Aaron, James Stokoe, Ed McGuinness
With the cosmic might of his Power Prism, Doctor Spectrum has become the most feared lawman in the heavens. But now the dark forces of deep space have sent the galaxy's most notorious bounty hunter to end Spectrum once and for all. That's right, here comes Rocket Raccoon! Plus: In a backup tale, the all-new Starbrand finds herself alone in a strange new universe.