Ale Bodden writes for Bleeding Cool from New York Comic Con 2017:
Hot Topic graciously gave Bleeding Cool a chance to walk through their upcoming fall collection. As a big fan of Hot Topic and Her Universe, I must admit it was like being given a chance to walk through the gates of heaven itself. Brace yourselves, my friends, and start saving up — because there is a lot coming out that you might want to grab just as much as I do.
First is first, though: I was going to organize this chronologically, but I cannot help myself. Hot Topic will be releasing new Sailor Moon merchandise in December. It will include apparel, accessories, jewelry, and more… I don't know about you guys, but once Sailor Moon was uttered, I was sold. I was able to see the new pink denim sleeveless jacket and a very shiny and pink sweater that must make its way to my closet soon.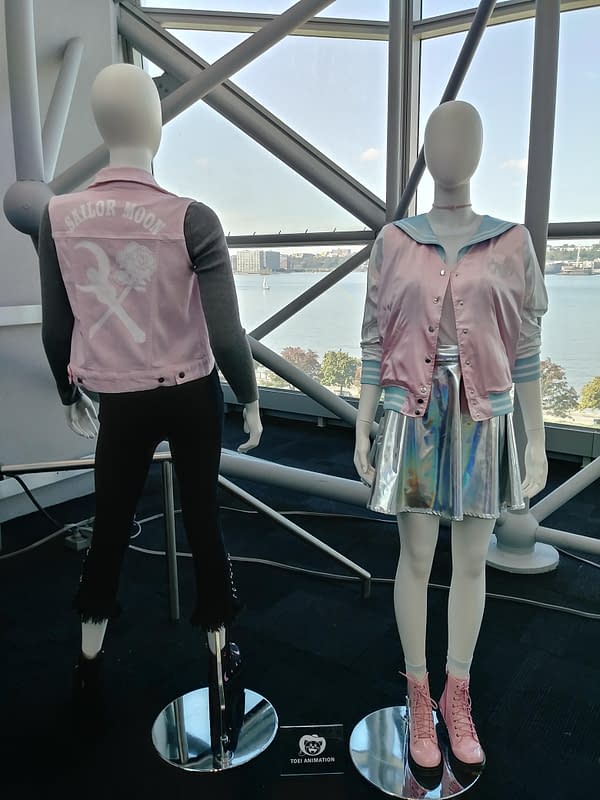 Next week, Hot Topic will be releasing new Justice League merchandise. There will be five different jackets released — each jacket will be in honor of one of the Justice League members. There will be two for women and the other three for men. Sadly, I was unable to grab pictures given that they were not able to get the shipment with the samples; however, I was promised every fan will be happy. I cannot wait to see those myself.
Coming in October, in collaboration with Her Universe, Hot Topic will be releasing a Thor: Ragnarok collection. It will include shirts, dresses, and these wonderful Loki-inspired garments that every fangirl should own. There are two versions of the leather Loki jacket coming up — the black one will be sold exclusively at Her Universe. The green version will be sold at Hot Topic only.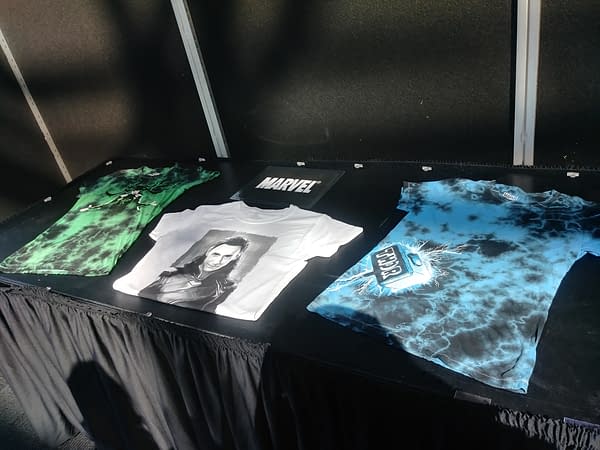 Also coming in October and in collaboration with Her Universe as well, we will start seeing new merchandise from Disney shows we grew up with like That's So Raven, Lizzie Maguire, Cheetah Girls, Kim Possible, and also from the High School Musical movies. As a Kim Possible fan, I'm incredibly excited to see new wearables come out. It is as if finally all gods heard my prayers and are giving me all the stuff I had asked for as a kid. For November, Hot Topic will be releasing new merchandise for Disney's upcoming release, Coco. They will be releasing apparel (dresses and shirts) as well as house supplies (utensils, décor) — I am particularly a fan of that off-the-shoulder dress.
Another piece of great news for me was that, in December, Hot Topic will be releasing a new Doctor Who line of clothing including new dresses, jackets, shirts. I must say this news also made my day. I have been loving the upgrades in quality and I am looking forward to filling my closet with new geeky clothing.
I was also told a tidbit of amazing news: Hot Topic will be curating a monthly subscription box filled with everything we could dream of — clothing, accessories, jewelry, collectibles, and more. So far, that was the only thing we could get, but we were promised more news on this soon. As someone who goes to Hot Topic almost every day I can, I will say this is incredibly exciting news for me. I want everything. Take my money.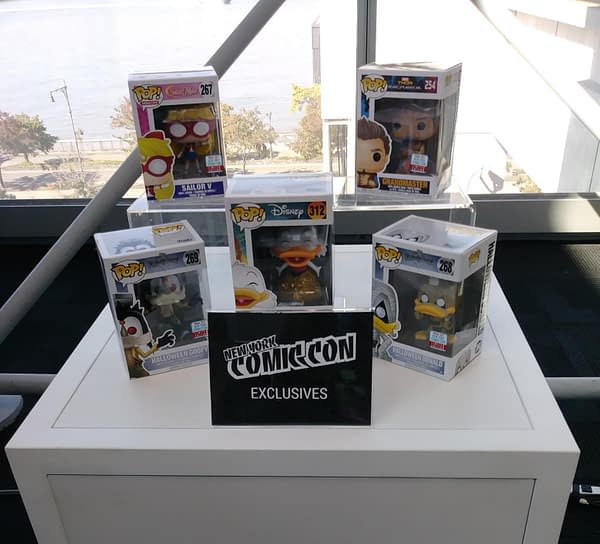 Last but not least, Hot Topic will be joining in with For Fans By Fans (formerly known as We Love Fine) to put to get a contest for fans to submit their own clothing designs for specific licenses. I am super happy to announce that the first contest theme will be Rick and Morty! And fans will be allowed to submit their own designs (more information on the contest will be announced soon). I cannot lie: as a traditional artist with no digital background I had to ask the question — and yes, designs are accepted for traditional art, as well. Time to get Schwifty with it!
Enjoyed this article? Share it!