These are scans of messages taken from a private Facebook group for a recent comiccon, Saskatoon Blitz in Canada, discussing one of their vendors, and posted to Tumblr.They are not for the faint of heart.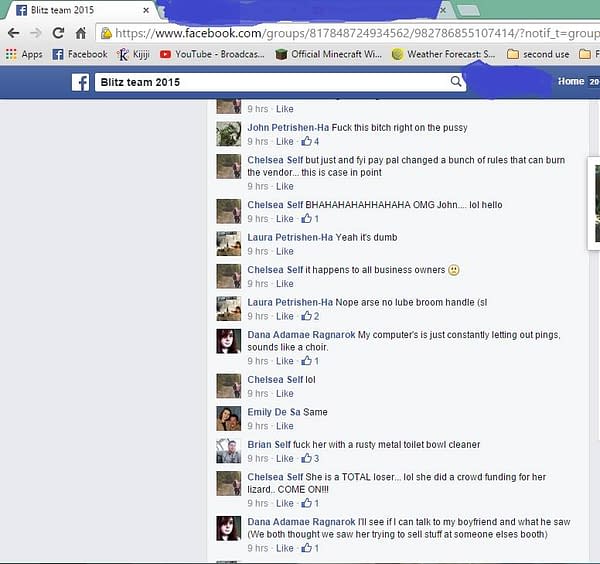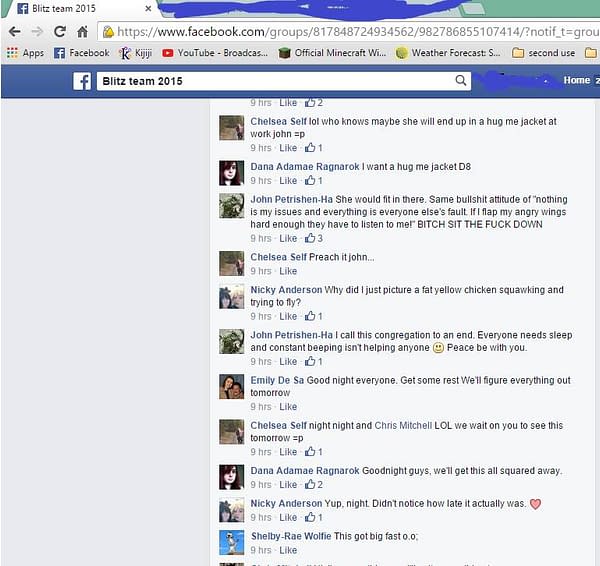 And in case you wanted to know who was who…
The Dungeons & Flagons is a role-playing themed pub associated with the show. AA stands for Artists Alley. And the subject of these messages is attending artist and cosplayer Lyreric.
Who wrote a long and detailed essay on her experience at Saskatoon Blitz, a show held in Prairieland Park. As an exhibitor there, she encountered many problems with both the show and the staff, and expressed these,
Jared told Laura that he had some major concerns that needed to be addressed. Laura asked if talking here was fine, but Jared said it would be better to talk off to the side rather then right in the middle of the vendors room. He explained to her that this wasn't going well. Nothing was set up right, our table wasn't even there to start out with, the backs of our booths were to the traffic, with people carrying around REAL swords and weapons (there was no weapons policy) and there is no communication here. He added we also had people constantly bumping into the back of us because of the way it was set up. He then asked where we are to put our stock and display, as the area in which the dance was being held was the same room the Artist Alley was in. Laura told him that after the Artist Alley closed at 7pm we could move it into the Vendors room. He asked what we should leave, and she advised to take everything down as there was no lock and no security. She added she wouldn't leave any of her personal stuff in there. Laura ended it with our feedback was appreciated, as she can't make the Blitz better without feedback. And that was that.
She also shared experiences that others had,
Jared and I stand around in the AA waiting. We watch Brain struggle to carry and set up the 8 foot while taking away the 4 foots. We stand and talk to an artist friend of mine, finding out that a lot of the artists aren't happy. One artist lost over $200 in stock from theft. He put his wares in the Vendors room, that was only accessible by staff. As we are talking about this, 3 other artists walk in. They stand by the empty 8 foot table with all of their stock and displays in hand. Its obvious they are lost and confused. I go over to talk to them and tell them whats going on. They tell me they had the 4 foot tables, and now they are gone. So those two 4 foot tables belonged to these girls, meaning they literally gave their table space to me after they gave away my table space to another person. The situation isn't even salvageable anymore. Jacob is all witness to this, and tells us he is going to go figure out what we can do. I go directly to Laura again and tell her my table is gone, you owe me money. Now.
After a considerable back and forth, the post concluded with
And with that, we were escorted out. We left the event and made no money that day. In total, we ended up losing close to $400, and made zero profit. I paid $170 to be there this weekend. Conventions base their table price off of demand and the amount of people who attend. I am going to far more popular, in demand conventions and pay far less for a table. Their prices are insane, they treat you like garbage- and if you really lucky like me, they give away your artist table! And when they can't take accountability for it, they will have security escort you out. Thanks Saskatoon Blitz!
You should read the whole thing. And while she is clearly frustrated, annoyed and upset, she doesn't go anywhere close to abuse. And it was a former staff member of the show and still a member of the Facebook group who saw the messages and thought they were worth sharing.
The show has apologised for those statements, though not for the treatment Lyreric received. Indeed they blame her for events that are inconsistent with her original post.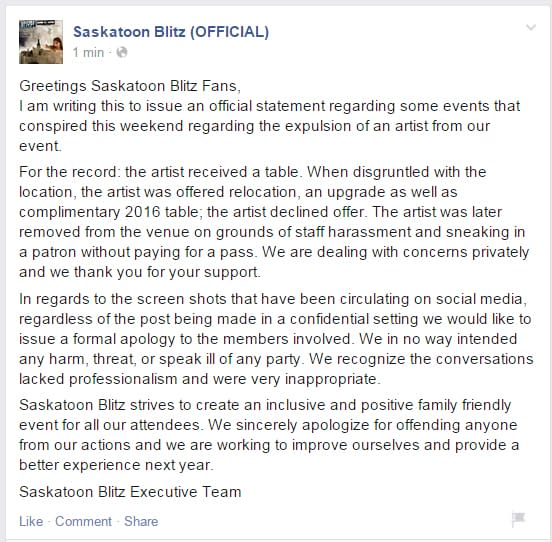 Initially they didn't allow responses to this piece. But they have now deleted their Facebook page. However other attendees are starting to post corroborating pieces, such as Artsy,
As Skylar said, we talked about what was going on. Frankly, we were pretty upset over how guests and artists were being treated. I was talking to the earlier mention friend and she wasn't happy either. If they were breaking the contract all willy nilly and not caring about upsetting the artists, hell. Whatever.
Lyreric responded to the show's response stating,
I have also been contacted with eyewitness accounts to the situation, as well as people saying they had no idea what was going on. Multiple vendors and artists have stated they heard no yelling, or word of any incident. The way the Saskatoon Blitz keeps portraying me it seems like I was yelling and throwing punches. No one raised their voice, no one threatened or harassed anyone. The only time there was any sort of anger from me was the morning in which our table wasn't there, even then all we asked for was a refund and nothing more. I feel that any other artist or vendor would have reacted the same way.
Despite saying they are addressing these issues privately, no one from the show seems to have yet contacted Lyreric about her experience, after the show.
Though from the tone of those private messages, maybe that's for the best?
Enjoyed this article? Share it!