How Squirrel Girl Joins the War of the Realms in Tomorrow's Unbeatable Squirrel Girl #43
War of the Realms is purported to be Marvel's biggest-ever super-mega-crossover event, which means no one can escape its orbit. That includes Squirrel Girl, but how will she enter the fray when, as this preview of next week's Unbeatable Squirrel Girl #43 shows, she's currently visiting her doppelganger in the Negative Zone?
We'll get to that, but first, check out the sweet new haircut Allene has got!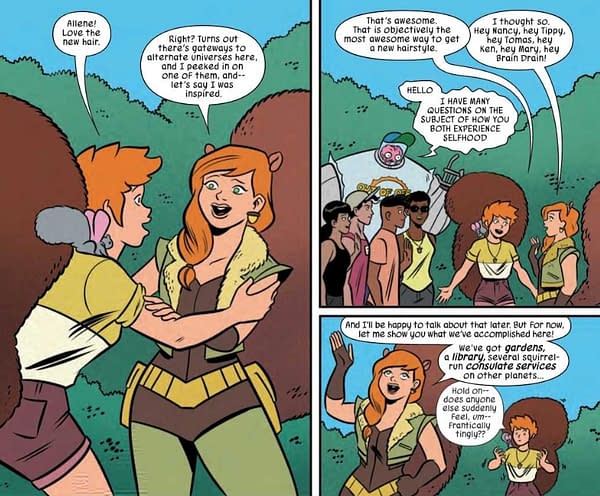 But before Allene can show Squirrel Girl around, Squirrel Girl begins to disappear…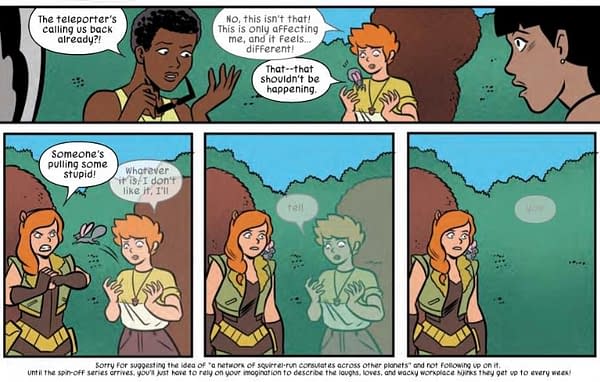 And she shows up right in the middle of an epic battle in New York City!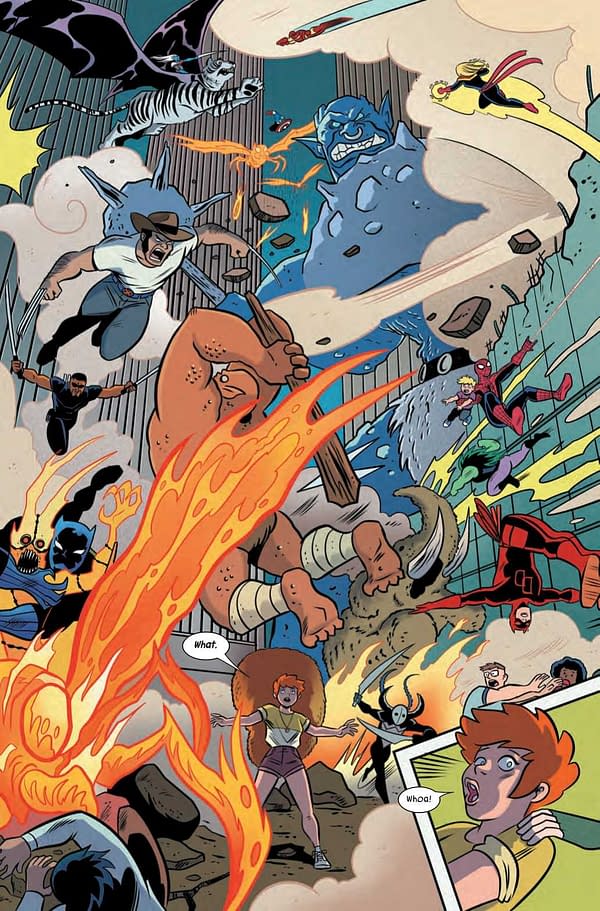 And now we're in crossover territory, folks!
Unbeatable Squirrel Girl #43 hits stores on Wednesday.
Unbeatable Squirrel Girl #43
(W) Ryan North (A) Derek Charm (CA) Erica Henderson
WAR OF THE REALMS TIE-IN!
• You know how Squirrel Girl has stayed out of most Marvel events? Turns out, that was only because THOSE events didn't involve her good pal LOKI LAUFEYSON!
• When Earth is attacked as part of the WAR OF THE REALMS, Squirrel Girl is called back from her Negative Zone vacation, and Loki recruits her as part of a secret mission!
• Is Loki running a scheme? Probably. Is he playing a trick? Almost certainly. But he NEVER lies about the safety of his good friend (and Cat Thor creator) Nancy Whitehead, and that puts him and Doreen on the same side.
• It's Squirrel Girl's first BIG EVENT CROSSOVER… but it's still the start of a stand-alone epic that you can still enjoy even if you only read SQUIRREL GIRL!
• Also if you're reading this because you're thinking, "Hmm I'm big into WAR OF THE REALMS but do I really need to see what happens in SQUIRREL GIRL" then let me say WOW DO YOU EVER, THERE'S A REVEAL ON THIS LAST PAGE THAT'S BEEN IN THE WORKS FOR YEARS!
Rated T
In Shops: Apr 10, 2019
SRP: $3.99