Hunt for Wolverine: Weapon Lost #3 Review – Daredevil vs. Wolverine (Sorta)
[rwp-review-recap id="0"]
Cypher is down and bleeding out. Frank McGee can save him, but he must get them back into their Inhuman transport ship. Misty Knight and Daredevil must hold off Wolverine (if it really is Wolverine). Unfortunately, this Wolverine is waiting for them on top of the ship. Daredevil and Misty are going to have their work cut out for them.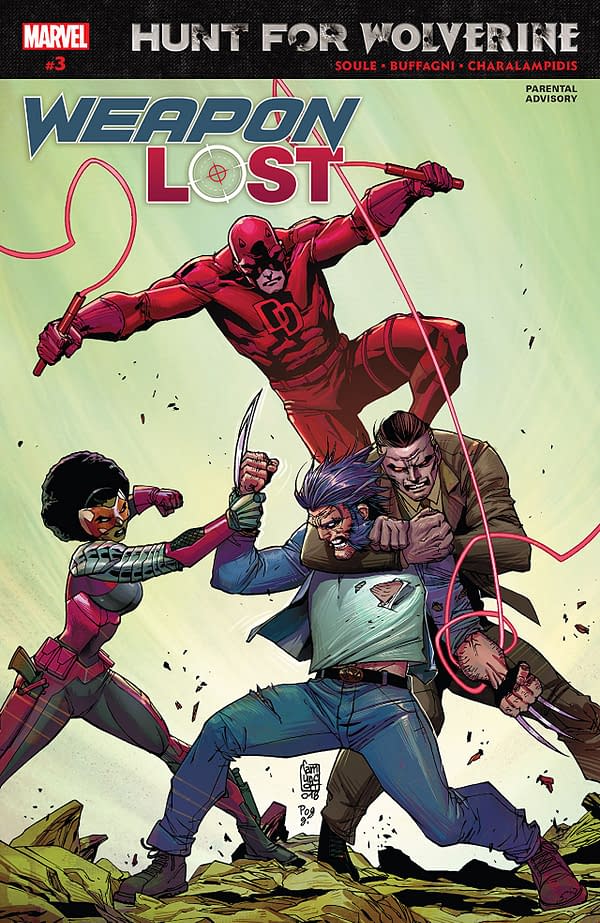 Hunt for Wolverine: Weapon Lost #3 is by far the most tense and action-packed issue of the story thus far. Wolverine fights Daredevil, and Misty and Frank provide support. It's a brutal and exciting duel.
Don't expect any grand revelations in this issue, though. We don't discover what has happened to Logan. The revelation relevant to this issue isn't especially interesting, and, yes, there is a bait-and-switch in this comic. It's only enjoyable if you accept that this probably won't matter in the grand scheme of Hunt for Wolverine and just enjoy the ride for what it is.
The back half of the story is the immediate fallout of this fight as well as a new lead that pops up. That builds up to a weak cliffhanger for the final issue, but I enjoyed this one well enough. I'll be back for the finale.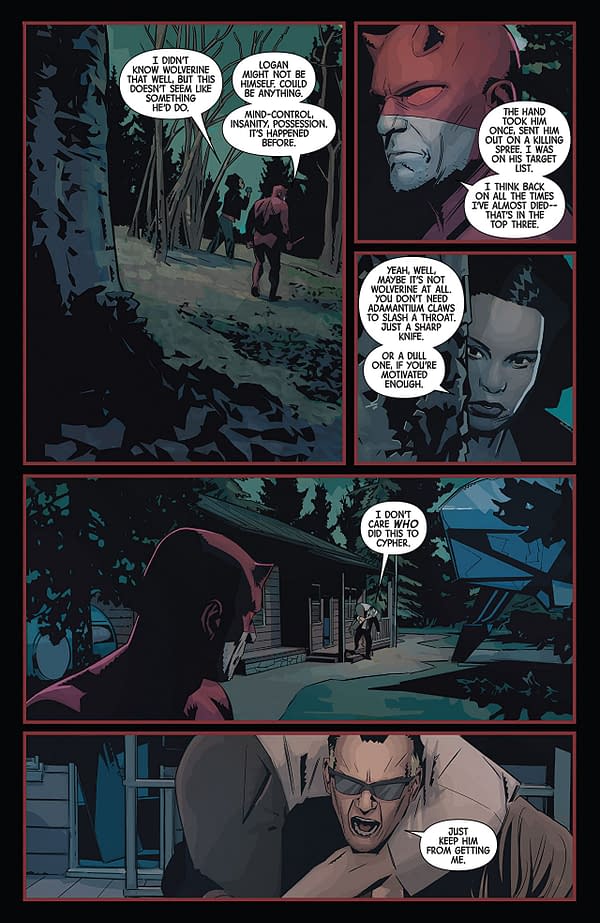 I hope that Matteo Buffagni provides more work for Marvel after this story finishes. His work is very atmospheric, using detail and shadow to craft an unnerving world where death feels very close to the characters on panel. It's brilliant, and it's helped by Jim Charalampidis's bleak and grim color work, where the world is colored very dark with the occasional pale red or gold to balance upon the dim color palette.
Hunt for Wolverine: Weapon Lost #3 doesn't deliver any special revelation, but it is a tense and driven story with plenty of action and decent character work. Plus, Buffagni and Charalampidis make the book worthwhile with the art. This one earns a recommendation. Check it out.
[rwp-review-ratings id="0"]
[rwp-review-form id="0"]