I Hate Fairyland #19 Review: One Joke Told Too Many Times
Gertrude and Larry have gone to space to steal a priceless egg from a giant beast called Humpilump. After their ride gets eaten, the two flee the planet to take the egg back to Fairyland. It's here that Gertrude is presented with a way to truly escape Fairyland for good. However, it may involve doing some more things she hates.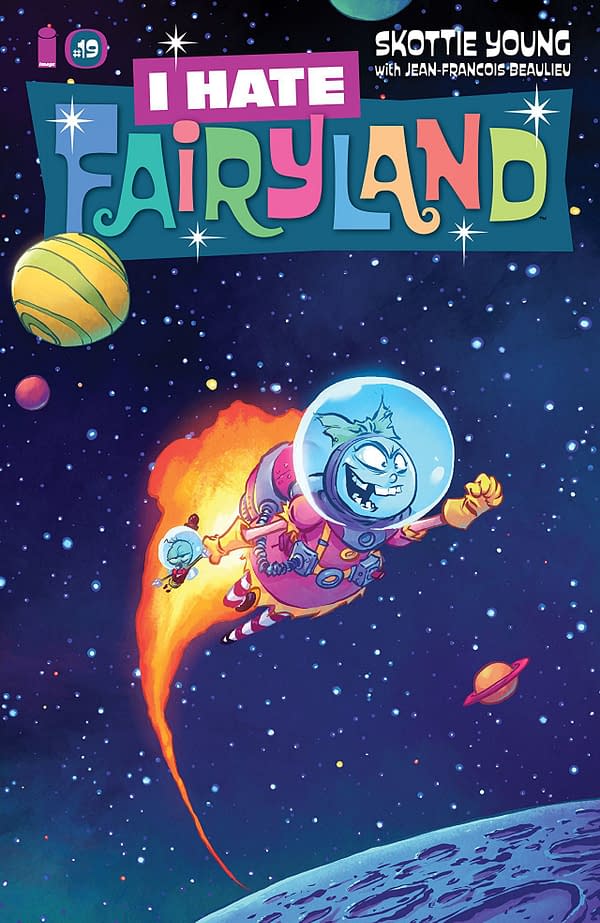 I read the I Hate Fairyland FCBD Special last year and heavily disliked it for its reliance on meta humor in a market that has far too much bad meta humor. I decided to check back on it now, more than a year later, to see if the book carries itself in a normal issue.
To my disappointment, it has one joke, and it's the title. Gertrude hates Fairyland. That's the beginning and ending of the book's content, at least in this issue.
From here, one can easily extrapolate the kind of book they're reading. The imagery is going to be cute, but Gertrude is going to wreck it all. This is her literal Hell, and she can never escape.
The premise is creative, and this issue even states its theme like a mission statement. That theme is that anything can become Hell if you're forced to do it long enough. That's actually clever, but the book doesn't go any farther with the idea.
Also, Gertrude is the worst. She just really sucks. She's belligerent, violent, not all that funny, and joyless to the point of sapping any happiness out of the reader.
Also, if I read the word "fluffing" one more time, I'm going to actually start throwing the F-word around. Admittedly, I don't need much incentive when I'm not working. Point being, this comic's curse replacements suck really damn badly.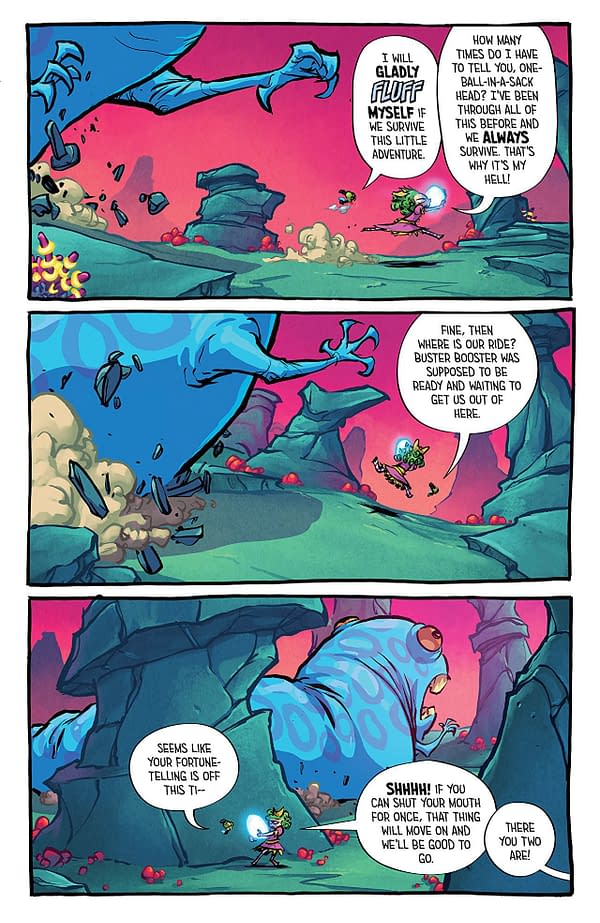 Skottie Young's art is the only thoroughly functional thing about the comic. It's cute, but it's lines and figures are severe enough that the visuals lend themselves to violence and mayhem. It looks like a place that is about to break out into absolute horror at any minute. Also, the characters are really expressive, and that's conducive very conducive to the narrative. Jean-Francois Beaulieu's color art works in a similar manner. It's pastel and contrasts in crazy ways, but it looks off enough to be a little unsettling.
I Hate Fairyland #19 confirmed my fears about this book. It's a one-joke comic with a miserable protagonist, and the art is the only thing about any of this that works consistently. As a result, I can't recommend it. Give it a pass.